On Campus
Social Work Major sees the world in Semester at Sea experience
Friday, September 8, 2017
Imagine taking a break from your classes and stepping out to get a breath of the ocean air and a view of water as far as the eye can see.
Imagine taking some time off from classes to go visit the Great Wall of China or the place where South Africa imprisoned Nelson Mandela.
This was the academic and global reality for Deja Marsh, a junior social work major from Teaneck, N.J., who spent the second half of her sophomore year on a Semester at Sea cruise.
During the spring semester 2017 from Jan. 5 to April 19, Ms. Marsh alternated between long stretches of ocean travel and visits to China, Vietnam, Myanmar, India, South Africa, Ghana and finally, Casablanca, Morocco.
"I was on a ship with 600 students from all over the world," Ms. Marsh said. "Plus, I got the chance to travel the world."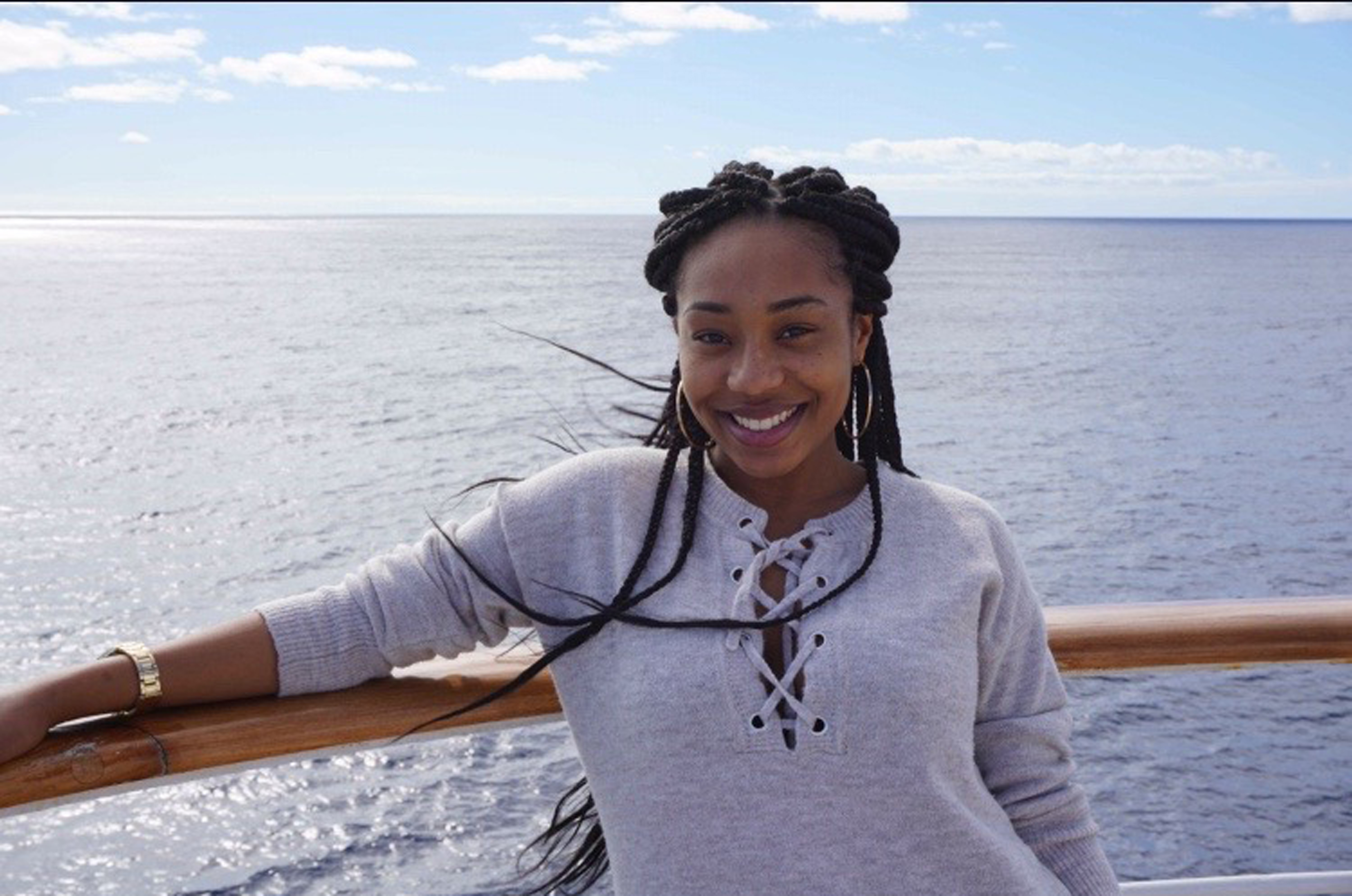 She said while most of the students were from the U.S., there were also students from China, Latin America and Africa. Early on, her maturity level and leadership skills caught the attention of program coordinators, and they selected her to be among a group of student leaders for the entire semester journey.
As a student leader, she was a member of the Sea Council, which addressed problems on the ship, made daily meal recommendations, and planned a variety of events on the ship. "We organized panel discussions, such as a LGBT panel, a discussion on the presidency of Donald Trump, and one on white privilege," Ms. Marsh said, also noting of the 600 students on board the ship, only 30 were from foreign countries and only about 18 were African-American.
She also served as a interport ambassador, in which she coordinated the schedules of interport students who came on board at different ports to share information with the students about the country they were headed toward.
During the long days cruising to their next port, classroom studies took place. Ms. Marsh said she took four courses totaling 12 credit hours – Global Studies, Clothing and Adornment, Theatre and Family Development.
Once they got to each port, it was time to explore the culture, sights and sounds of that country. "On each one of the stops, we were able to plan our own personal itineraries," she said.
Of the most memorable stops, Vietnam, South Africa and Ghana top her list. "In Vietnam, the people there are so friendly," Ms. Marsh said. "They want you to learn so much about their culture."
In South Africa, she found herself shaking hands with one of the most famous people of that country. "I got to meet Bishop Desmond Tutu," Ms. Marsh said. "He said he would say a prayer for me."
She added that despite the dismantling of apartheid, there is still a big division between white and black in South Africa. "I stayed with a black family there," Ms. Marsh said. "They told me how the government supports the white schools better than the black schools."
In Ghana, Ms. Marsh visited the remains of the Cape Coast Slave Castle, where centuries ago, Africans were imprisoned while awaiting the middle passage voyage to slave holding lands such as the U.S. and Europe.
"You could still smell human flesh in the Slave Castle," she said.
Ms. Marsh said there is a financial challenge that must be overcome to enroll in the Semester at Sea. However, she noted that she was able to obtain a combination of financial aid from the program as well as from DSU to help meet the cost of the semester.
 The experience affirmed for her the value of study abroad experiences, she said, adding it also solidified her current career direction – to join the Peace Corps.
"It was always an idea that was floating around in the air for me, but wasn't something I was actually going to pursue," Ms. Marsh said. "But after volunteering and seeing how much help is needed in all these places, I feel I have an obligation to finish it and serve in the Peace Corps."
"Going somewhere and volunteering for five hours and leaving for good is not enough," said Ms. Marsh, who noted that she is only the second DSU student to go on a Semester at Sea experience.
The Semester at Sea study abroad program is administered by the Institute for Shipboard Education in conjunction with Colorado State University. For more information, visit: www.semesteratsea.org.
The University encourages students to incorporate study abroad in their academic career, and the DSU Office of International Affairs can help students tailor a program to meet academic, personal and financial needs.  Students can study abroad regardless of their major; a well-planned experience is a valuable asset and will strengthen a student's resume and make him/her more marketable. 
Programs abroad are available for study/research, internships and service learning.  There are many scholarships are available and students should contact the Financial Aid Office to see if their financial aid can be used toward their trip abroad.
"Studying abroad is not only an opportunity to study in a foreign country and take in the beauty and culture of a new land; it's an opportunity to completely immerse oneself in a new language and influence their career path, world-view, and self-confidence," said Candice Alphonso-Moore, director of International Student Services.  "Statistics show that experience in other cultures helps students to think objectively about oneself, tolerate differences, and appreciate diversity." 
Mrs. Alphonso-Moore noted that study abroad experiences can also make students more marketable in the global economy.
"Employers look very highly on study abroad experiences and believe that students who study abroad are culturally adept employees who are knowledgeable of other cultures and are able to work effectively in an environment that values inclusion and diversity across cultural boundaries," Mrs. Alphonso-Moore said. "Graduate schools seek candidates who will bring a unique aspect to their university and believe students who have studied abroad have the focused educational insight to be a leader in graduate school and show commitment to their education."