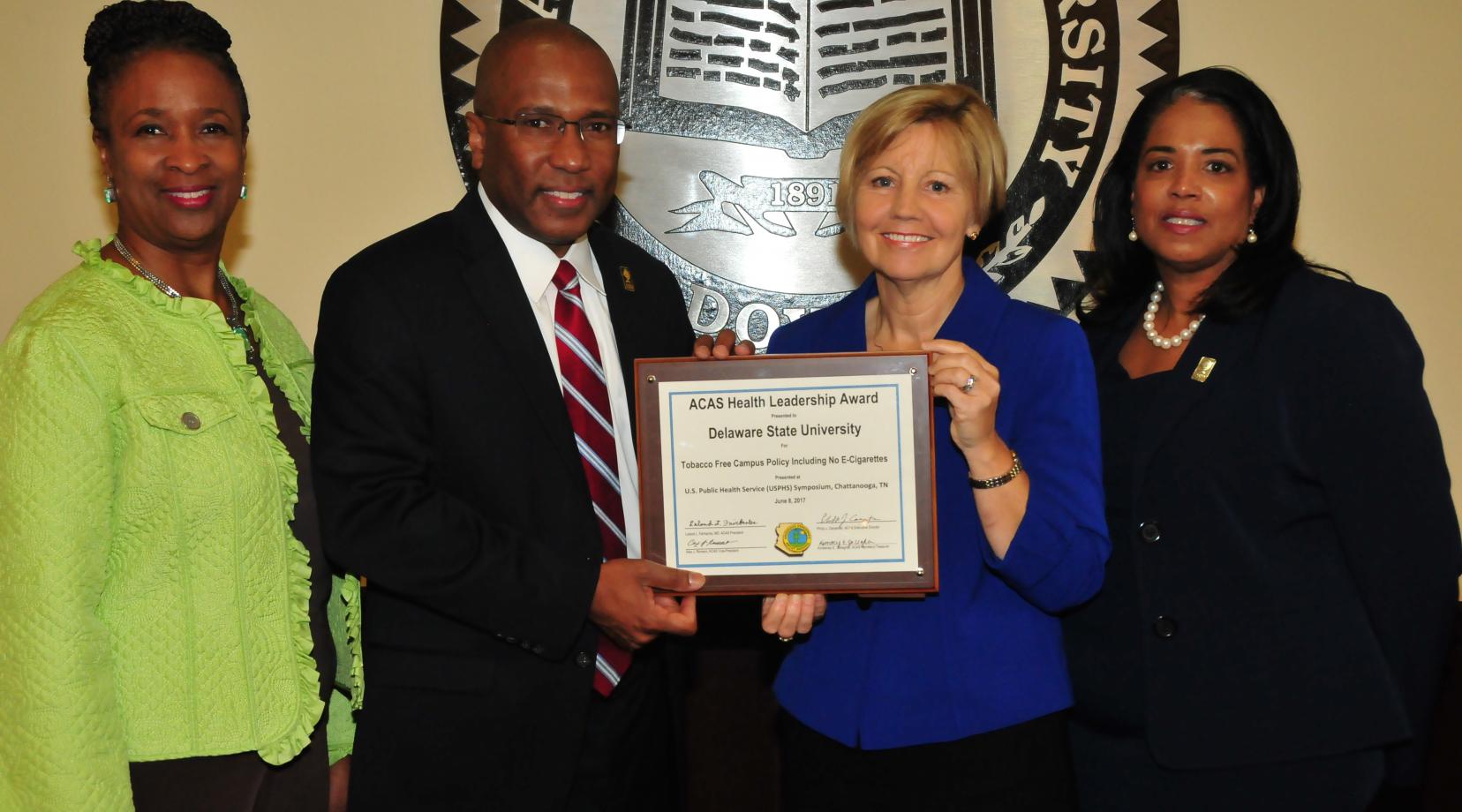 On Campus
Health Award Recognizes DSU No Smoking Policy
Friday, June 30, 2017
Delaware State University is the recipient of the ACAS Health Leadership Award in recognition being one of the few Historically Black Colleges and Universities to adopt a campus-wide smoke-free policy.
DSU was among three Historically Black Colleges and Universities to receive the award jointly presented by the Public Health Service Officers Foundation for the Advancement of Public Health, the "Truth Initiative," Arizonans Concerned About Smoking, and the Arizona NAACP. The HBCUs were recognized for implementing totally tobacco-free campus policies, which include full restriction of the use of e-cigarettes.  
The award presentation took place during the June 8 National USPHS Symposium in Chattanooga, Tennessee, a conference that brought together all living U.S. Surgeon Generals and other Public Health leaders. In addition to DSU, other HBCUs honored were Tuskegee University of Alabama and Shorter College of Arkansas.
Although many college campuses in the U.S. have adopted smoke-free policies, as of 2015, the majority of the 104 HBCUs in the U.S. did not have comprehensive smoke and tobacco-free policies to protect their students and faculty from the dangers of tobacco use and second-hand smoke.
This prompted former U.S. Surgeon General Dr. Regina Benjamin to create a Tobacco-Free HBCU Campus Initiative in 2015. "For decades, the tobacco industry has targeted minority communities, particularly African Americans, with intense advertising and promotional efforts," Dr. Benjamin said. "As a result of this investment, African Americans suffer the greatest burden of tobacco-related mortality of any ethnic or racial group in the U.S."
DSU began phasing out smoking on campus by limiting smoking to four designated areas in early 2015, and worked to educate its campus population on the available smoking cessation resources. In August 2015, DSU implemented its totally tobacco-free policy.
Marianne Carter, director of the DE Center for Health Promotion at DSU, accepted the award on behalf of Delaware State University.  "We recognized the importance of creating a policy in 2014, formed a task force, and became totally smoke and tobacco-free in 2015," Ms. Carter said.
Because the majority of smokers start before the age of 27, Ms. Carter noted, educating college students about the dangers of tobacco use and prohibiting its use on campus is a positive step toward preventing our students from becoming addicted to a substance that, when used as directed, will kill you.
Tobacco is the number one cause of preventable death in the U.S.  According to the Truth Initiative, a national anti-tobacco/smoking organization, each year approximately 47,000 African Americans die from smoking-related disease. While the overall use of cigarettes among youth in the U.S. has declined, smoking among ethnic minorities is still prevalent.