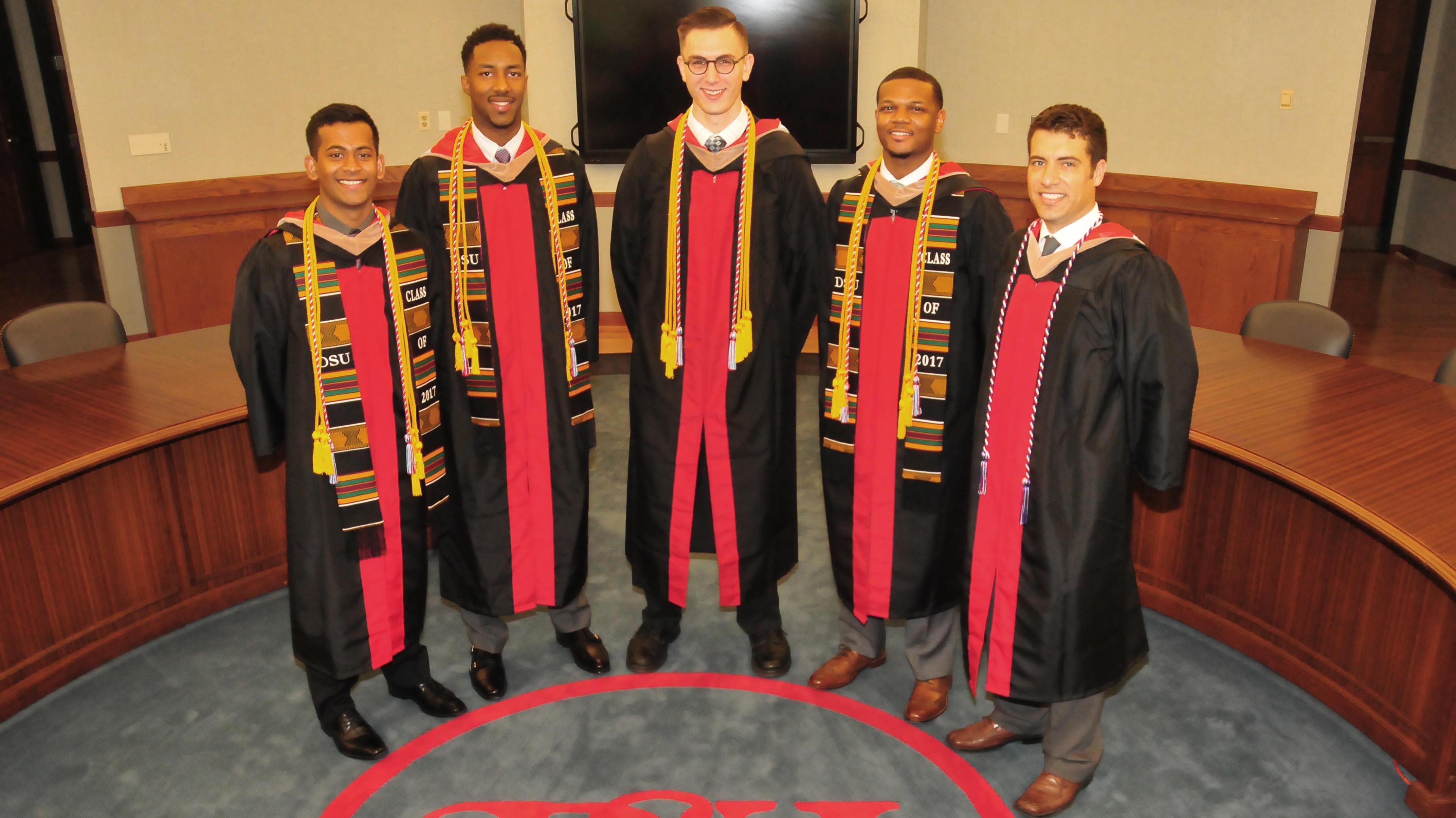 Business, On Campus
Special Aviation Commencement Ceremony Held – Photos
Monday, May 8, 2017
DSU's May Commencement activities got an early start this year with a special ceremony for a group of Aviation majors who are the latest class of professional pilot graduates.
For images from the special Aviation Commencement Ceremony, click on the below slideshow link:
https://www.flickr.com/photos/48216028@N03/sets/72157680397738754/show
The Aviation Program held a May 6 Commencement ceremony for five graduates who are sacrificing their participation in the regular May 13 University Commencement so they can represent DSU in the National SAFECON Flight Competition at Ohio State University in Columbus, Ohio.
"They chose to forgo marching at their own graduation ceremony, and instead help the DSU Flight Team compete and try to win the national competition," said Lt. Michael Hales, Aviation Program director. "Because of this demonstrated loyalty and boldness on their part, Dean Covington and I felt the best we could do was to honor them with this ceremony."
The graduating aviation majors who were celebrated included: William Arters, Chameron Chase, Pruthvianath Engula, Paul Scherry, and Tevin Williamson. All five have completed the academic requirements for a Bachelor of Science degree in Aviation (Professional Pilot concentration).
Held in the Bank of America Building, College of Business Dean Donna Covington presided over the ceremony, which was also attended by DSU President Harry L. Williams and Dr. Saundra DeLauder, interim vice president of Academic Affairs, College of Business faculty members, as well as the graduates' family and friends.
The keynote speaker was Capt. Lyle Hogg, president and CEO of Piedmont Airlines, who said with the projected retirement of pilots over the next 10 years, the aviation graduates are entering a profession in which there is a high demand for pilots. He encouraged the graduates to excel at compliance.
"You never know when you will be tested, so make sure every single day that you doing your best," Capt. Hogg said. "Fly 100% compliant every day; that is how you become successful. Be respectful of your profession, the airline you fly for, and your heritage. Pass on the culture of compliance."