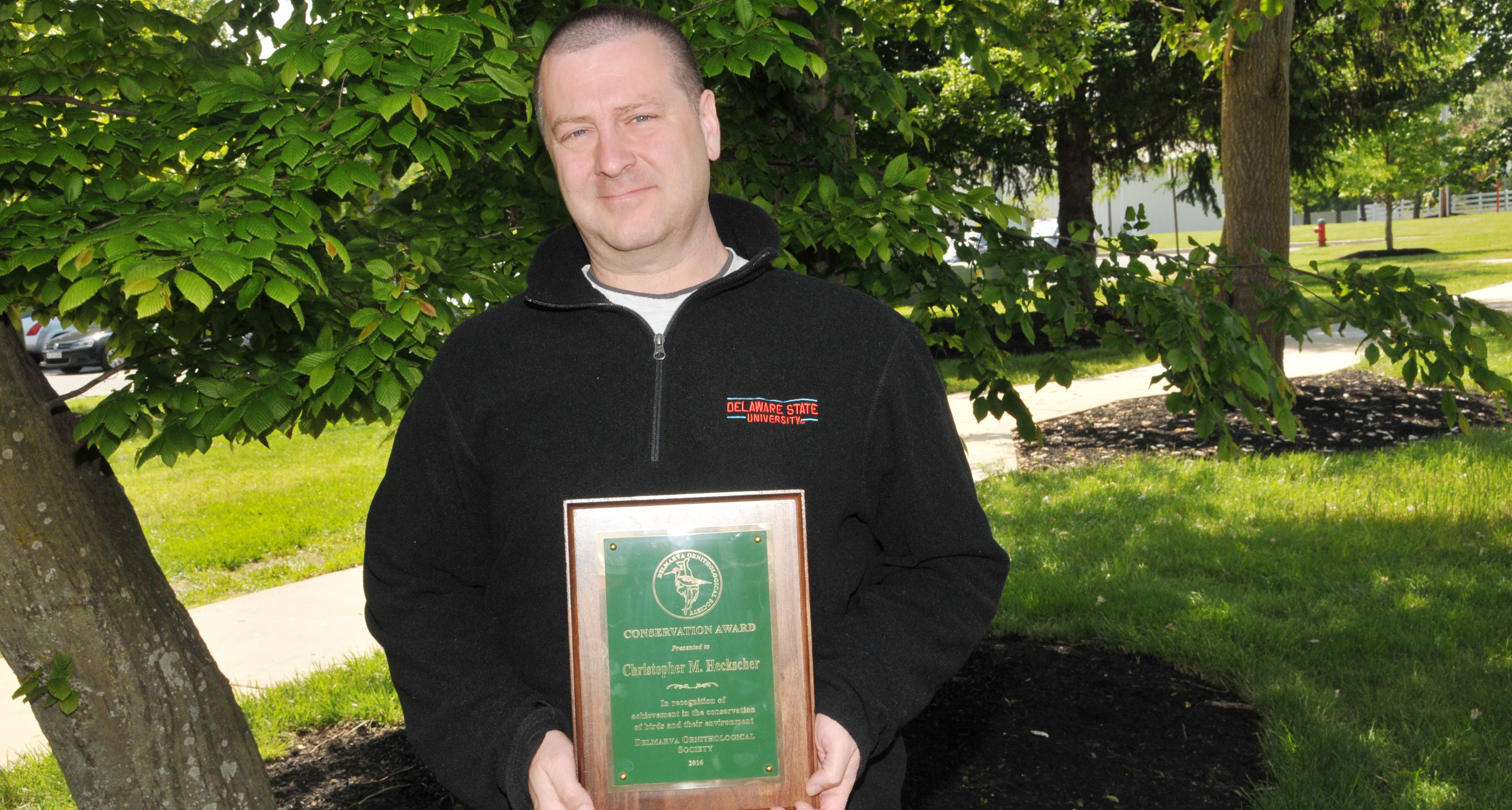 On Campus
Dr. Christopher Heckscher Receives Conservation Award
Thursday, May 11, 2017
Dr. Christopher Heckscher, associate professor in the Department of Agriculture and Natural Resources has been honored by the Delmarva Ornithological Society (DOS) with its 2016 Conservation Award.
The annual award recognizes an individual or organization for outstanding contributions to the conservation of birds and their habitats in the Delmarva region.
The Society specifically honored Dr. Heckscher for his cumulative career in bird, insect and invertebrate research and conservation. Prior to his DSU tenure, he served as Delaware's state zoologist for The Nature Conservancy and the Department of Natural Resources and Environmental Control for 15 years.  During that time, some of his responsibilities included Bald Eagle nesting surveys and various Delaware breeding bird surveys, including surveys of several important bird conservation areas such as Great Cypress Swamp. 
Dr. Heckscher moved into academia in 2008 at DSU as an associate professor of environmental sciences.
During his career he has become known for his long-term study of the Veery at White Clay Creek State Park for 17 years.
Recently, he was the first to document intratropical migration in a Nearctic-Neotropical migrant songbird. That discovery - that each individual Veery migrates between two separate wintering locations - has focused attention on the phenomenon of intratropical movement in North American breeding songbirds which had previously been unknown or otherwise overlooked. He presented this groundbreaking research to DOS at a membership meeting.
Dr. Heckscher's conservation work is not just limited to birds. He has also worked to document uncommon and rare invertebrates in Delaware, publishing important Delmarva distribution and habitat records for groups as diverse as wasps, fireflies, dragonflies, and moths.
He also has the distinction of being the first DSU scientist to discover a new species, as he encountered a new firefly in the Peatland Floodplains Forest of the Delmarva Peninsula in 2004 while he was still a zoologist. His research on that species continued after he arrived at DSU, and in 2013 he nailed down his distinction when he authored a peer-review paper in the Entomological News that substantiated the discovery of the Photuris mysticalampas (the name he gave it).
Dr. Heckscher is also a member of the state's Natural Areas Advisory Council and the Delaware State Forest Stewardship Committee, and he is a board member of the Coalition for Natural Stream Valleys.
He has a Bachelor of Science in Wildlife Biology from Colorado State University and a Master's and Ph.D. in the Entomology and Wildlife Ecology from the University of Delaware.