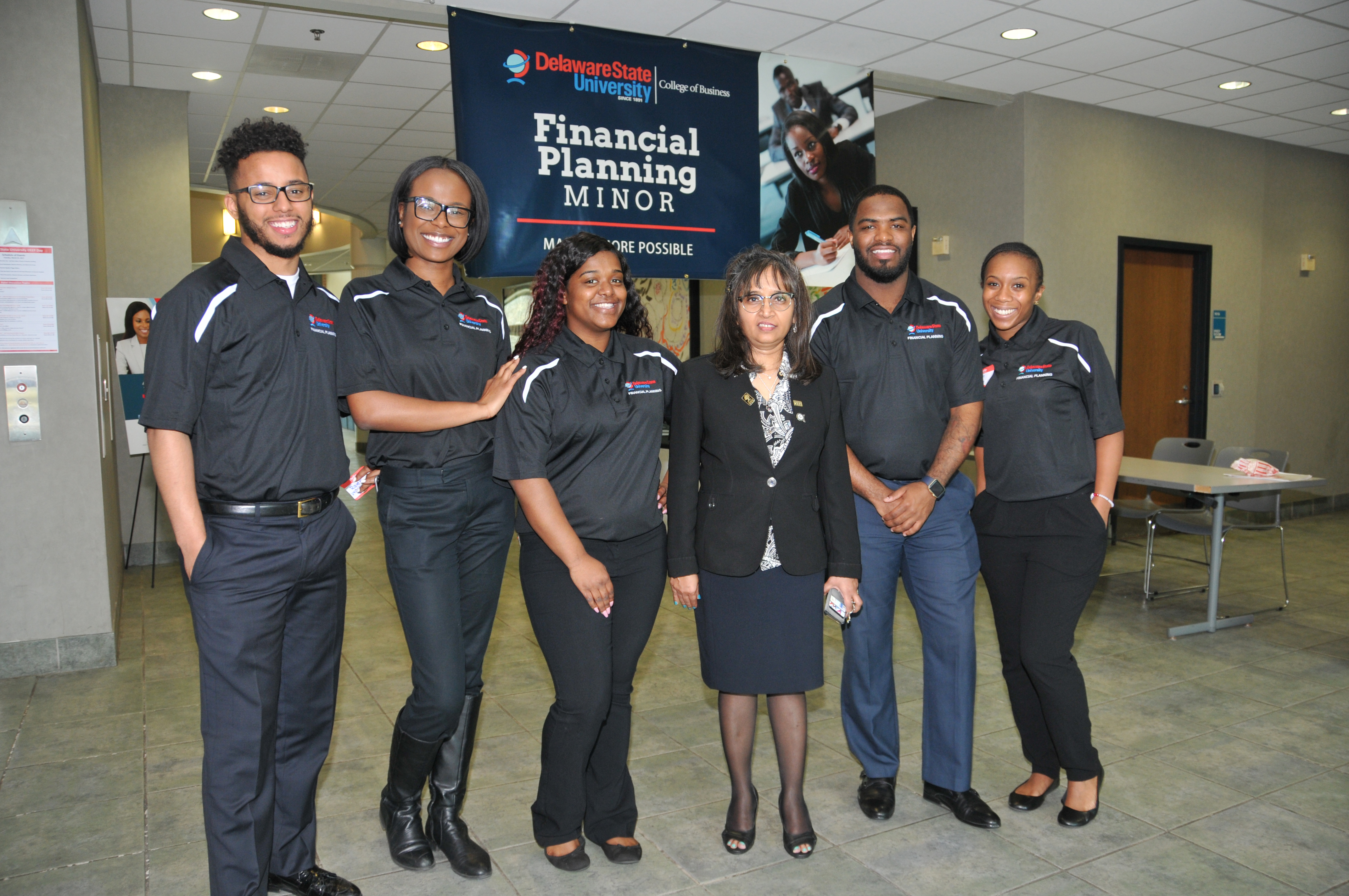 Business, On Campus
New Financial Planning Program Established at DSU
Saturday, March 18, 2017
DSU's College of Business has recently added a Financial Planning minor to its academic offerings.
Established by the College's Department of Accounting, Economics and Finance, the new minor has been registered with the Certified Financial Planner Board of Standards, Inc. The CFP Board awards certification marks to individuals who meet its education, examination, experience, ethics and other requirements.
Donna Covington, dean of the DSU's College of Business, said there is a need for diversity in the Financial Services industry.
"The CFP-board registered Financial Planning Minor at DSU will help meet this need while serving the community, both in terms of training graduates to become board-registered financial planners and also serving Kent County residents through financial literacy workshops and pro bono financial planning," Dean Covington said.
Students who minor in Financial Planning will be able to fulfill two of the CFP Board's education and ethics requirements through the courses and ethics workshops. Upon the completion of the Financial Planning Program at DSU, students will be prepared to take the CFP Certification Examination of the CFB Board.
According to Dr. Nandita Das, DSU associate professor of finance and the new program's director, the central theme of the program is to develop future financial planners. "And there is a shortage today of CFP certified financial planner who are non-white, female or young," she said. "There is especially a shortage in this field of African-Americans.
Dr. Das noted that the program prepares students to meet the CFP-standard, which is the growing trend in the industry. "While there are financial planning out there now who do not have such certification, it is expected that the CFP-standard will increasingly put uncertified practitioners of the profession out of business."
"CFP Board is pleased to approve the program at Delaware State University as a CFP Board Registered Program," said Mike R. Greene, chair of CFP Board's Board of Directors.  "As student interest in financial planning as a career continues to grow, we anticipate that Delaware State University's program will contribute significantly to the number of qualified candidates seeking to attain the CFP® certification, the standard of excellence for competent and ethical financial planning."
"The program director and faculty members have the academic and professional practitioner experience which should enable them to provide students with the learning experiences needed for preparation for the financial planning career."  Dr. Charles Chaffin Director of Academic Programs and Initiatives, CFP Board.
Today, CFP Board partners with over 360 programs at more than 225 institutions. CFP Board-registered programs are financial planning education programs at the college or university level that meet specific criteria for educating individuals who wish to fulfill the education component for obtaining CFP® certification.
The mission of CFP Board is to benefit the public by granting the CFP certification and upholding it as the recognized standard of excellence for personal financial planning.  For more about CFP Board, visit www.CFP.net.
For more information about DSU's CFP Program, contact Dr. Das at (302) 857-6940 or at ndas [at] desu.edu.