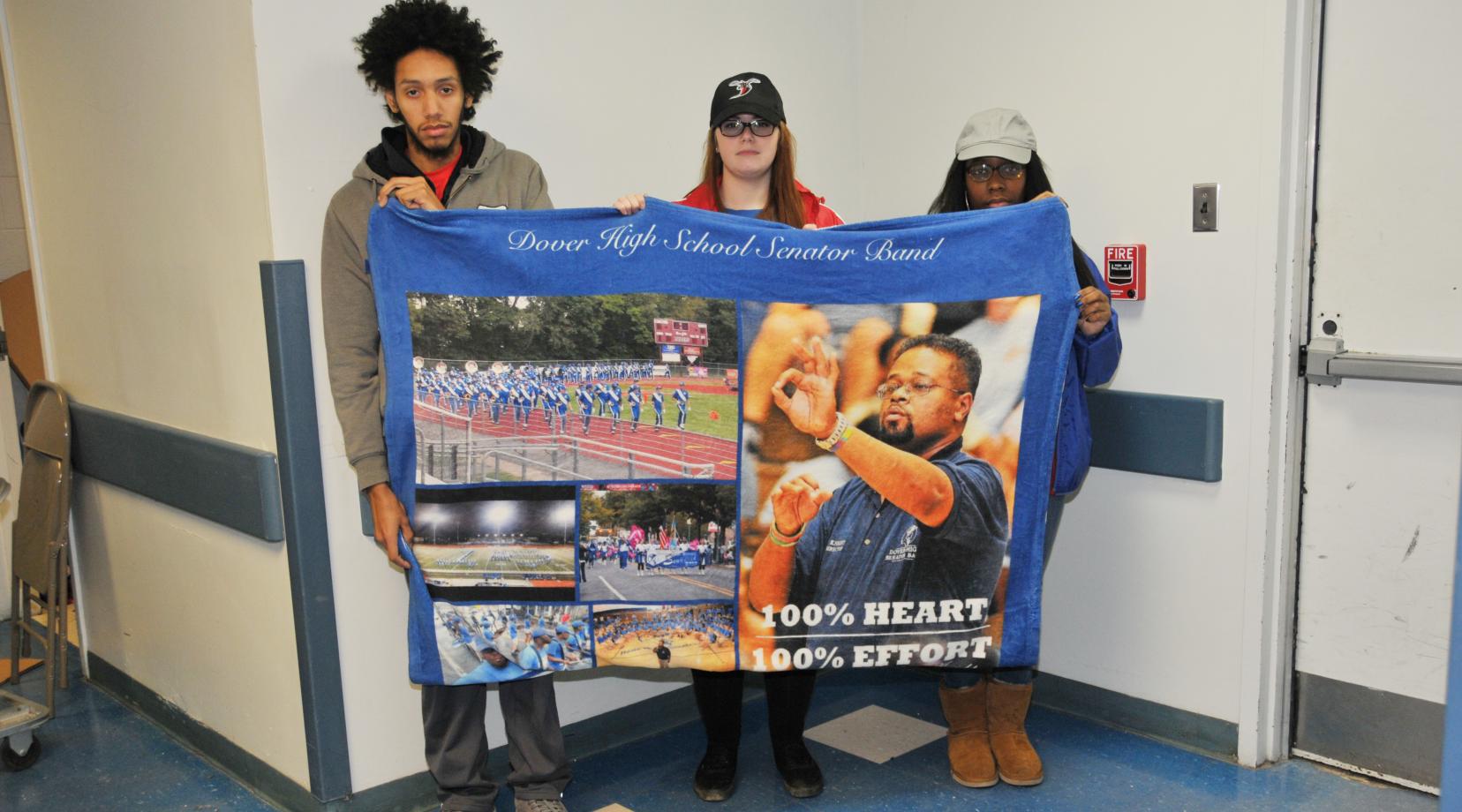 Arts, Humanities and Social Sciences, On Campus
DSU and Dover HS mourn the passing of Lenny Knight
Monday, March 20, 2017
The morning of March 15 was heavy with grief on campus as news spread throughout the DSU community of the sudden passing of Assistant Band Director Lenny Knight.
Mr. Knight, a Class of 1999 DSU alumnus and an assistant director with the DSU Approaching Storm Band since 2007, passed away suddenly at his residence on March 14.
The stunned reaction to Mr. Knight's death spread far beyond DSU as a result of his previous 15-year tenure as the band director at Dover High School.
Mr. Knight's entire life revolved around the two schools' music programs. Following his 1989 graduation from Dover High School, he enrolled that fall in then-Delaware State College and as a percussionist he joined the Approaching Storm Marching Band.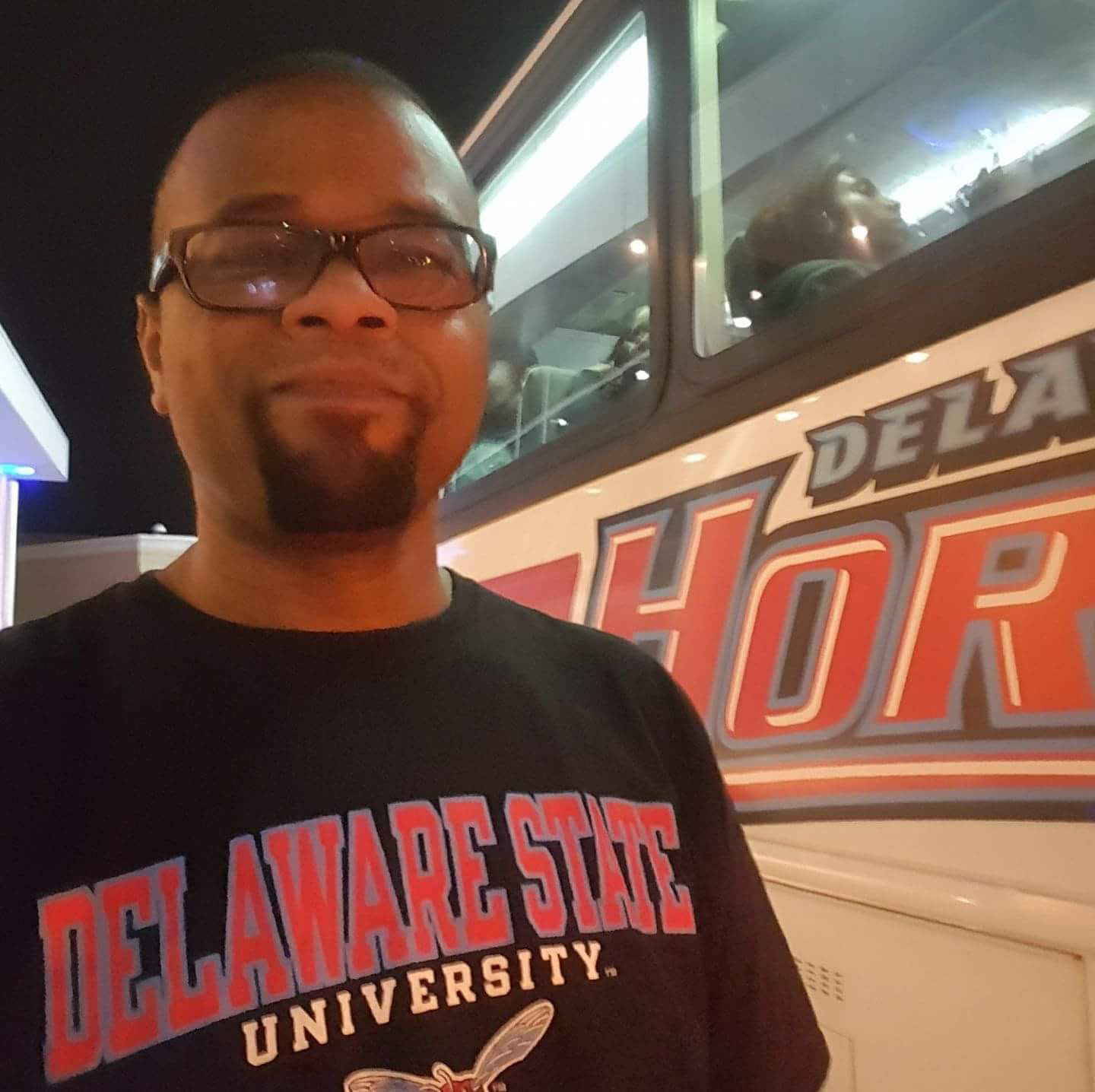 But according to Randolph Johnson, who was the band director from 1990-2001 and 2007-2016, Mr. Knight's academic pursuits were interrupted during his sophomore year.
"He left to work and help his family," said Mr. Johnson. "He returned to DSU in 1994."
Following his 1999 graduation from DSU, he returned to his high school alma mater and served until 2007 as its band director.
In a March 15 Delaware State News article, Dover High Principal Dr. Courtney Voshell said Mr. Knight's tenure at the high school left a great imprint on its music program, especially its drumline.
"We all recognize that without Lenny, our award-winning Rolling Thunder Drumline would not be in existence at the capacity that it is now," Dr. Voshell said. "Yearly we see elementary students aspire to one day be on that drumline; and we see those drummers hype the crowd at every event they are invited to perform at. It truly is his legacy."
In a 2007 Delaware State News article, Mr. Knight noted the philosophy that he shared frequently with students.  
"One thing that I always tell them is, 100 percent heart equals 100 percent effort," he said. "If you don't give it all your heart, you're never going to give it 100 percent effort. And that's not just band. That's life."
In 2007, Mr. Knight returned to his DSU alma mater to become a part-time assistant band director. In 2015 he became a full-time assistant band director, and worked in that post until his recent passing. The week before Mr. Knight's death, he had accompanied the DSU band to perform at the MEAC Basketball Tournament in Norfolk, Va.
"Lenny Knight showed his love for his alma mater by returning to DSU to help lead the Approaching Storm Band," said DSU President Harry L. Williams. "His gift in touching lives is evidenced by the students who played under him at Dover High School and then followed him to DSU."
Carlos Ortiz, a current Approaching Storm band member, is one of those Dover High School students who developed his musicianship under Mr. Knight at both schools.
"I'm the person I am today because of Mr. Knight," Mr. Ortiz said. "He inspired us and pushed to achieve our fullest musical potential."
Damian Bluto, the current student leader of the DSU band's percussion section, said that Mr. Knight has been a drumming legend for DSU dating back to his undergraduate years.
"He was a founder of the band's "Eye of the Storm" percussion section when he was a student," Mr. Bluto said. "He gave everyone pride in it and it became a brand because of him."
Dr. Harvey Bullock, in his first year as DSU's current band director, was a graduate assistant at DSU when he first met Mr. Knight during his undergraduate years in the 1990s. As a later band director at Sussex Central High School, he admired Mr. Knight's work at Dover High School.
"He was the epitome of a friend, brother, colleague and director. He loved his students and his alma mater," Dr. Bullock said. "I can't speak highly enough what he meant to me and this program. He always put the band program before himself."
Dr. Bullock added that next year's marching season will be dedicated to Mr. Knight.
In addition to his work at Dover High School and DSU, he also served as the director for the band that came together to play for the annual Blue and Gold game.
On Friday, March 24, there will be a 6 p.m. Celebration of Life music event in the Dover High School Gymnasium. Current and former members from DSU, Dover High School, and from the Blue and Gold Band are being invited to perform the music arranged by Mr. Knight. The event is open to the public.
On Saturday, March 25, final respects to Mr. Knight can be paid during a viewing from 9-11 a.m. followed by an 11 a.m. funeral service, both in the Dover High School auditorium.