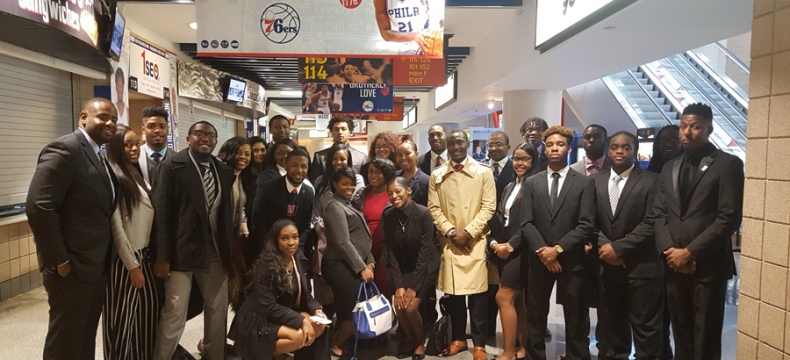 Business
Sports Management Majors Hear Industry Execs in Philly
Thursday, December 8, 2016
Students from the Sport Management Department had a unique experience at the 2016 Professionals in Sports Day hosted by the Philadelphia 76ers.
Alongside faculty member Maurice L. Suggs, students attended a panel discussion featuring industry leaders such as Tommy Smith, vice president of Operations of NBA D-League, Lara Price, sr. vice president of Business Operations of the Philadelphia 76ers and Mike Ondrejko, president of Global Sales for Legends.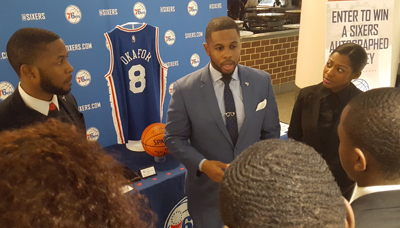 The Sports Management students connected with DSU alumnus Johnnie Lonon Jr. (center), who shared his experience as an account executive with the Philadelphia 76ers.
Also in attendance was Dr. Bill Sutton, former vice president of Team Marketing and business operations for the NBA and founder of Bill Sutton & Associates, a consulting firm specializing in strategic marketing and revenue enhancement shared their paths to success in the sports industry. Previous clients have included the AEG, NBA, NFL, Orlando Magic, Phoenix Suns, and MSG Sports.
"This event exposed our students to top sport business professionals outside the classroom and provided students opportunities to develop vital networking relationships with prospective employers," said Mr. Suggs, DSU instructor in the Department of Sport Management.
Students were welcomed by DSU alumnus Johnnie Lonon Jr., class of 2014 who matriculated with a degree in Sport Management. Johnnie is an Account Executive with the Philadelphia 76ers.  "I learned during my time at Delaware State that the secret to success and keys to your future are hidden in what you do every day. DSU taught me valuable professional tools and skills that have enabled me to be successful in the sports industry" shared Lonon.
Lonon currently mentors DSU senior, Taiquim Johnson from Queens, NY who was offered an interview with the 76ers for a Sales Associate position. "Johnnie helped to prep me for the interview to ensure that I was successful. His guidance allowed me to be more prepared and confident during the interview" said Johnson. While at Professionals and Sports Day, Johnson was given a personal tour of the facility by Eric Cole, Manager of Inside Sales (middle) who conducted his first round of interviews.
Freshman international student, Aayushi Chouhan noted "it was a great experience, great exposure. We were able to meet four great leaders in the area of Sports Management. It was a totally new opportunity for me. Personally, I have never seen such a large stadium and its operations back in my home country of India. My ultimate career aspiration is to work for the international Olympic Committee."
Article and photos submitted by Maurice Suggs