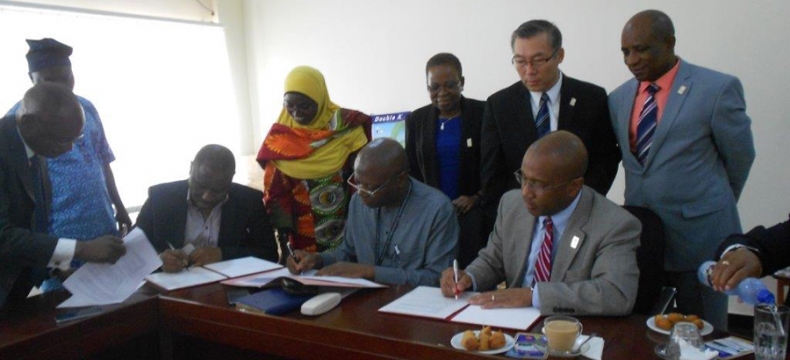 Partnerships & Collaborations, International Affairs
DSU Inks New Accord with University of Ibadan in Nigeria
Tuesday, December 6, 2016
Delaware State University recently signed a new agreement with the University of Ibadan (UI), an institution of higher education in the West African country of Nigeria that will facilitate a variety of possible collaborations and exchanges between the two schools.
For slideshow images from the trip, click on the below link:
https://www.flickr.com/photos/48216028@N03/sets/72157677512244205/show
DSU President Harry L. Williams traveled to Nigeria during the week of Nov. 14 to finalize the agreements with UI Vice Chancellor Abel I. Olayinka and Registrar Olujimi I. Olukoya.
The agreement paves the way for collaborations between the institution's faculty and staff in the area of research, lectures and other academic pursuits. The accord also opens the door to future faculty and student exchanges as well as short study abroad programs.
Within the initiative, DSU's College of Agriculture and Related Sciences and the University's Office of International Affairs will be engaged with UI in the partnership to also focus on solving distinct national and regional development challenges in and outside of Nigeria. This approach will capitalize on opportunities for a renewed presence of DSU, and by extension of Historically Black Colleges and Universities, in Africa.
The strategy will develop a Collaborative Capacity Building-Nigeria Model that will contribute to institutional strengthening and technology development, which is expected to have a multiplier effect in Nigeria and that region of Africa.
Using an evidence-based and multi-disciplinary approach, DSU will harness expertise from within its academic disciplines of Agriculture, Human Ecology, Biotechnology, Aviation, Nursing and Curriculum Strengthening in order to play critical roles in solving local human resource development challenges.
During the trip, Dr. Williams and the DSU delegation -- which included Dr. Marikis Alvarez, associate dean for research; Dr. Samuel Besong, chair of the Department of Human Ecology; and Dr. Fengshan Liu, assistant vice president of International Affairs; and Dr. Mopelola Adegoke, the initiator of the partnership -- held meetings with private sector entities GE-Nigeria and Arik-Air, the international organization of Institute of Tropical Agriculture, as well as with Benson Idahosa University, all to discuss potential collaborations in the future.
This initiative is in accordance with DSU's Strategic Plan goal of creating an exceptional learning environment that promotes challenging, high-quality curricular and co-curricular programs, engaged student learning, as well as local and global citizenship.