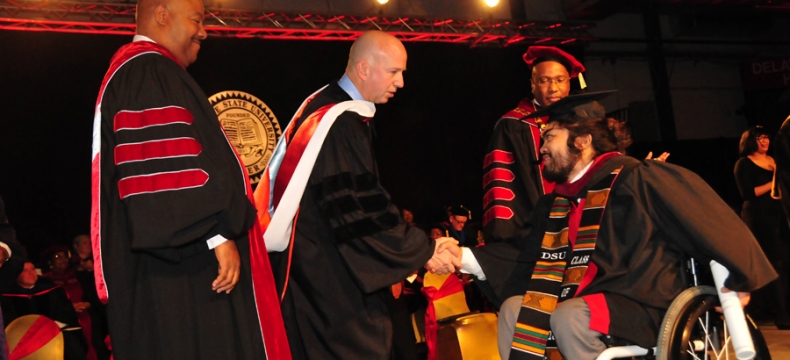 Business, Graduate Studies, Office of the President, International Affairs, Student Success
2016 Dec. Commencement – Article and Photo Slideshow
Saturday, December 17, 2016
DSU held its 2016 December Commencement on Dec. 17 in the Memorial Hall Gymnasium where more than 250 graduates received their diplomas recognizing the completion of bachelor, master and doctoral degrees.
For slideshow images from the Commencement Ceremony, click on the below link:
https://www.flickr.com/photos/48216028@N03/sets/72157676338943931/show
Among the undergraduates receiving their diplomas, eight completed their academic journey as Summa Cum Laude (3.75 GPA and above), 16 as Magna Cum Laude (3.5 to 3.74), 21 as Cum Laude (3.25 to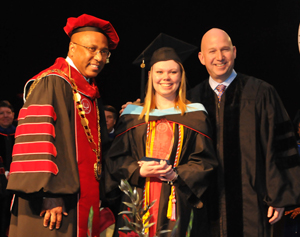 Jennifer Seibert (center) poses with DSU President Harry L. Williams and Gov. Jack Markell after she received the Presidential Academic Award.
3.49), and three as Honorable Mention (transfer students with 60 or more credit hours at DSU and 3.5 GPA or above).
DSU President Harry L. Williams presented the Presidential Academic Award to Jennifer Seibert. An Elementary Education major from Dover, Del. , Ms. Seibert maintained a 4.0 GPA throughout her entire undergraduate Summa Cum Laude journey.
During the ceremony, Dr. Williams presented Honorary Doctor of Humane Letters to Delaware Gov. Jack Markell and Johnny C. Taylor, president and CEO of the Thurgood Marshall College Fund, who also served at the commencement keynote speaker.
In his address to the graduating class of December 2016, Dr. Taylor noted that he often has to field media questions about the "relevancy" of Historically Black Colleges and Universities. He told the graduates that they are the most compelling case for why HBCUs matter.
Dr. Taylor said that DSU now needs its graduates to show up and be successful.
"You got to show up in the work place and show them that all the contributions you have received from the faculty have paid off," Dr. Taylor said. "You have got to show that you're are ready, willing, able and prepared to do their work and be promoted."
The keynote speaker said that DSU needs its graduates to become alumni that give back of their "time and treasurers." He also told them that when enter the work world, graduates have to learn how to deal win the "isms", whether it be racism, sexism, ageism or other types. He said don't let the wrong action of one person cause them quit their job.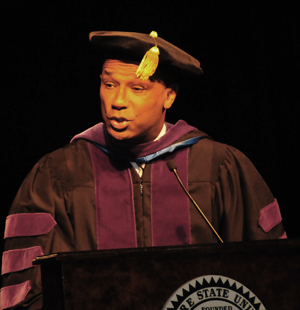 Keynote speaker Johnny C. Taylor Jr. told the graduates it is within their power to prove the relevancy of HBCUs through their success and support of their alma mater.
"Never, ever succumb to the "isms," because they don't matter. If it were that simple, then all of this would be a waste of time," Dr. Taylor said. "You put of all your energy into this. And your parents, grandparents, colleagues will have sacrificed so much. Don't let it happen."
He added," It is your job to be successful in spite of it."
The 2016 December Commencement was produced under the leadership of DSU Commencement Committee co-chairs, Dr. Bradley Skelcher, associate provost, and Brenda Farmer, director of University Ceremonies and Events.