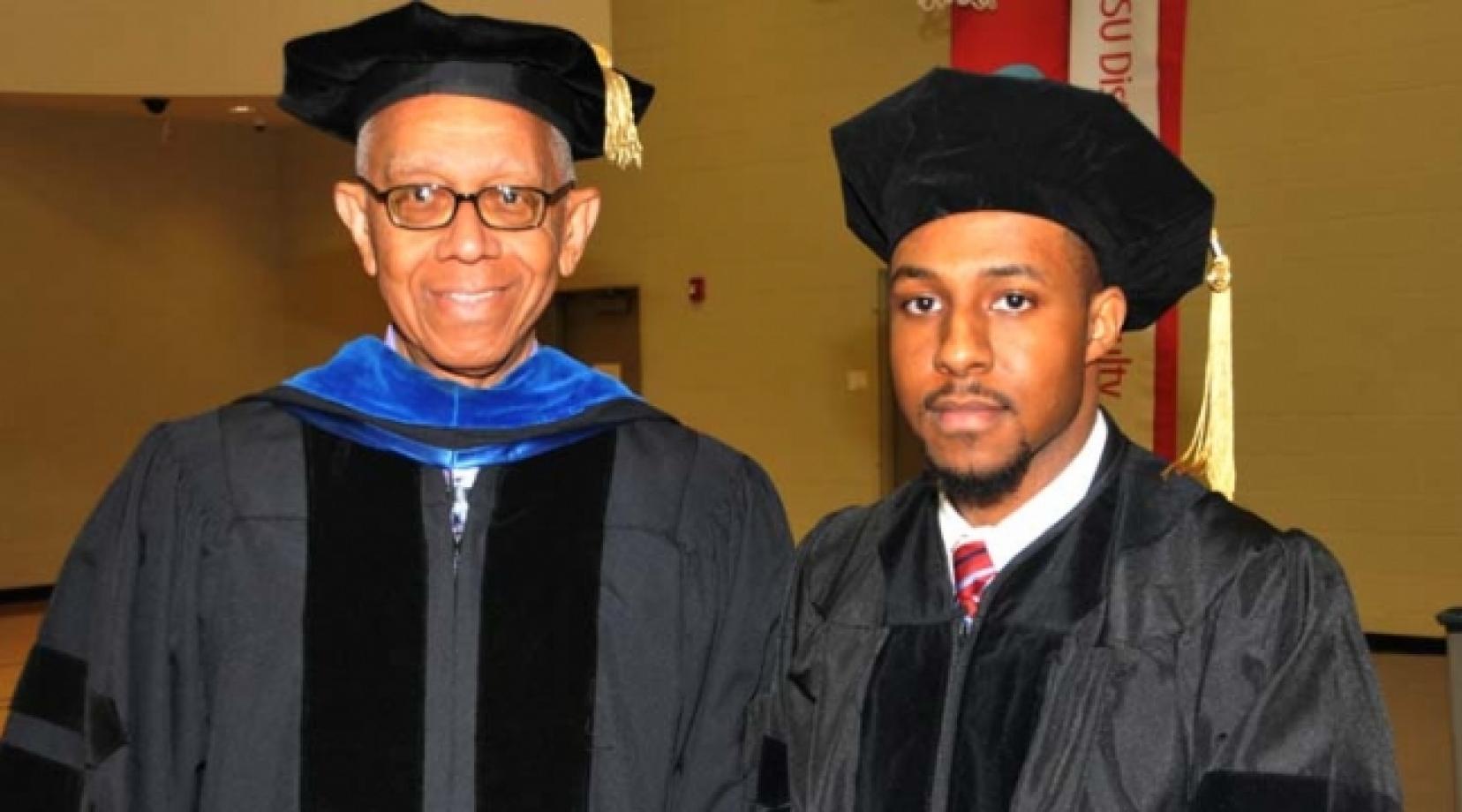 Mathematics, Natural Sciences and Technology
DSU's Dr. Jalaal Hayes Wins HBCU Male Student of Year
Thursday, July 21, 2016
Delaware State University made its mark at the recent 2016 Historically Black Colleges and Universities Awards as Dr. Jalaal Hayes – a December 2015 Ph.D. graduate – received the HBCU Male Student of the Year Award.
Dr. Hayes, a resident of Philadelphia, Pa., proudly received a Doctor of Philosophy degree in Applied Chemistry in December at age 22 – the youngest-ever Ph.D. graduate in DSU history. His dissertation – successfully defended in June 2015 -- was entitled "Thermodynami and Kinetic Studies of Alkali Metal Doped-Lithium Amide-Magnesium Hydride Hydrogen Storage System."
Now in its sixth year, the annual HBCU Awards is sponsored by HBCU Digest. DSU also received nominations in the categories of Male President of the Year (President Harry L. Williams), HBCU of the Year, and Best Research Center Award (the Optical Science Center for Applied Research, also known as OSCAR).
Dr. Hayes graduated from high school seven years ago in 2008 at the age of 15. He then earned bachelor's degrees in History and General Science, graduating cum laude at age 18 in 2011 (within three years) at his parents' undergraduate alma mater Lincoln University in Pennsylvania.
While completing his doctorate at DSU, he lectured in Tuscany, Italy, and Easton, Massachusetts, as a Carl Storm Fellow while authoring several peer reviewed journal articles and served on a team that obtained a United States patent for hydrogen research.
He completed a 2008 summer research internship at Howard University/NASA Undergraduate Research Center, before being enrolled in DSU's graduate program in Applied Chemistry where he worked with his advisor Dr. Andrew Goudy, professor of chemistry, in the Center for Hydrogen Storage Research (CHSR).
Now 23 years old, Dr. Hayes was featured on a Disney Junior Be Inspired television commercial for Black History Month 2016 earlier this year. He has been highlighted on ABC Visions, the Tom Joyner Morning Show, the Philadelphia Inquirer, the Philadelphia Daily News and other mediums.
Dr. Hayes said that he is currently working "as an educator in Philadelphia."