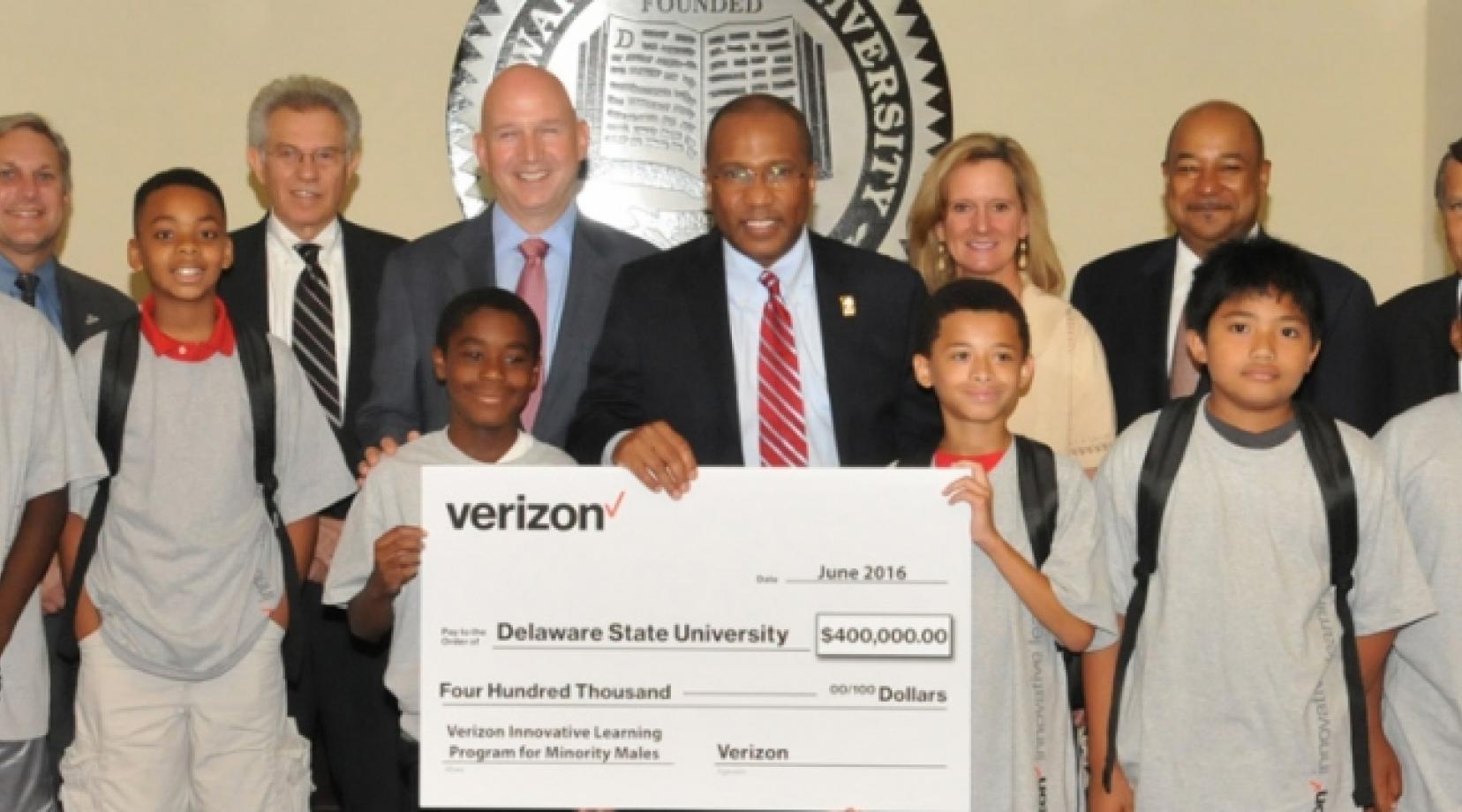 Archive
Verizon Presents $400,000 for STEM Ed Program at DSU
Tuesday, June 28, 2016
Delaware State University and Verizon today announced a partnership to provide STEM education to minority middle school boys in Delaware starting this summer.
The Verizon Innovative Learning Program, funded by a $400,000 grant from Verizon, will provide mentorship and hands-on classes in coding, robotics, 3D design and entrepreneurship to dozens of minority middle school boys over the next two years. DSU students and faculty with backgrounds in computer science and entrepreneurship will serve as mentors to guide students through the program, which will begin with a summer program on the DSU campus and continue during the school year at DSU and at William Henry Middle School and Central Middle School from the Capital School District in Dover.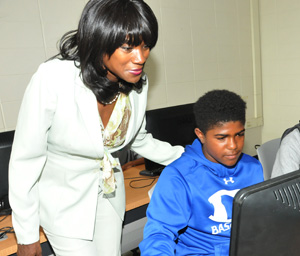 Lillie Crawford, director of the DSU Center for Enterprise Development, checks out the work of program participant Ezekiel Washington of Dover Central Middle School.
"While many focus on the idea that minority males are an 'endangered species,' DSU prefers to concentrate on what it can do to build up and guide young men to success," said DSU President Harry L. Williams. "While we work year-round to produce success stories among our students on the University-level, through this program the University can also offer elementary school to high school-age youths opportunities to attend summer camps that stimulate their intellect, build self-esteem, teach them academic disciplines that can help them thirst for higher education opportunities and give them career options in their futures."
The Verizon Innovative Learning Program is being administers by the DSU Center for Enterprise Development and the DSU Department of Computer and Information Sciences.
The Verizon Innovative Learning Program – which began in 2015 at four leading Historically Black Colleges and Universities and is now available in 12 cities across the country – was created to address an urgent need. Much attention has been paid to the importance of engaging girls in STEM but very few are talking about the promise technology skills hold for young, minority boys. Minority males are severely underrepresented in STEM fields and are less likely than Caucasian peers to graduate from high school on time and pursue college.
New evaluation data collected from over 300 young men shows that, after participating in the Verizon Innovative Learning Program, 100% of students increased mobile technology proficiency, 75% of students reported an increased interest in STEM (science, technology, engineering and math) subjects, and 69% had an increased interest in STEM careers.
The Verizon Innovative Learning Summer Camp will take place from June 27 to July 15 on the DSU campus. The skills learned by the youths will be reinforced during the subsequent regular school year through special technology days, field trips and after-school tutorial sessions.
The principal grant writer of the two-year $400,000 Verizon funding was Dr. Kam Kong, DSU associate professor of computer and information science.
"I am appreciative of Verizon's generosity and trust in DSU to conduct the program well on this campus," Dr. Kong said. "In the first couple of days of the camp, the kids were already tinkering with 3D model software and were printing their creations. The hands-on approach and novelty of seeing their creations emerging right in front of their eyes is really motivating the kids."