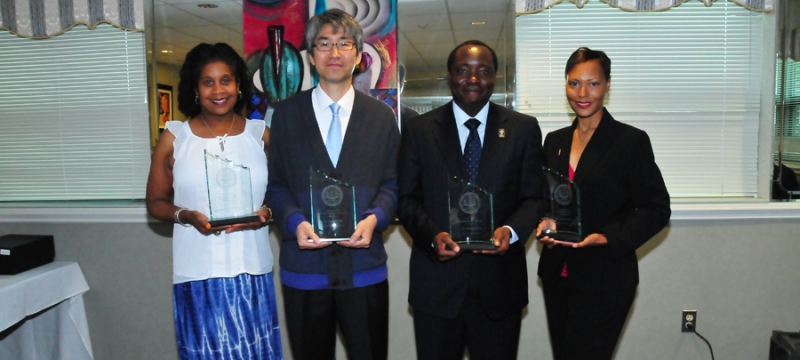 Archive
DSU Announces 2014 Faculty Excellence Award Recipients
Friday, May 30, 2014
Delaware State University has named four faculty members as the institution's 2014 Faculty Excellence Award recipients.
The University has selected the below faculty members in the following categories of Teaching, Research/Creative Activities, University/Community Service and Advising:
Faculty Excellence in Teaching
Dr. Raymond Tutu, assistant professor of history, political science and philosophy, has become noted for his student-centered teaching philosophy that inspires innovative and critical thinking. His teaching methods include class interactive discussions, field trips, seminars, and oral presentations and the use of appropriate technology. Regarding program and curriculum development, through the inclusion of a Geographical Information System he has revised the Population Analysis elective course in the Department of Sociology and Criminal Justice. He and another colleague were awarded a DSU PRIDE Grant to further enhance and integrate the University's internationalization through curriculum development and student/faculty exchanges.
Dr. Tutu contributed to student enrichment activities through a grant awarded him by the U.S. Institute of Peace Public Education for Peace-Building for a guest lecture series on the Arab Spring. Dr. Tutu has also been a co-advisor to the African Students Association. His participation in workshops organized by the Association of American Colleges and Universities is a demonstration of his involvement in teaching development activities. He has developed a tool for evaluating global competence among students (the first results would be presented by one of the students he mentored during Honors Day in April 2014).
Faculty Excellence in Research and Creative Activities
Dr. Jung-Lim Lee, assistant professor of food and nutritional sciences, has been an exemplary faculty member in the Department of Human Ecology. To initiate actual research activities in the Human Ecology Department, he set up the department's first laboratory named "Food Microbiology lab" in 2011. Dr. Jung-Lim Lee has been successful in attracting funds to support his research endeavors. Of the 15 grant proposals he has submitted, eight have been successfully funded, resulting in a just over $1.4 million in federal grants for DSU.
In two years (between 2011 and 2013), Dr. Lee published five peer-reviewed articles; he currently has four manuscripts under review. Additionally, he has been invited to two international conferences as a guest speaker and has presented five posters at professional meetings as a representative of DSU. As a research advisor, Dr. Lee has trained and mentored a total of 17 undergraduate and graduate students through various projects. Two graduate students received a 2nd place award in oral presentation at the Associated Research Directors (ARD) meeting in 2013 and in poster presentation at the DSU graduate research symposium in 2012 respectively, and one undergraduate student was awarded 1st place in oral competition at the ARD meeting in 2013.
Faculty Excellence in University and Community Service
Dr. Dawn Lott, professor of mathematics, has demonstrated a commitment to service that is easily seen in the multiple roles she has served in her department and college as well as on the University level. While she has served on numerous committees for her Department of Mathematics and her College of Mathematics, Natural Sciences and Technology, she has also served the University on the: Excellence Award Committee, Living-Learning COMMONS Committee, Provost Council, Student Affairs Strategic Planning Committee and University Strategic Planning Council. In addition, Dr. Lott has been the director of the DSU Honors Program since 2009, in which she has created a four-year Honors Program curriculum that allows students to integrate honors courses into their departmental academic schedule.
Outside of DSU, she served as a reviewer in numerous journals in her field; she also belongs to many professional associations, including the Association for Women in Mathematics (AWM) Mentor Network, Institute for Broadening Participation, Mathematics Association of America (MAA), Committee on Minority Participation in Mathematics and others.
Faculty Excellence in Advising
Dr. Clytrice Watson, associate professor of biological sciences, has made advising and mentoring a major focal point of her DSU tenure, which began in 2006. In addition to serving as an academic advisor, she has advised students – ranging from high school to graduate – in scientific research. Tracking the success of her students has been critical in improving her advising and mentoring practices to ensure that she provides her students with the adequate tools they need to succeed beyond DSU.
Dr. Watson is the primary advisor for forensic biology majors and minors, an academic program she was instrumental in developing. She keeps diligent records for all of her advisees and tracks their progress through their curriculum from their freshman year until graduation and beyond. She provides extended hours during pre-registration to ensure students are adequately advised. Students received an email directing them to make their advisement appointment two weeks prior to the pre-registration period. Dr. Watson has a well-established advisement meeting process, in which students prepare a draft of their schedule for Dr. Watson's review, which leads into discussion about any academic difficulties and the plan for the following year.
The 2014 Faculty Excellence Award recipients were honored during a May 29 luncheon hosted by DSU President Harry L. Williams and Provost Alton Thompson. Each recipient received a monetary award of $2,500.