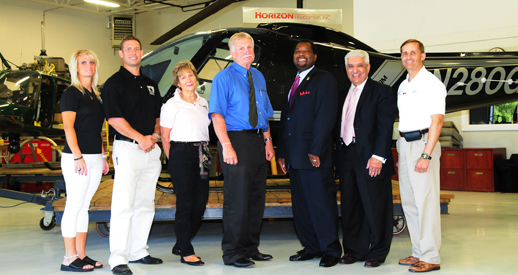 Archive
DSU, Horizon Helicopter Ink Agreement to Provide Flight Training
Monday, July 29, 2013
Delaware State University has expanded the training options of its Aviation Program by signing a new agreement with Horizon Helicopters, Inc., of Newark, Del.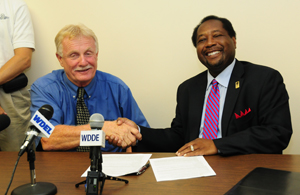 Horizon owner Harry Griffith and DSU Provost Alton Thompson seal the deal with a handshake after signing the agreement.
The agreement – signed today at the Horizon Helicopters facility – establishes a University flight training partnership with the company to provide helicopter training as a new option in DSU's Professional Pilot concentration of its Bachelor of Science in Aviation Program.
Now DSU aviation students can choose between flight training on fixed-wing aircraft and/or on helicopters.  The helicopter flight training will take place at the Horizon facility in Newark. The new partnership also opens the door for military veterans to use their Department of Defense benefits to enroll in the program.
Dr. Alton Thompson, DSU provost and vice president for Academic Affairs, Amir Mohammadi, DSU executive vice president and University treasurer, and Capt. Stephen Speed, director of the DSU Aviation Program, joined Horizon Helicopters co-owners Harry and Judy Griffith for the formal partnership signing. Mr. Griffith flew a helicopter down to Dover to pick up the DSU delegation and flew to the Horizon facility for the agreement signing.
Capt. Speed noted that very few university flight programs offer a helicopter option, and as such this partnership will give DSU aviation students a unique learning opportunity to experience helicopter flight operations.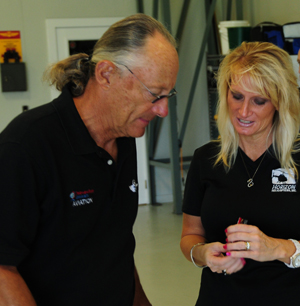 DSU Aviation Program instructor Tom Biang (left, talking with Horizon's Julie Keating) is credited for being instrumental in working out many of the details of the partnership with the helicopter business and the Federal Aviation Administration (FAA).
"For DSU, it begins what we expect to be a long and mutually beneficial partnership with a company that has a demonstrated track record of success," Capt. Speed said. "This option broadens our ability to train future aviation professionals. It is another way that DSU can accommodate the expected future growth of the aerospace industry."
The Horizon Helicopters owners are equally excited to join with DSU in this training collaboration.
"Horizon Helicopters is honored to be uniting in a flight training partnership with Delaware State University to offer civilians and veteran students the opportunity to include rotorcraft/helicopter certification as part of their bachelor's degree in aviation," said Mr. Griffith.
Since the 1988 establishment of the DSU Aviation Program (formerly Airway Science), its degree concentration offerings of Professional Pilot and Airways Management have been a mainstay among the most unique degrees available at Delaware State University. Aviation degree seekers can earn their licenses to become professional pilots or pursue the management side and become airport managers or air traffic controllers.
Horizon Helicopters, Inc. has been Delaware's only FAA-approved Part 135 charter service company since 1985. The company performs numerous types of helicopter services and is Delaware's only state-approved helicopter training facility.
With the agreement, the helicopter flight training will be offered for the first time in the upcoming 2013 fall semester. For more info about this training, contact the DSU Aviation Program at (302) 857-6710.