Archive
DSU Aviation Program Recognized by Del. House of Representatives
Thursday, January 27, 2011
The Delaware House of Representatives welcomed to its General Assembly chambers the students and faculty of Delaware State University Aviation Program to recognize its Aviation Team's success at a recent regional flight competition.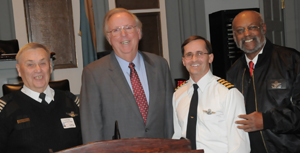 DSU Aviation Program founder Dan Coons, state Speaker of the House Robert F. Gilligan, Capt. Stephen Speed and state Rep. Donald Blakey
DSU alumnus and state Rep. Donald A. Blakey introduced the Aviation Program representatives to the legislators and presented the aspiring pilots a certificate of recognition from the House of Representatives.
The DSU Aviation Team – Marc Anderson, Andrew Meiers, Robert Saunders, Will Jester, Vincent Russ, Thomas Beenick and Bryan Shultz – was recognized for their performance in the National Intercollegiate Flying Association Region VII Flight Competition at the Brookhaven Airport, N.Y.
Topping the DSU aviators' performance was Marc Anderson, a senior aviation professional pilot major from Felton, Del., who amassed the highest total score after competing in eight flying and ground categories that measured the contestants' performance in flying, landing, navigation, preflight exercises, as well as other areas.
As the Top Scoring Contestant and Top Pilot of the competition, Mr. Anderson will represent Region VII at the National Flying Competition at Ohio State University in the spring. He was unable to attend the event because he is currently doing a flying internship with Continental Airlines.
Rep. Blakey was joined in the recognition by state Rep. William J. Carson, Jr., and another DSU alumna, newly elected state Rep. Stephanie T. Bolden ('69).
The DSU Aviation Program is led by its director, Capt. Stephen Speed.