Archive
Dr. Dawn Lott named new director of Honors Program at DSU
Friday, August 28, 2009
July 09, 2009
Dr. Dawn Alisha Lott, associate professor of Applied Mathematics and Biological Sciences has been named as the new director of the Honors Program at Delaware State University.

Dr. Lott earned her Ph.D. from Northwestern University and has been at DSU since 2003. Her major research interest is the numerical study of solutions of partial differential equations that model physical phenomena in nonlinear solid and fluid mechanics, biomechanics and physiology.

She is a member of the Association for Women in Mathematics, the Mathematical Association of America, the Society for Industrial and Applied Mathematics, the American Mathematical Society, the Biomedical Engineering Society, and she is vice president of the National Association of Mathematicians.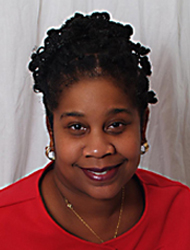 Dr. Dawn A. Lott
As director the Honors Program, Dr. Lott will work with deans, department chairpersons, program directors and faculty members to develop more innovative honors colloquia and courses in the major fields of studies and in the general education curriculum. She will work with the Enrollment Management team to identify, recruit, and retain qualified students for the Honors Program. Additionally, she will work with faculty members and professionals in Student Affairs to develop co-curricular honors activities and residential education honors opportunities.

As director of the Honors Program, Dr. Lott will report to the Office of the Provost and directly to the associate provost, Dr. Bradley Skelcher.

"Overall, Dr. Lott will provide the Honors Program with the important leadership needed to deliver the utmost quality program to the University Honors students," said Dr. Harry L. Williams, DSU provost and vice president of Academic Affairs.