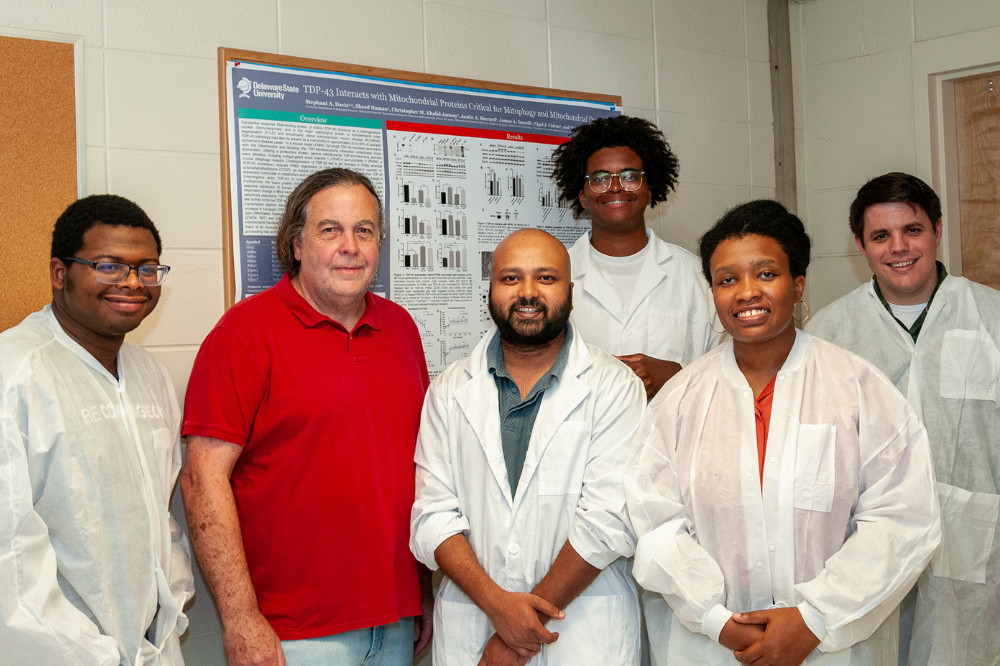 On Campus
Foundation donation boosts Alzheimer research at DSU
Friday, November 17, 2023
The Alzheimer's disease research of Delaware State University scientist recently received a boost from a generous foundation donation.
The Paul H. Boerger Fund of the Delaware Community Foundation awarded a $500,000 donation to the Delaware State University Foundation in support of the Alzheimer's disease research program led by Dr. Michael Gitcho, Associate Professor of Biological Sciences.
According to Dr. Gitcho, Alzheimer's disease (AD) is the most common form of dementia, accounting for 70-80% of all cases.  The greatest risk factor for AD is aging; an estimated 30 million people are living with AD worldwide and over the next 30 years, That figure is expected to increase to over 130 million worldwide. In the U.S., there are 6 million people afflicted with Alzheimer's disease.
In Dr. Gitcho's project entitled "Changes in network connectivity as a biomarker for early detection of Alzheimer's disease," functional magnetic resonance imaging is being used in a mouse model to determine the changes in network connectivity, through which the researchers hope to find early points for therapeutic intervention.  
In addition, Dr. Gitcho and his research team are developing new models of neurodegeneration that mimic the pathology and memory deficits associated with AD. It is hoped that these new models will help the researchers and science to gain a better understand of pathways associated with this complex disease.  
The monetary support from this generous donation also provides students and researchers an opportunity to develop as scientists through career development, technical skill workshops, and presenting their work at meetings and conferences, Dr. Gitcho said.
"We strongly believe that the path to a cure starts with support for the next generation of scientists," Dr. Gitcho said.