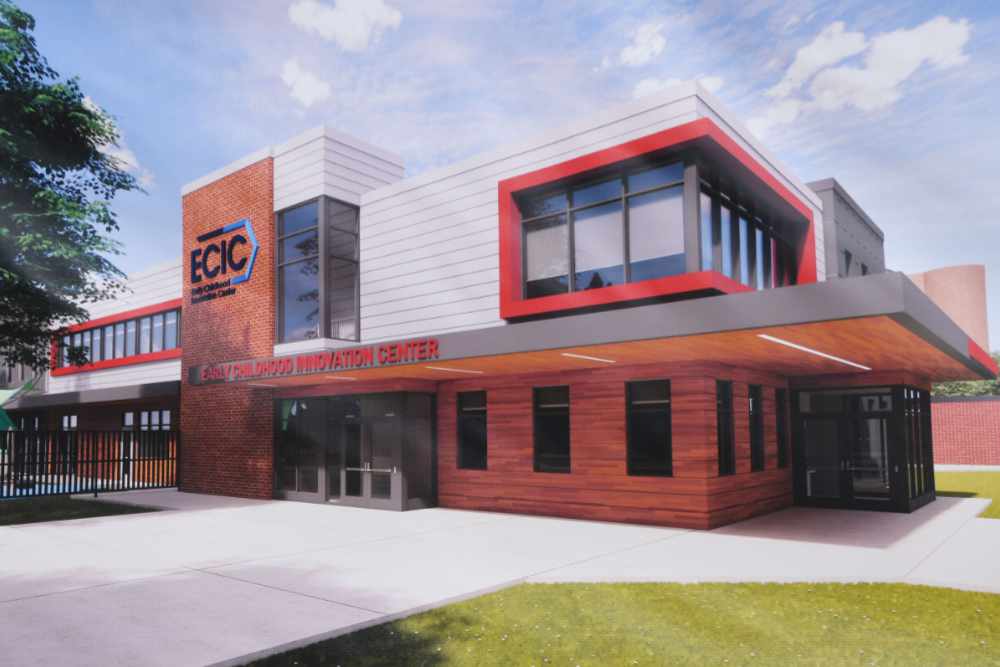 On Campus
DSU's Early Childhood Innovation Ctr in New America online publication
Friday, September 29, 2023
In advance having a permanent building to work out of, the Early Childhood Innovation Center's work in improving the early childhood care system in Delaware is already drawing positive media attention. The below is an article by the online publication New America in which the Early Childhood Innovation Center is one of the featured case studies.
Strengthening a Robust Economic Recovery with Child Care
Using State and Local Fiscal Recovery Funds to Support the Workforce
By 
Sarah Gilliland
Sept. 19, 2023
The pandemic revealed many weaknesses in the country's caregiving infrastructure, exposing both how essential caregiving work is and how hard it can be to find and pay for. These weaknesses undermine robust pandemic recovery and economic development by undercutting the labor supply—particularly at the expense of working mothers. Many state and local governments leveraged State and Local Fiscal Recovery Funds (SLFRF) from the American Rescue Plan Act (ARPA) to close the care gap, supporting both working families and the country's economic recovery. Billions of dollars in SLFRF remain available for state and local leaders to bolster their care infrastructures, but these funds must be obligated by the end of 2024.
A Robust Recovery and Sustained Economic Growth Require Affordable, Accessible Child Care
New America's analysis of recovery fund reporting data found that states and localities have directed at least $3 billion from ARPA's State and Local Fiscal Recovery Fund to seed more than 700 innovative and ambitious care investments in five areas that lower costs for families and invest in America and its people: child care, expanded preschool and early learning opportunities, home and community-based care, child tax credit enhancements, and paid family and medical leave.
There's still time to redirect non-obligated fiscal recovery funds and influence the use of dollars that states and localities obligated without concrete plans. Specifically, funds must be obligated by the end of 2024 and spent down by the end of 2026. State and local leaders have the ability to capitalize on fiscal recovery funds to respond to the care crisis that threatens our economic recovery and the wellbeing of families and communities. These funds also present opportunities to bridge gaps as pandemic-related programs and care-specific ARPA funding streams expire.
Expiring child care stabilization funds are an immediate concern. ARPA child care funds provide financial relief to providers and are credited with preventing 220,000 provider closures and preserving child care access for 9.6 million children and their working families. Currently, these funds are set to expire in September, 2023. The Century Foundation has reported extensively on the child care cliff and the impending harmful impacts to families, children, and child care providers. In the state of Utah, payments to providers will decrease by 75 percent in October, immediately after the funds expire. The Century Foundation estimates that nationwide, 3.2 million children will lose child care spots and that 70,000 providers may close. As they and many others have pointed out, this situation deserves sustained federal funding, but despite broad and bipartisan support for child care across the country, Congress has not been moved to act on behalf of working parents and their young children.
The Relationship between Child Care and a Strong Workforce
Two-in-five full-time working parents have children under age six.
Women who are parents of young children are far less likely to be in the labor force than their male counterparts.
A recent ReadyNation report estimates that lost earnings, productivity, and revenue due to inadequate child care costs families, businesses, and taxpayers a whopping $122 billion per year, a doubling of the pre-pandemic figure.
In low- to moderate-income communities, which were disproportionately impacted by the pandemic, the lack of child care is a primary challenge in finding and maintaining employment.
A U.S. Department of Labor Women's Bureau analysis found that higher child care prices are associated with lower rates of employment among mothers.
Case Studies: Using State and Local Fiscal Recovery Dollars to Support the Workforce through Child Care
At the state and local level, many leaders have made the connection between a strong child care sector and a robust economic recovery by focusing on care as an essential component of comprehensive workforce development programs. This case studies offer an example of SLFRF-supported projects to inspire and guide communities that are interested in bolstering their local workforces and economies by dedicating a portion of their recovery funds to child care.
We focus on five case studies—two states, one region, one county, and one city—to demonstrate how different locations are leveraging ARPA's flexible funding to expand the child care workforce, lower child care costs for families, engage employers in child care access, and fund new child care facilities. When selecting projects for these studies, we looked for workforce focus, diverse approaches, and—where possible—planned evaluation activities. While the ultimate success of these programs is yet to be seen, an evaluation component helps ensure that the impact of these projects can ultimately be measured, understood, and ideally replicated.
State of Delaware
Project: Early Childhood Innovation Center
Region: Mid Atlantic
SLFRF Investment: $10 million
Child Care Investment: Expanding the Child Care Workforce
Summary: A partnership with Delaware State University will establish an Early Childhood Innovation Center, supporting current and future early childhood educators across the state.
Planned Evaluation: Yes
Early Childhood Innovation Center
Why This Project
A third of Delaware's children are not kindergarten ready due to a number of factors including child poverty, food and housing insecurities, domestic violence and other trauma, and lack of access to quality health care, said Dr. Shelley Rouser, Chairperson of Delaware State University's Education Department. "The teachers and caregivers they [work with] have to be aware of these challenges and prepared with the skills to overcome them."
Contributing to this challenge is a lack of child care access across the state. The Philadelphia Federal Reserve Bank noted in 2022 that the total licensed capacity of providers was 35,481, but there are 54,261 children under the age of five in the state. Low wages and few career pathways into the profession have limited the field, with Delaware experiencing a decline in child care educators even before the COVID-19 pandemic. The pandemic exacerbated the challenge, and child care educator shortages prevented families from finding child care and getting back to work.
Investment Specifics
In fall 2021, Governor Carney announced a partnership between the Governor's Office, the Department of Education, Department of Health and Social Services, and Delaware State University that would establish an Early Childhood Innovation Center (ECIC). The goal of ECIC is to support more qualified, well-paid child care educators and expand access to affordable child care for Delaware families in need.
The ECIC was established as a new initiative to redesign Delaware's early childhood education support model, funded with $30 million from the state, $10 million of which is from the American Rescue Plan.
How They Did It
With the pandemic exacerbating an existing child care educator crisis in Delaware, state leaders decided to make a significant and long-term investment to improve the field. The goal was to create an effort 100 percent dedicated to advancing the child care educator workforce across the state—developing the supports, incentives, and guidance needed to sustain a robust child care workforce. ECIC serves as a central hub for child care workforce initiatives, research, and strategic partnerships across the state. Centralizing these supports under one roof with a higher-education partner, especially an Historically Black College and University (HBCU) partner, was vital to create and sustain a center built on a strong philosophical commitment to the diversity of the Delaware early childhood community.
The effort is committed to addressing the real barriers workers have in participating in the field, so the work began in 2022 with intense stakeholder engagement and feedback to inform the design of the program and the support ECIC provides to workers. The program is also committed to tracking what is working and sharing it nationally, leveraging existing research and collecting and analyzing program data to track impact.
In early 2023 ECIC began hiring their team, piloting components of the program, and developing branding for the effort. The program officially launched in July 2023 and broke ground on a new ECIC facility on the Delaware State University campus.
ECIC develops new and innovative child care educator recruitment, retention, and compensation strategies. They provide scholarships so individuals can earn internationally recognized credentials, including Child Development Associate (CDA), Associates, and Bachelor's degrees, to prepare them for successful careers in early care and education.
The Center also offers comprehensive support to those entering the field to reduce the many barriers to entering the child care profession. Supports include scholarships for tuition, stipends for transportation, one-on-one mentoring/career advising, on-site child care while attending class, technology/laptops, and materials and supplies. The new scholarship program will work with all four Delaware institutes of higher education who offer degrees in early childhood education, and the ECIC will be developing an early childhood education navigator program to ensure barriers are removed and a clear pathway to a degree is accessible to all.
The program will offer support in multiple languages and engage groups who often don't pursue the child care profession, such as males. ECIC will empower and cultivate a highly-skilled, educated, and diverse workforce, focused on communities historically impacted by inequalities.
Project Impact
As of launch in July 2023, the center supports 120 students pursuing their Associates or Bachelor's degrees within local institutes of higher education and a regional partnership to support Spanish speaking early childhood education professionals. The ECIC has also welcomed over 200 CDA candidates in one of three cohort models that provides dedicated coaching to ensure all components of the CDA are mastered. The ECIC has designed a robust cohort model that includes on-site coaching, goal setting, anti-bias training, exam preparation, and pre-observation supports. The ECIC has partnered with local early childhood organizations and high school Early Childhood Career Pathway programs to ensure support is focused on both the coming and current workforce.
As part of the funding, a new state-of-the-art facility will be built on the University Campus. The new building will house the Delaware State University Laboratory School on the first floor, serving infants through age five, and provide ample opportunities for local and national early childhood education professionals to observe best practices and innovative strategies in early childhood development. The second floor will house the ECIC administrative and programmatic suite along with classrooms and community spaces for collaborative learning and advocacy.
To read the entire article with all five case studies, to go https://www.newamerica.org/new-practice-lab/briefs/strengthening-a-robust-economic-recovery-with-child-care/
Reprint by permission of New America