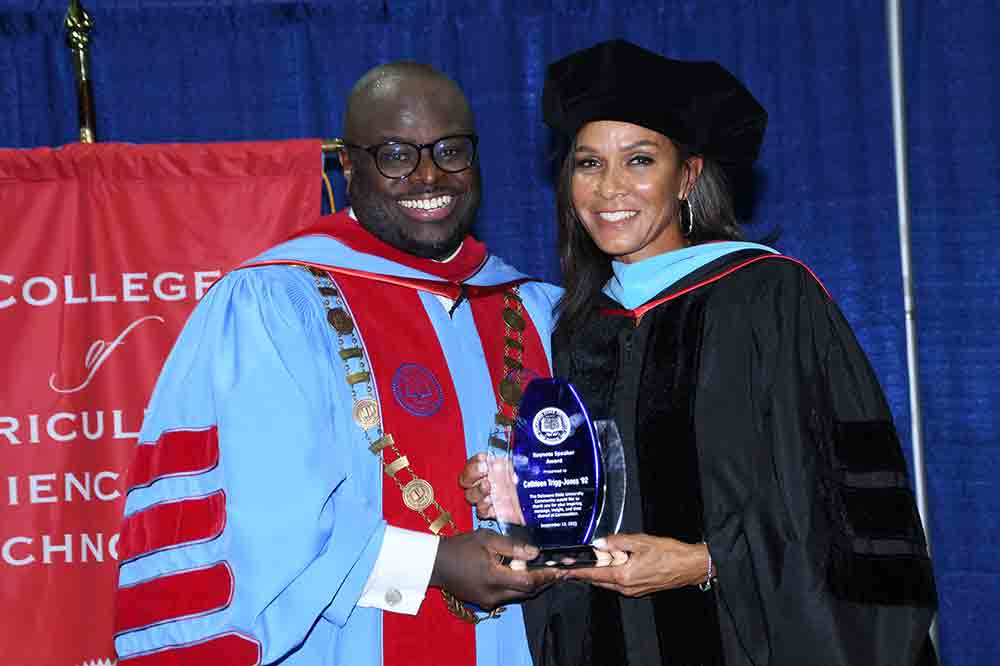 On Campus
2023 Convocation – article and photos
Tuesday, September 12, 2023
The Convocation 2023 – the ceremonial official start of the school year – featured as its keynote speaker Cathleen Trigg-Jones, a 1992 DSU alumnus and an Emmy & Telly Award-winning journalist.
The Sept. 12 Convocation was held in the Memorial Hall Gymnasium, where in her keynote address Ms. Trigg-Jones recounted her undergraduate at then-Delaware State College.
"I had audacious dreams," Ms. Trigg-Jones said.  "If you don't allow yourself to dream, it's impossible to make a dream come true. Little did I know, that at Del State my dreams would take root and begin to flourish."
Her dream was to make it in television and film as a broadcast journalist and actress. However, all she could do at Del State was major in journalism because the Mass Communication Program was non-existent in 1987.
As a freshman, she asked for a meeting with then newly appointed DSC President William B. DeLauder and inquired as to why there was no Mass Communication Program. She said Dr. DeLauder listen to her explain why such a program was needed, but that was the extent of his response. Or so it seemed.
Ms. Trigg-Jones said sometime later Dr. DeLauder informed her that a faculty member was being hired that had experience in television and film. That faculty member hire led to establishment of a Mass Communications Program at Delaware State College.
In his introduction of Ms. Trigg-Jones, University President Tony Allen credited her with planting the seed that led to the birth of the Mass Communication discipline at the institution.
Ms. Trigg-Jones recommended that students adopt the metaphorical use of "blinders and ear plugs" to block out the naysayers and to remain laser-focused on their dreams and aspirations.
She noted that the Delaware State University was founded with a purpose – to empower students. "You are the chosen ones. Out of the thousands of students that applied to get in DSU and didn't get in, you are the ones that are here," Ms. Trigg-Jones said. "HBCUs have been nurturing black leaders for more than a century, and you are now a part of that legacy. You time (at DSU) is going to transform you and you going find a family that supports you and uplifts you."
"My time at Del State provided me with opportunities that changed my life forever. I pursued journalism, and helped shape this Mass Communications Program. I became the assistant editor of the Hornet Newspaper. I pledged Delta Sigma Theta," she said. "And I did all this as a single mother."
Ms. Trigg-Jones concluded her address by noting that Delaware State University is a place where barriers are shattered and potential has no bounds. "Focus on your dream and know that there is no limit to what you can achieve as a student of this fine institution," she said.
Concurring with Ms. Trigg-Jones, President Allen told the incoming freshman class who they are.
 "You are the voice of a new generation, and you have to spend time thinking about what that means for you, for your community, and for each other," President Allen said. He then had the entire freshman class stand up and repeat the following:
"I am the voice; I will lead, not follow. I will create not destroy. I am a leader. I am a force for good. I am a force for peace. Defy the odds. Set a new standard. Step up, step up, step up."
The Convocation also featured inspirational remarks from Dr. Akash Dania, Chair of the Faculty Senate; Leah Williams, President of the national DSU Alumni Association; Tobenna Amanfo, President of the Graduate Student Association; and Nasai Oliver, the 2023-24 President of the Student Government Association.
Leroy Tice, the new Chairman of the DSU Board of Trustees also offered encouraging words to the freshmen in attendance. He also took the opportunity to recognize his predecessor, former Board President Dr. Devona Williams, who was attending her final formal University event as a Board member (her final term ends in December).
Also featured at the Convocation were outstanding music performances by the University Band and the 86-voice University Concert Choir.