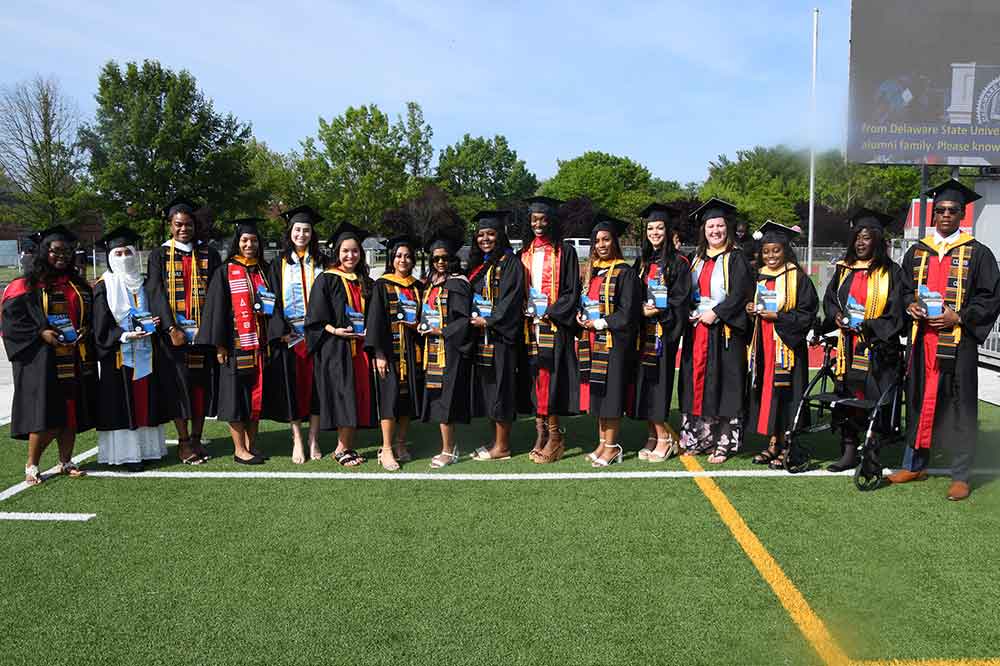 On Campus
2023 Undergraduate Commencement – article & photos
Saturday, May 13, 2023
Delaware State University's 2023 Commencement was not its first graduation year to have multiple Presidential Academic Award (4.0 GPA) recipients.
However, it is the first Commencement to recognize a school-record 21 Presidential Academic Awardees.
Those awardees – so numerous that the presentations were done on the ground instead of on the stage – were among a number of highlights during the University's 131st  Commencement Undergraduate Ceremony held outside at Alumni Stadium on May 12.
For images from the undergraduate ceremony, click on the below links:
Undergraduate Commencement
https://www.flickr.com/photos/48216028@N03/albums/72177720308237762/show
Undergraduate creative Commencement caps
https://www.flickr.com/photos/48216028@N03/albums/72177720308254909/show
During the 8 a.m. undergraduate ceremony, University President Tony Allen expressed his feelings about the Class of 2023.
"The world is complex and daunting, but you are the vanguard now. The freshest, fastest and fiercest among us," said University President Tony Allen. "Today is your moment. Whether you are a first-generation graduate or a legacy of Delaware State University alumni, you were made to fulfill this purpose. You are fortified, fabulous and ready to serve."
After a late cancellation by the scheduled keynote speaker, on less than one day's notice, Congresswoman Lisa Blunt Rochester came and gave a powerful address to the graduates.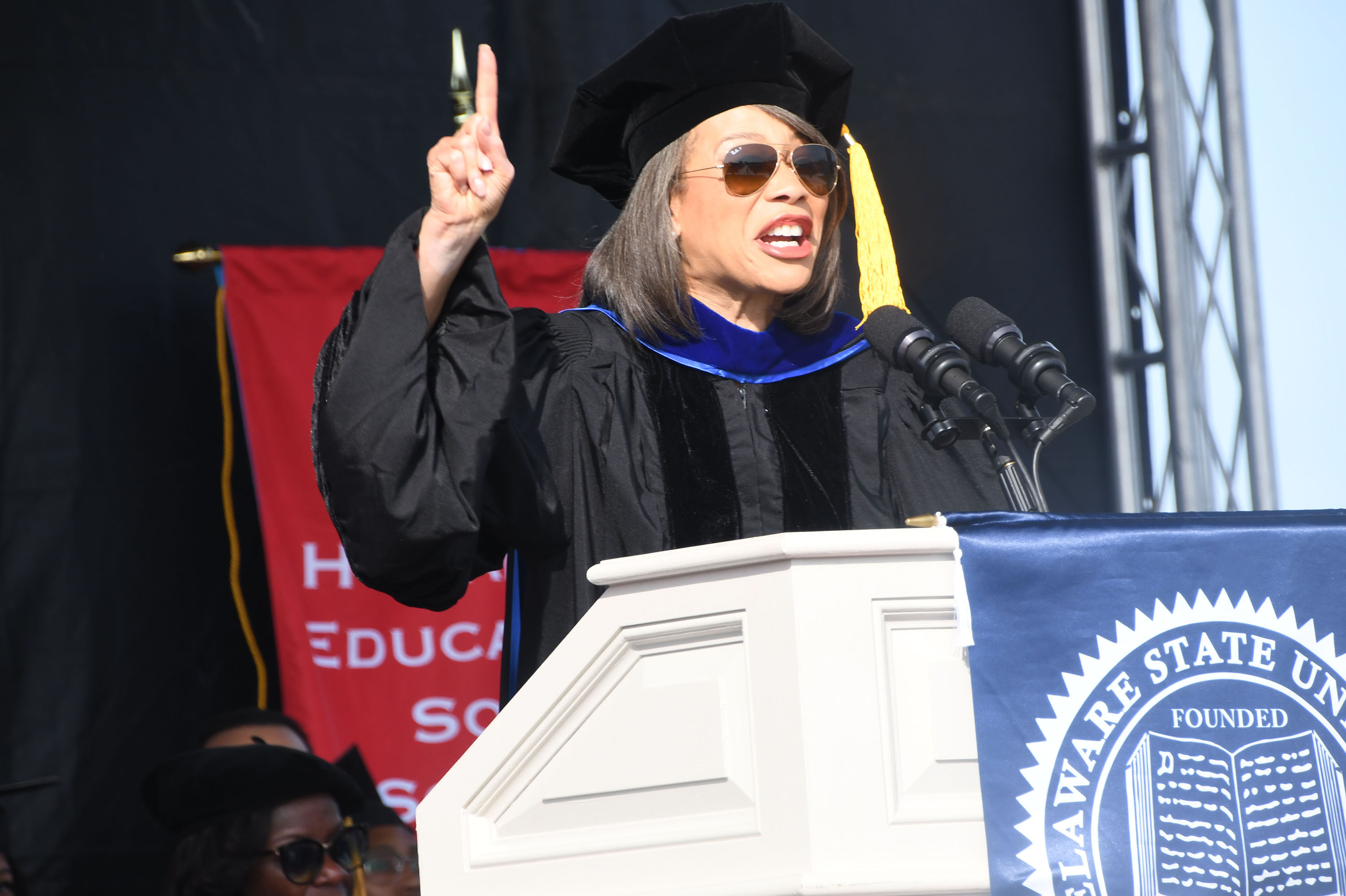 "Our foundation is shaky on this earth right now. Everything from the planet to our democracy, to criminal justice reform to people having clean water to drink and air to breathe. Basics are on the line," U.S. Rep. Blunt Rochester said. "But what gives me hope, what gives me joy is looking out at all of you, because you were born for such a time as this."
Showing the graduates and crowd a pair of her childhood ballet shoes, she shared some relevant lessons she learned from her dance pursuit.
The dances that have many people are so much more impactful and so much more fun and bring joy. "In this life, the work you will be doing is a team sport. Nobody does everything by themselves."
Creativity is necessary. "You might get that left brain, but you need that right brain, too. We are whole people. We are artists as well as engineers. All of it matters. The only way we are going to solve climate change, alleviate poverty, building housing is by being creative."
Just like a ballerina maintains a disciplined focus pirouetting, so did she urge the graduates to "keep your eye on the prize."
Just as there is pain from the physical demands of ballet, there will be pain associated with the demands of life.
U.S. Rep. Blunt Rochester told the gathering of a profound period of pain in her life – the unexpected death of her husband. After a season of grief, she overcame her sadness by realizing she had something to contribute. She ran for Congress and won a seat in the U.S. House of Representatives.
The Congresswoman ended her keynote address with a poem she wrote some time ago entitled "Don't Look."
Don't look at where I came from. Look at where I am going.
So I wasn't born with a silver spoon in my mouth and my people came from way down south.
Don't Look at where I came from. Look at where I am going.
I'm a Black woman trying to get equal pay, 62 cents on the dollar, lifting sick bodies and flipping burgers, waiting tables makes me want to holler.
Don't Look at where I came from. Look at where I am going.
Nourishing my growing babies putting food on the table, I'm do what I have to, cause by God knows I'm able.
Filling my mind is a big part. But filling my spirit in particular.
Reaching out to positive people and getting rid of sick people who are constantly tripping.
Don't Look at where I came from. Look at where I am going.
Like the song they sang in the 70s, I'm singing real loud.
Yeah, Don't get in my way cause "Ain't no stopping us now"
So for the last time now, I'm telling, I don't mean to be prissy.
But don't look where I came from, because you might miss me.
U.S. Sen. Tom Carper said the Class of 2023 is graduating at the right time."There have been 10 million new jobs created in the past two years," he said. "The unemployment rate is 3.4%, the lowest unemployment rate that we have had in 69 years."
The school-record 21 Presidential Academic Awards 4.0 GPA recipients included:
Olukemi Titiloa Ajibawo of Hanover, Md., Criminal Justice
Danielle Allen of Burlington, Ontario, Canada, Liberal Studies
Malgorzata Andersohn of Jonesboro, Ark., Kinesiology
Felicia L. Banks of Middletown, Del., Liberal Studies
Maceon Melanie Battle of Middletown, Del., Criminal Justice
Samara Benjamin of Sacramento, Calif., Psychology
Gabriela Cabrera of Elkridge, Md., Biological Sciences
Miranda Cantu of Aberdeen, Md., Agriculture
Esther Hadassah Daniel of Dover, Del., Biological Sciences
Gabriyella Daniel of Dover, Del., Accounting
Abigail Edwards of Felton, Del., Agriculture
Najay A. Jackson of Bronx, N.Y., Political Science
Jayla Johnson of Cocoa, Fla., Liberal Studies
Ciara Jones of Hampton, Va., Chemistry/Pre-professional
Genaveve Oliveri of Salem, N.J., Criminal Justice
Molly Quinn of Dover, Del., Social Work
Zymir A. Lee Robinson of Dover, Del., Biological Sciences
Zaha Shahdad of Middletown, Del., Engineering Physics
Maya Simone Shuler of Crowley, Tex., Liberal Studies
Shanon Hope Vella of Millsboro, Del., Social Work
Shamaya L. Young of Seaford, Del., Social Work.
Presidential Leadership Awards were presented to Jonte Simmons (the outgoing Mr. DSU) of Laureldale, Pa., Accounting, and Rita Williams, Social Work.