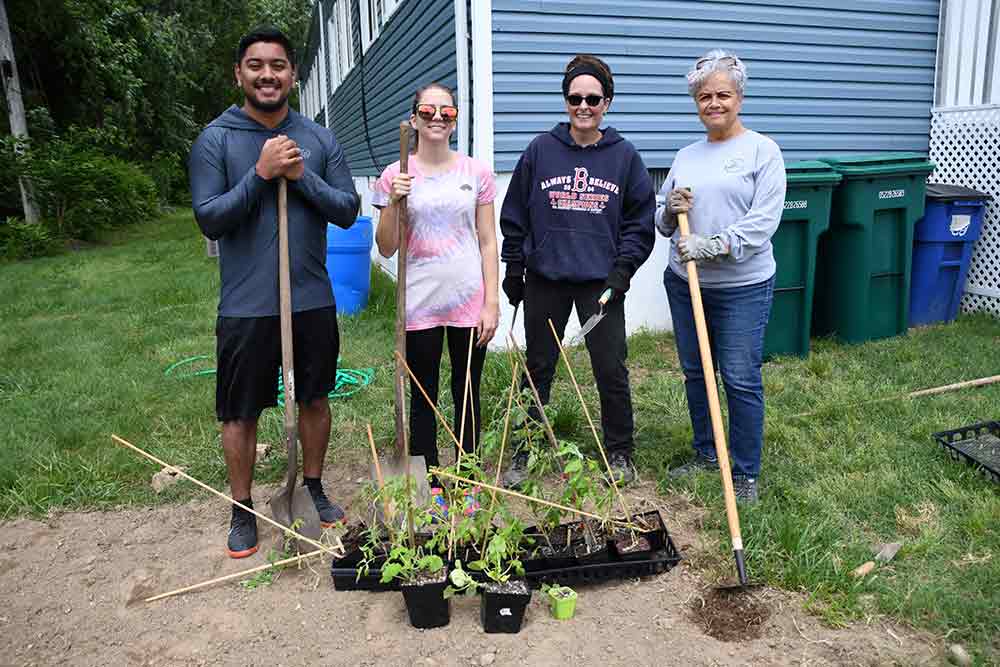 On Campus
New outreach program emerge at Capital Park Community Ctr.
Tuesday, May 31, 2022
One year after a quiet opening during COVID-19, the DSU-Capital Park Community Center in southeast Dover is bustling with activity, including bringing a community outreach program to Kent County, holding food drives, planting a new community garden, and upgrading a playground for a planned summer camp for youngsters.
With the help of numerous partners, the Biomedical, Behavioral, and Allied Health Center (BBAHC) at 2 N. Capital Avenue offers a myriad of services and programs to surrounding residents in Capital Park, as well as serving as a research center for Delaware State professors and a site for experiential learning for DSU students.
"The Capital Park community center is a multi-function resource for both Delaware State University - with its research facilities and programs - and an active center providing programs to Capital Park and surrounding communities based on their needs," said Dr. Gwendolyn Scott-Jones, Dean of the Wesley College of Health & Behavioral Sciences.  "We are meeting people in their community and environment by bringing needed services. This is an example of the person in environment theory of social work."
The surrounding Capital Park neighborhood has a long tradition of community volunteerism and activism but operates under crushing poverty, with the area scoring a 9 out of 10 on a national scale that measures the socioeconomic health of a neighborhood.
The university took ownership of the building in the early 2000s and reopened it as a community center after rehabbing the space.
Some of the services offered at the center include medical guidance and care from Tova Community Health, a practice specializing in Sickle Cell Anemia founded by Dr. Nina Anderson.
Also housed at the center is the Delaware State Sleep Stress and Behavioral Neuroscience Program, headed by Dr. Janeese Brownlow, Assistant Professor and Neuropsychology Researcher and her research assistant, Ms. April Roper. Partners of the BBAHC include First State Community Action Agency, the Dover Interfaith Mission for Housing, U.D. Cooperative Extension, the Food Bank of Delaware, NAMI, New Life Christian Outreach Church and the Department of Health and Human Services, along with many other community organizations.  
Dr. Cynthia Newton, director of programs for the College, said the center is in the process of creating a permanent food and clothing bank for area residents. Last month, working with the Delaware Food Bank, center employees handed out food to more than 140 families. Other ideas include holding a health fair at the center, with free disease screenings and information.
"There is so much possibility for positive impact and change at Capitol Park and we will work with the community to make some of those things a reality," said Dr. Newton. "In addition to the great festivals, music events, and other services provided here, we are looking forward to our first year of summer programming for youth, after-school tutoring, job force development, private events, and much much more."
The newest, and perhaps most impactful program, is the expansion of Community Well-Being Ambassadors (CWA) from New Castle to Kent County, based at the center. 
Del State will serve as the managing partner, alongside several agencies and non-profits such as Network Connect, Minds in Motion Integrated Behavioral Health, the Center for Structural Equity/Community Intervention Team, and GBA Consulting.
The intent is to address the trauma and toxic stress that community members have experienced, especially from the effects of opioid and other stimulant abuse.
Fourteen Kent County Ambassadors will engage people with behavioral health needs wherever they are ready to engage; improve coordination across referrals and access to services; provide opioid and other stimulant abuse prevention education and referrals and care management and support for mental, physical, social, and spiritual well-being;
The pilot program launched in New Castle County last year consisted of 24 Community Well-Being Ambassadors working from six host sites throughout Wilmington.  Since opening, the latest figures show 450 community members engaged with Ambassadors, with a total of 2522 total interactions. Nearly 90 percent of community members who interacted with the Ambassadors also received recovery skills training.