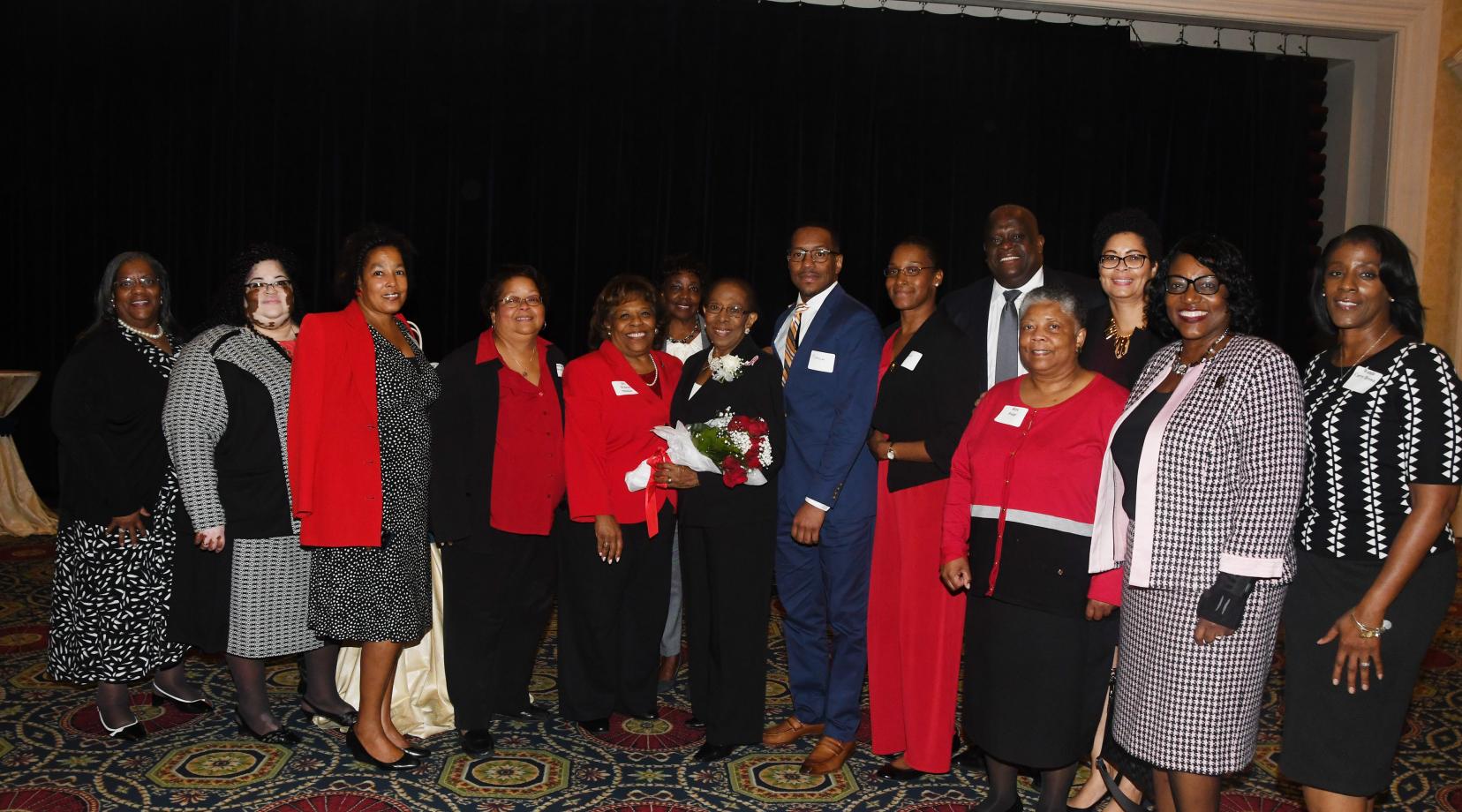 On Campus
Dr. Reba Hollingsworth inducted into Del. Women's Hall of Fame
Saturday, September 29, 2018
The First State recently honored beloved DSU alumna Dr. Reba Hollingsworth for her years as an educator and work in community service by inducting her into the Hall of Fame of Delaware Women.
During the 37th annual Hall of Fame event, Dr. Hollingsworth was inducted along with educator and former U.S Second Lady Dr. Jill Biden, educator and longtime Smyrna School District Superintendent Deborah Wicks and U.S. Rep. Lisa Blunt Rochester.  
For images from the evening, click on the below link:
https://www.flickr.com/photos/48216028@N03/sets/72157671780957517/show
A host of Dr. Hollingsworth's DSU family, her Whatcoat United Methodist Church family, former students and community admirers gathered at the event, held Sept. 27 in the ballroom of the Dover Downs Hotel & Casino.
Dr. Hollingsworth, 92, was recognized for her life that overcame the years of segregation in Delaware – which included her time as a student at Booker T. Washington Middle School, the Delaware State College High School and Delaware State College, from which she earned a Bachelor of Science in Home Economics. She later earned a 1970 Master's Degree in Education Guidance from the University of Delaware and a 2001 Ph.D. in Counseling from Pacific Western University.
Dr. Hollingsworth was nominated by Dick Carter of the Delaware Heritage Commission, who in his address during the Hall of Fame ceremony noted not only her work as a vice chair of that body, but told of her service as a life member of the NAACP, as a past president of the African American Historical Society and her involvement in the civil rights movement. He also noted that she is one of the foremost authorities in the state on parliamentary law.
The following is Dr. Hollingsworth acceptance address she gave at the ceremony: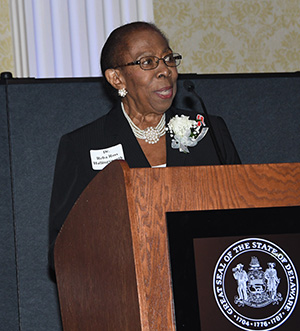 "Thank you" does not begin to express my sincere appreciation to all who are responsible for my standing here this evening, beginning with Richard Carter and the members of the Delaware Heritage Commission, who nominated me because they believed that I met the criteria and was worthy for induction into this prestigious Hall of Fame of Delaware Women.  God has ordained that  "My Journey To Today" is a beacon to light the way for others to follow.  So, I am grateful to the Office of Women's Advancement and Advocacy and the Delaware Women's Hall of Fame Committee for selecting me as a recipient of this award today, along with these three outstanding women.  This is an early 92nd birthday present.  I also want to thank my family, my daughter, Vivian, my grandson, Billy, my brother, Eugene and his wife, Jean, and my cousins, my sorority sisters, my Whatcoat Church members, my Delaware State University family, my Pan-Hellenic sisters and brothers, my NAACP family, my students, including Mayor Robin Christensen and his wife, Cindy, my DSAP members, and all my friends, who have supported me and encouraged me for the many years of my journey and are sharing this night with me.
I accept this honor with gratitude and a deep sense of humility.  This award must be shared with my late parents, Solomon and Rachel Ross, whose ancestry in Delaware stretches back beyond 1790.  They taught my six siblings and me to do something positive with our lives while we have breath because we have a long time to be dead.  We were expected to help others, to share our gifts and talents, to treat everyone with love and respect.  My dad told us that the folks are as good as the people and we should not "take low" for anybody.  As a young girl, I learned that being poor – I grew up in a three-room house with no running water, no electricity, no indoor toilet - and being black – I couldn't choose the color of my skin - were not excuses for being ignorant and uneducated.  Ignorance breeds poverty.   The brain is neither black nor white.  It is gray.
 So, I used my brain, even though segregation placed many obstacles along my journey, such as, no high schools in Kent and Sussex Counties for black students; low wages for long hours of work.  When I was hired as a home economics and science teacher in 1954, Delaware had a dual salary scale for its teachers.  The beginning salary for black teachers was $2,800 a year and for white teachers, the beginning salary was $3,200 a year.  Because I had taught in South Carolina for one year, my starting salary was $2,960.  But God smiled on me and, with His help, I learned to navigate the roadblocks and pitfalls as I journeyed on to this day.
 I thank God that our parents instilled the principles which Paul taught the Philippians 2:2, "Don't do anything from selfish ambition or from a cheap desire to boast, but be humble towards one another…"
My late husband, Berlin, the man with whom I shared sixty-nine years of marriage, also deserves to be acknowledged for standing beside me and behind me and supporting me and encouraging me throughout our marriage.   We tried to guard our tongues and to practice the power words by realizing that:
A careless word may kindle strife;
A cruel word may wreck a life.
A bitter word may hate instill;
A brutal word may smite and kill.
A gracious word may smooth the way;
A joyous word may light the day.
A timely word may lessen stress;
A loving word may heal and bless.
                                                                   Author Unknown
My journey is not over yet.  With God's help, I shall continue to devote my life to service to mankind.
Again, Thank You, Merci, Danke, Gracias, Cumshaw, Grazie, for this outstanding award.  What an honor to be among these distinguished Delaware women!
Reba R. Hollingsworth, Ph.D.
September 27, 2018
Dover Downs Conference Center