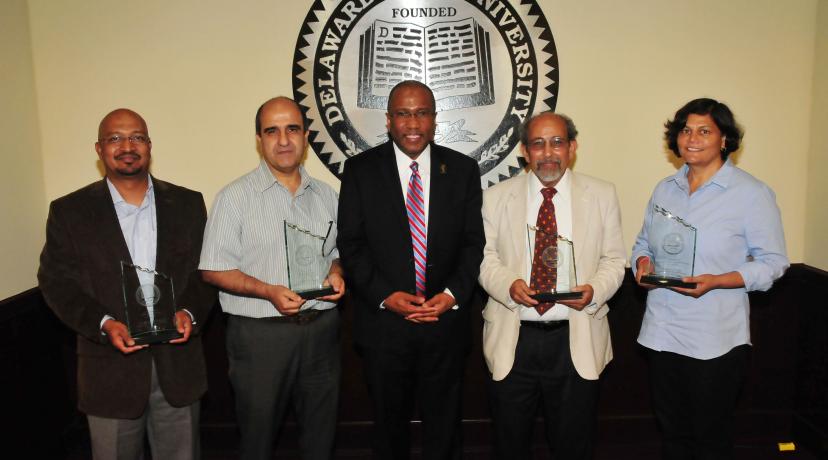 Mathematics, Natural Sciences and Technology, On Campus
2017 DSU Faculty Excellence Awardees Announced
Friday, July 21, 2017
Delaware State University recently honored four faculty members as its 2017 Faculty Excellence Award recipients. Honored were:
Faculty Excellence Award for Teaching – Dr. Murali Temburni, assistant professor of biological sciences.
A five-year DSU faculty member, Dr. Temburni's teaching philosophy is that the emphasis in the classroom should be on student learning, not instructor teaching. With that emphasis in mind, this year's teaching awardee works to feature the visual depiction of concepts through the use of the latest developments in bio-imaging, as well as internet resources. His active learning techniques include giving student the option of cooperating on homework assignments. Dr. Temburni believes that independent research projects, peer reviews and classroom discussions are a good way of catering to the needs of the active learner.
Faculty Excellence Award for Research – Dr. Renu Tripathi, associate professor of physics and engineering.
Shortly after beginning her faculty tenure at DSU in 2008, Dr. Tripathi established a Photonic Imaging Laboratory (PIL). Located in the Optical Science Center for Applied Research (OSCAR) Building, this research has been able to equip her laboratory with current state-of-the-art instrumentation through the acquisition of more than $16 million in research and equipment grants. The research done at PIL seeks to develop novel photonic imaging systems for various applications. DSU undergraduate and graduate students are regularly utilized for PIL research.
Faculty Excellence Award for Advising – Dr. Mazen Shahin, professor of mathematics and director of the Alliance for Minority Participation at DSU.
A DSU faculty members since 2001, Dr. Shahin has been the director of a number of student-centered programs – the Bridge to the Doctorate (2014-2017), through which he has advised 12 students; the International Science and Technology  Academy for Research Scholars (I-STARS) and the International Research Experience (IRE), through which he advised 50 undergraduates during research experiences in China and Poland between 2011-2017. He also directed the Science and Mathematics Initiative for Learning Enrichment (SMILE) from 2011-2015 and the Changing the Equation for Science and Mathematics Learning (CESML) from 2015-2017; through those two programs Dr. Shahin advised 50 undergraduate students.
Faculty Excellence Award for Service – Dr. Hacene Boukari, associate professor of physics and engineering.
A DSU faculty member since 2010, Dr. Boukari has worked over that time to be an integral member of the University family. He served as the chair of his department's Curriculum Committee, Graduate Committee and Ad-hoc By-laws Updating Committee. He has also successfully secured grant funding which strengthened the research and teaching infrastructure of the College of Mathematics, Natural Sciences and Technology. Dr. Boukari has also participated on the Excellence Awards Committee, the Faculty Senate, and initiated DSU's partnership with the University of Versailles in France. Outside of the DSU campus, Dr. Boukari has served as an expert for the Complex Chronic Disease Taskforce of the State of Delaware, and the founder the Delaware View Program, which has improved access in the state to spatial date and geographic information about outer space.