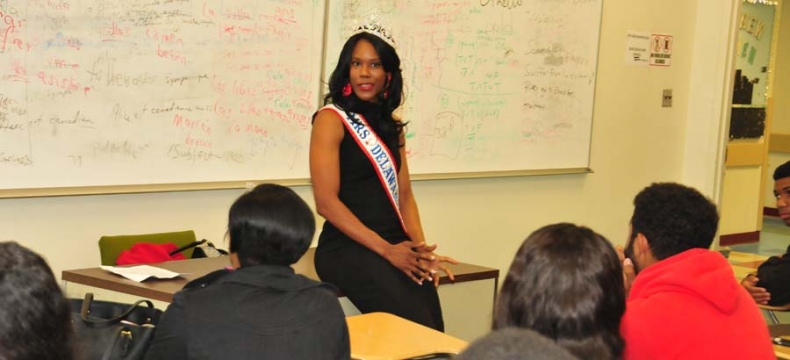 Business
DSU Alumna Returns to Share Life Experiences with Students
Thursday, November 3, 2016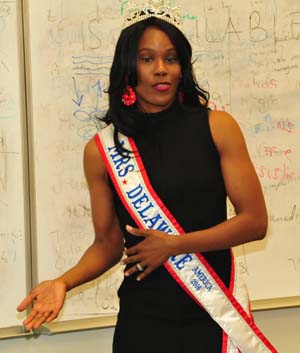 In sharing her life experiences and successes with a speech class Nov. 2, DSU alumna Tetra Shockley became an instant role-model for many of the students.
Tetra Shockley, Esq., class of 2004, came back to her alma mater Nov. 2 to give back and share her life experiences with a DSU speech class.
It is a toss-up as to which of her life experiences fascinated the students more.
Clearly her standing as the reigning Mrs. Delaware America sparked a number of questions about her success in that state pageant.
But her livelihood as a state deputy attorney general who prosecutes cases in Delaware Family Court also attracted a lot of questions from the class of about 40 students.
With respect to both of those admirable aspects of her life, Mrs. Shockley was just thrilled to be sharing with the speech class taught by adjunct instructor Sonya McCray.
"I just love the idea of giving back to DSU," Mrs. Shockley said.
In speaking to the class, she shared her passion for advocacy on behalf of children. She noted that a negative situation that took place in her childhood prompted her to make the prevention of child abuse her platform when she successfully ran for Mrs. Delaware.
Mrs. Shockley talked about her work as a deputy attorney general and how she uses the "art of persuasive speech" to make her cases on behalf of children in Family Court cases.
After graduating from DSU in 2004 with a Bachelor's Degree in Marketing and Management (double major), she later pursued law at Widener University, both graduating with a law degree and passing the Delaware Bar Exam in 2012.
Mrs. Shockley's achievements as an attorney and a pageant winner will be the subject of a feature article in the upcoming edition of The Echo alumni magazine, to be published in early 2017.