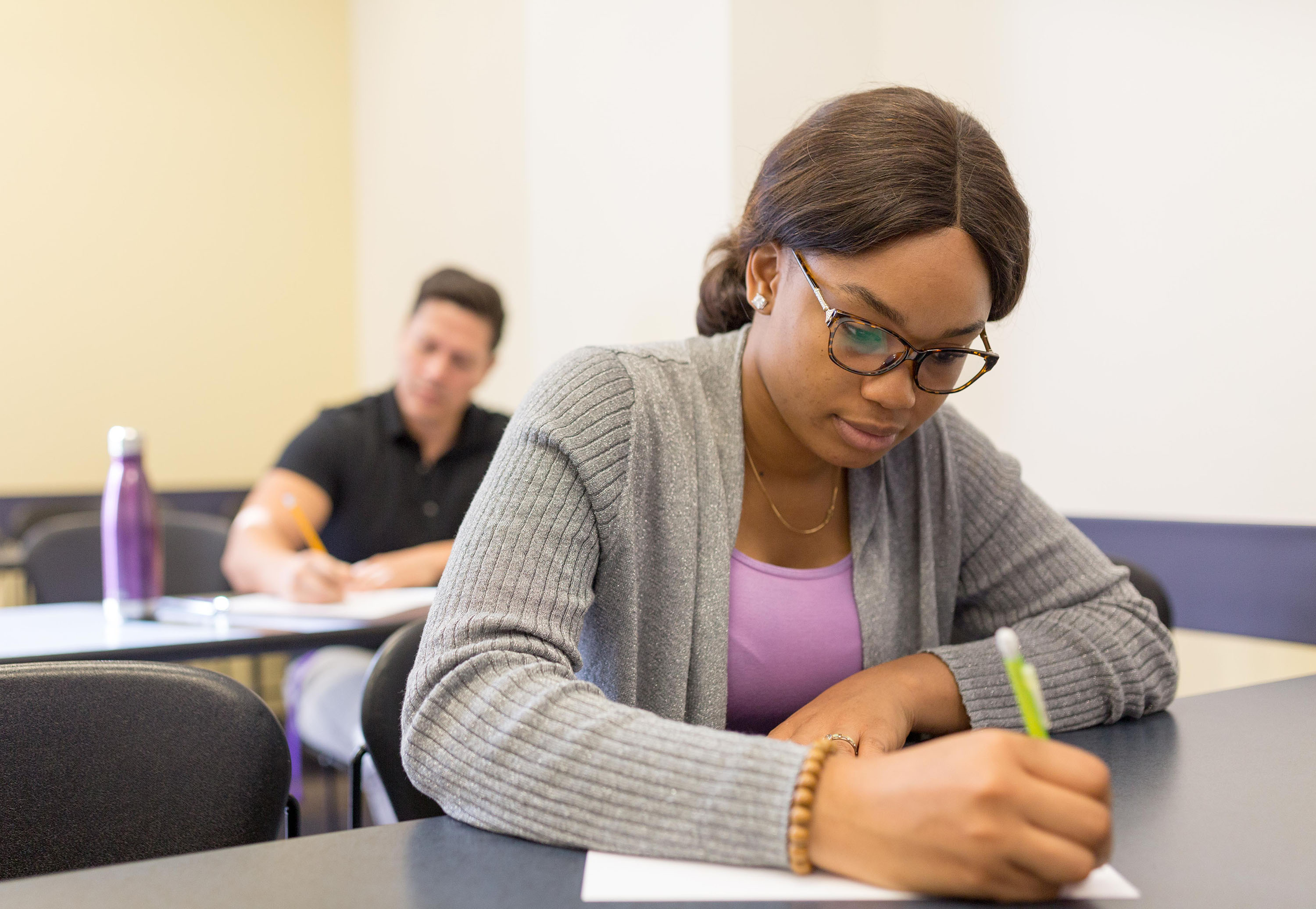 On Campus
Partnership provides free graduate admission prep courses
Wednesday, February 1, 2023
Delaware State University students looking to continue their education will now have free, comprehensive test prep courses for graduate-level admissions exams, thanks to a partnership with global educational services provider Kaplan announced Tuesday.
Free courses include test prep for the Graduate Record Examination (GRE®), the Graduate Management Admission Test (GMAT®), the Law School Admission Test (LSAT®), and the Medical College Admission Test (MCAT®) as part of Kaplan's "All Access" initiative.
As an "All Access" partner, Delaware State can help its students prepare for a variety of high-stakes admissions and licensing exams that they need to take in order to reach their ultimate professional goals and will save individual students anywhere from $1,000 to $3,000, said a spokesman for Kaplan.
This partnership builds upon the University's focus on affordability, graduation, retention, economic mobility, and innovation. Delaware State, ranked the 2nd highest public HBCU by U.S. News & World Report, is the newest HBCU partner for the program, joining Xavier University of Louisiana, Howard University and Cleveland State University.
"Our University's vision is to be the most substantively diverse, contemporary and unapologetic HBCU in the country. Central to that vision is equitable access for our students, particularly those who are first generation and/or from low-resource communities," said Dr. Tony Allen, President of Delaware State University and the chairperson of the White House Advisory Board on HBCUs. "Our earnest belief is that there should be no barrier to the pursuit of their dreams, financial or otherwise.  Kaplan's All Access is not just good for our students and their preparedness in professional and necessarily licensed disciplines, but it also reflects a commitment to a more inclusive, connected global community in every field of human endeavor."
The partnership can be a game-changer for individual students, said Antonio Boyle, Executive Vice President of Strategic Enrollment Management and Student Affairs. "This is significant for our individual students, and the graduate program," he said. "It is huge. If I want to be a doctor, or a lawyer, and I can't afford the courses and the materials, well that is a pretty tough thing to swallow."
He added that the free test prep may also allow students to retake the competitive admissions tests, giving them a chance to review initial results and bone up on weaker areas. Higher scores would increase someone's chances of realizing their dreams, said the director of institutional partnerships for Kaplan.
"We're incredibly excited to partner with Delaware State University, which has a singular focus on student success, to help their undergraduates reach their full potential," said James Polulach. "Providing all of their students with free test prep for the admissions exams for graduate school, business school, law school and medical school, is going to give them an invaluable edge throughout their educational and professional journeys. A strong score will not only increase students' chances of getting into the program of their choice, but it can also secure them highly coveted merit-based aid, which can help them better manage any debt load."
"All Access presents zero out-of-pocket costs for students and shows that with best-in-class prep, these exams can be an opportunity, not a barrier," Polulach added. "We'll be rolling out additional partnerships in this area soon, as more colleges and universities recognize just how game changing All Access can be."
Kaplan, Inc. is a global educational services company that helps individuals and institutions advance their goals in an ever-changing world. It boasts a broad portfolio of solutions help students and professionals further their education and careers, universities and educational institutions attract and support students, and businesses maximize employee recruitment and development.