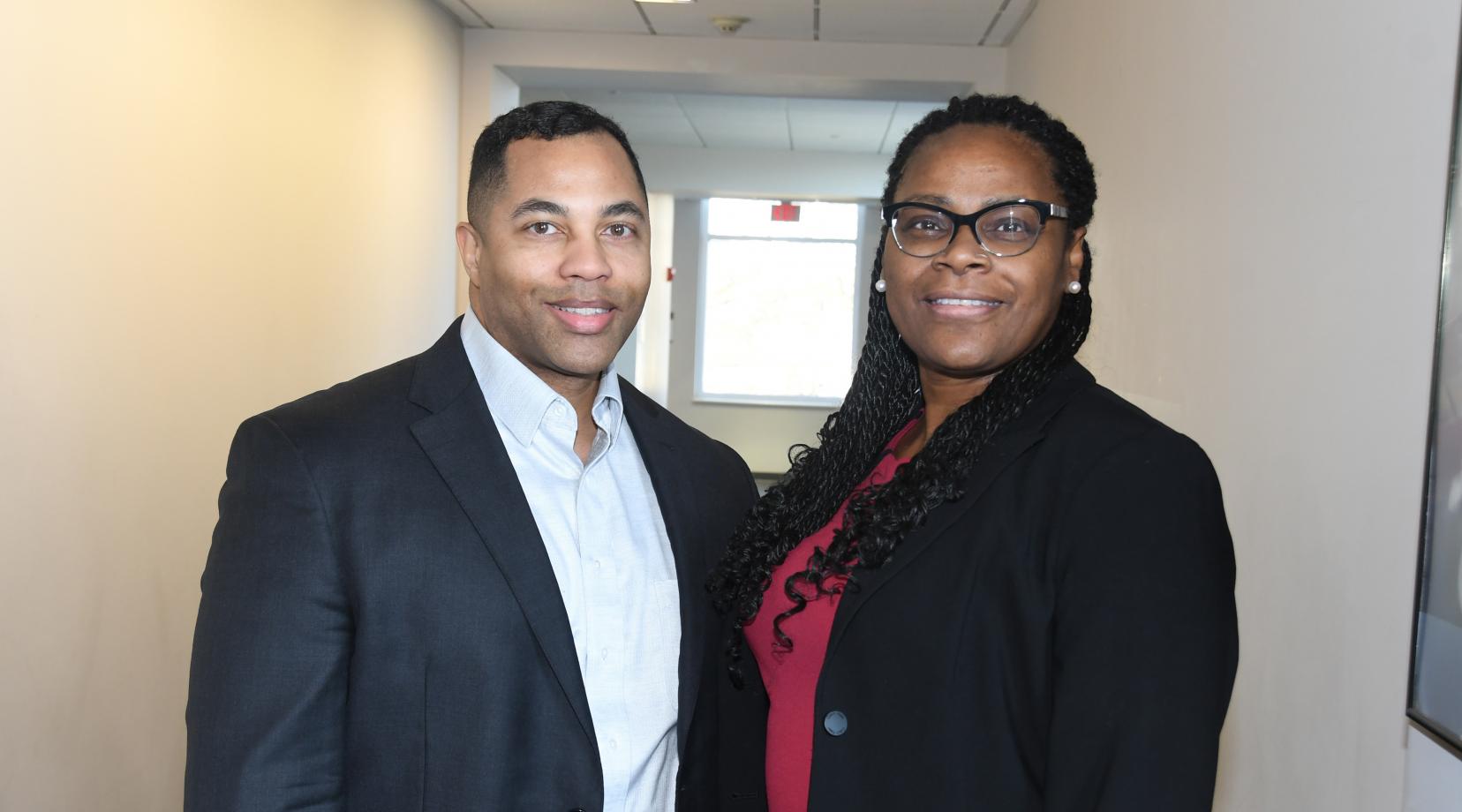 On Campus
Two DSU members tapped as honorary commanders
Friday, January 11, 2019
Rosetta Brickhouse, Executive Director of University Facilities Operation, and LaShawne Pryor, Director of Corporation and Foundation in the Division of Institutional Advancement, are among 40 community leaders inducted as an "honorary" commander at Dover Air Force Base.
Ms. Brickhouse and Mr. Pryor were inducted on Oct. 20 and completed their first orientation on Nov. 27, where they learned the basics of being an honorary commander and the structure and function of the wing staff agencies at DAFB.
"It is a great honor to have been selected to work with and learn from the men and women serving in the United States Air Force at the Dover Air Force Base," Mr. Pryor said. "I am looking forward to the opportunities in the upcoming year to stand with our airmen to continue making a positive difference in the community."
"Reflect, refuel and refocus. You are worth it," Ms. Brickhouse said as she embraced the depth of this opportunity. She said that she is grateful for the sense of the past, the peace for today and the vision it creates for tomorrow.  
"Being inducted into the 2019 Honorary Commanders Program has been a humbling honor that will connect the past, present and future opportunities of both DAFB and Delaware State University merging people, experiences and knowledge towards the future," Ms. Brickhouse said. "I am excited to share this experience with the men and women of The 436th Logistics Readiness Squadron of Dover Air Force Base and continue the strong connections with our service personnel."
 
The U.S. Air Force Honorary Commander Program immerses community leaders in Air Force culture: its missions, customs and traditions.  The program at Dover Air Force Base presents an opportunity for community leaders to learn about Team Dover's daily operations and share their experiences with the Airmen stationed at Dover AFB, and conversely, for commanders and their units to interact with the Delaware community. The Dover AFB Honorary Commander program began in 1992.
Each honorary commander at Dover AFB is matched with a military counterpart throughout the base. Ms. Brickhouse and Mr. Pryor have been assigned to be Honorary Commanders for DAFB's 436th Force Support Squadron. They will serve in this capacity for one year and will be eligible to be re-nominated up to two more years. While in the program, they will attend unit functions including awards ceremonies, commander's calls, changes of command and social functions. Delaware State University team members can also expect to see military members at company functions as well, since honorary commanders are encouraged to invite their respective commander to interact within their professions.
Individuals are selected from across the state and includes professions ranging from school administrators and business owners to police officers and elected officials. This Air Force program was initiated to help members of the community understand the importance of the Department of Defense's missions. It also allows military commanders and their airmen to learn more about the community in which they live.