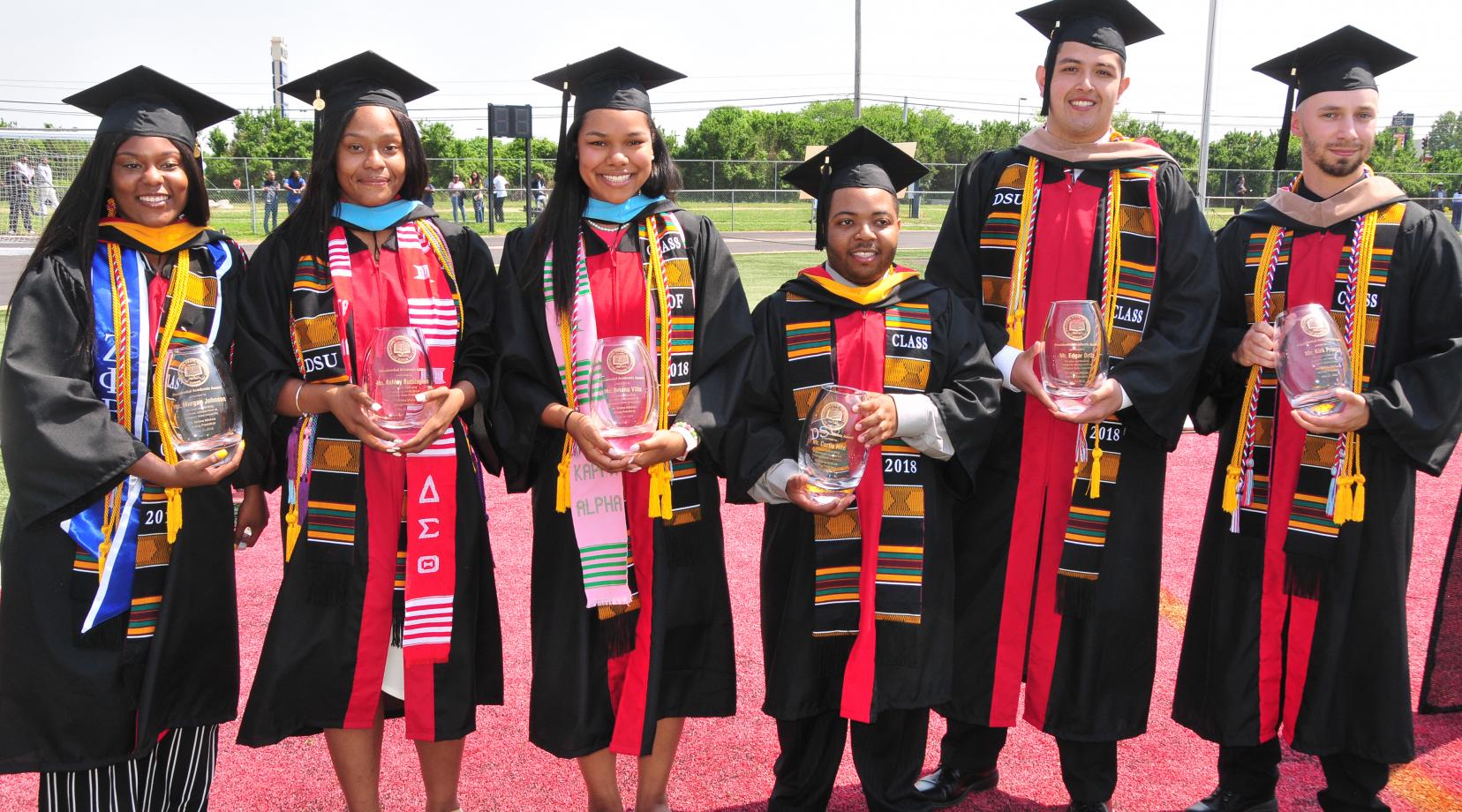 On Campus
2018 May Commencement, article and photo slideshow
Saturday, May 12, 2018
Delaware State University presented more than 700 diplomas to the Class of 2018 during its 132nd Commencement Ceremony – which included new school records in 4.0 GPA and honors students.
The doctoral, master's and bachelor's graduates participated in the May 12 ceremony held outdoors at Alumni Stadium, presided over by Interim DSU President Wilma Mishoe and Provost Tony Allen.
For images from the Commencement day, click on the below two slideshow links (the first for pre-Commencement photos, and the second for Commencement Ceremony shots):
https://www.flickr.com/photos/48216028@N03/sets/72157666858328427/show
https://www.flickr.com/photos/48216028@N03/sets/72157696106372044/show
This spring's graduating class produced 218 honors students, which included 54 Summa Cum Laudes (3.75 GPA or above), 71 Magna Cum Laudes (3.5 to 3.74), 83 Cum Laudes (3.25 to 3.49) and 10 honorable mentions (transfer students with 60 or more credits and maintained a 3.5 GPA or above). Combined with the December graduation totals, the 2017-2018 school year yielded a school-record 263 honors students, surpassing the previous record of 243 set in the 2015-2016 school year.
Dr. Mishoe also presented Presidential Academic Excellence Awards to a school-record seven graduates, all of whom maintained a 4.0 grade point average throughout their undergraduate years:
Briana Villa – a senior Early Childhood Education major from Takoma Park, Md., and the daughter of Jennifer Villa and Michael Beckwith.
Morgan R. Johnson – a senior Psychology major from Ansonia, Conn., and the daughter of Todd and Candace Clark-Johnson.
Ireanna Aleya Peete – a senior art education major from Jacksonville, Fla., and the daughter of Elaine and the late Calvin Peete – the most successful African American professional golfer on the PGA Tour prior to Tiger Woods. Ireanna is also the captain of the DSU Women's Golf team.
Ashley N. Buckingham – an elementary education major from Long Island, N.Y., and the daughter of Joseph and Teresa Buckingham.
Kirk E. Prange – a senior Aviation (Professional Pilot) major from Newark, Del., and the son of Ken and Aimee Prange.
Edgar Ortiz – a senior Aviation (Management) from Freehold, N.J.,and the son of Martin and Noelia Ortiz.
Curtis A. Hite Jr. – a senior computer science major from Philadelphia, Pa., and the son of Curtis Sr. and Cheryl Hite.
Along with December Commencement graduate Seth Alan Fair, an Elementary Education major from Greenwood, Del., the 2017-2018 school year produced a school-record eight students who completed their undergraduate years with a perfect 4.0 grade point average.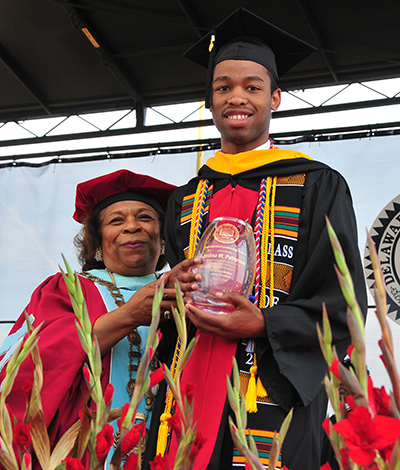 Dr. Mishoe also awarded the Presidential Leadership Award to Joshua Miguel Patterson, a graduating chemistry major from Dover, Del. During his academic journey, Mr. Patterson served as the president of the DSU Chapter of the American Chemical Society and the Louis Stokes Alliance for Minority Participation Program at the University. A 3.88 GPA student, he also helped others through his service as a math and chemistry tutor.
The keynote speaker was James McBride author, screenwriter and musician, who wrote renowned book The Color of Water and the book and screenplay Miracle of St. Anna, which became a critically acclaimed Spike Lee movie.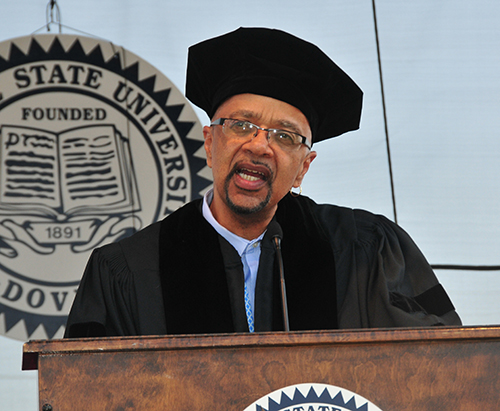 Mr. McBride noted that while people know about his "few" successes, the reality is most of the things he has tried to do he has failed at. "The difference between me and the next guy is that as soon as I fail at something, I forget about it," he said.
The keynote speaker told the graduates that while there is always going to be someone who is better, faster and more successful, "nobody can be you better than you; and we need you to be yourself."
After his address, Dr. Mishoe presented an honorary doctoral degree to Mr. McBride. During the ceremony, she also presented honorary doctoral degrees to Dr. Donald A. Blakey, DSU Class of 1958 alumnus; and to Enid Wallace-Simms, Delmarva Power executive and DSU Class of 1974 alumna. Dr. Mishoe noted that both alumni were strong and consistently faithful supporters of their alma mater.
Gov. John Carney told the graduates that there is a place for them in the First State. "We hope that you will stay in our great State of Delaware, but if you decided to go elsewhere, you are always welcome here," he said.
Dr. Devona Williams, interim chairperson of the DSU Board of Trustees, called on the graduates to maintain their connection to DSU.
"You grew up totally immersed in the world of digital technology, making you technologically savvy, very creative and waiting everything instantly," Dr. Williams said. "We ask that you take advantage of your educated savviness and make the world a better place, and we ask that you start right here at Delaware State University by giving back to your alma mater."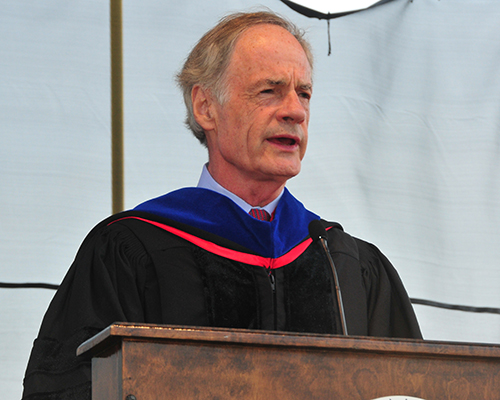 Sen. Thomas R. Carper noted that Commencement is not the "finish line… but only the end of the beginning." He said while the academic disciplines they have each focused on is important, the really critical need in this country is to have the skills to be a leader. "We need leaders in the country more than ever before."
Sen. Carper left the graduates with four qualities for leadership:
Figure out the right thing to do, and just do it.
Treat other people the way we want to be treated
Focus on excellence in everything you do. If it isn't perfect, make it better.
When you know you are right, never give up.
The ceremony was organized by the DSU Commencement Committee, headed by Brenda Farmer, executive director of events and ceremonies.