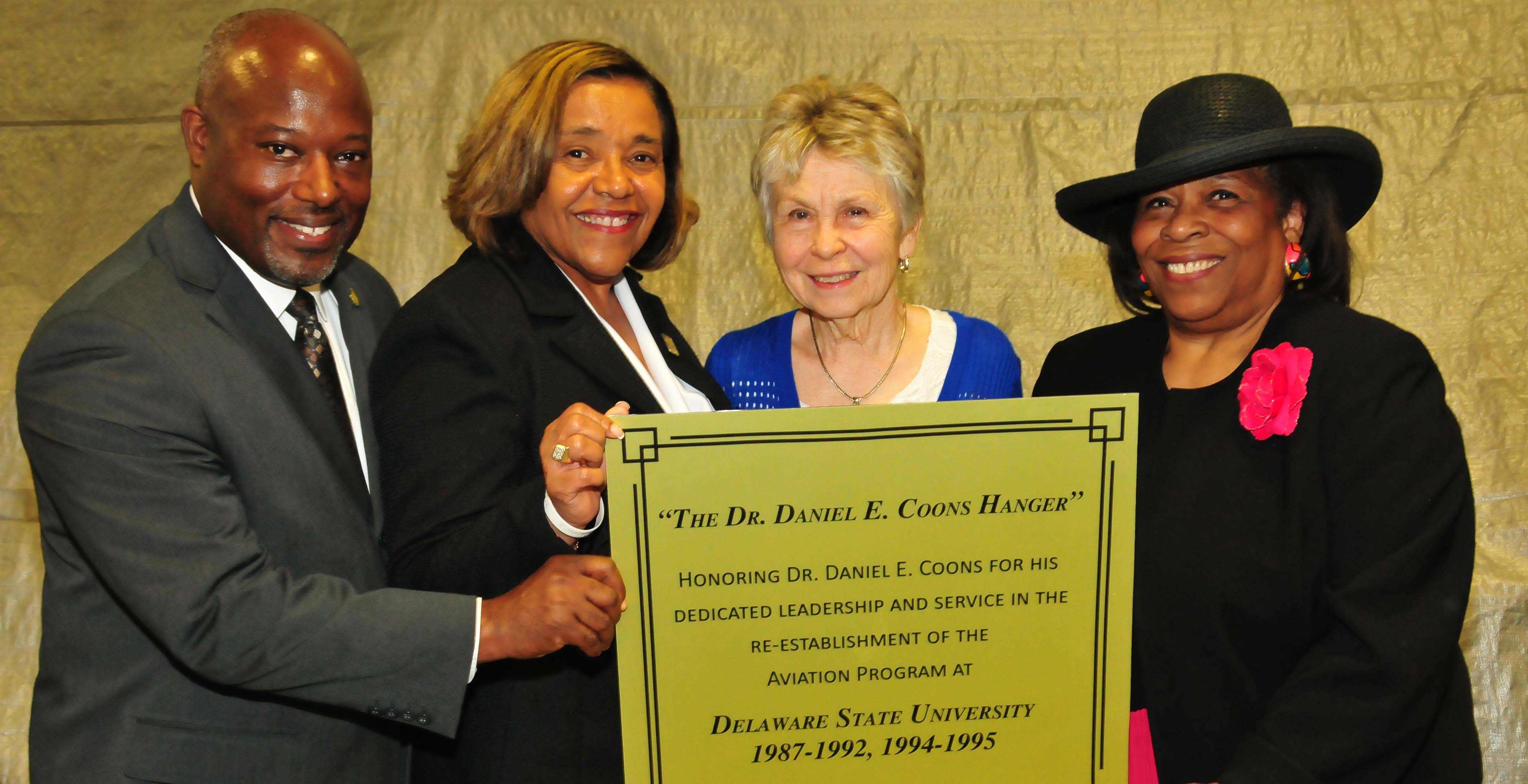 Business, On Campus
DSU Names Aviation Hangar after Dr. Daniel E. Coons
Thursday, May 25, 2017
DSU has renamed the Delaware Air Park hangar and home of its Aviation Program after the program's founder Dr. Daniel E. Coons, who passed away on May 3 after a long battle with cancer.
Lt. Col. Michael Hales, the current director of the DSU Aviation Program, announced the renaming during a Celebration of Life service held in honor of the founder in the Daniel E. Coons Hangar on May 20. About 100 people attended the service – which in addition to family and friends, included 30 pilots and aviation managers who have graduated from the DSU, many taught by Dr. Coons.
Maintenance work is done on DSU's fleet of aircraft in the hangar – which is adjacent to DSU aviation classrooms and offices.
Dr. Coons began the program with no planes and as the only instructor in its 1987 inaugural year.  Through his creative diligence and under his leadership DSU's Aviation Program became the only one among Historically Black Colleges and Universities that has its own instructors and possessed its own fleet of aircraft.
After establishing the Airway Science Program, he worked over the next five years to develop it further before retiring in 1992.
Prior to the establishment of the Airway Science Program, Dr. Coons helped the institution oversee the construction of the William C. Jason Library beginning in 1972. One year later, then-Delaware State College appointed him as the director of Libraries and Learning Resources.
Following his 1992 retirement, he moved to Cairo, Egypt for two years, where he worked through a USAID grant to oversee the construction of the Egyptian National Agricultural Library.  Upon completion of the project, he returned to chair the Airway Science Department at Del State from 1995-1997 and continued part time until 2006.
He was born October 6, 1932 in Kingston, N.Y., and raised in Stamford, N.Y. He attended Champlain College before receiving his bachelor's degree from Harper College (SUNY Binghamton).  He received his master's degree and Doctorate of Education from the State University of New York at Albany. 
He served in the US Army overseas during the Korean War era.  Upon returning to the States, he taught history and coached football from 1958 to 1968 at Cooperstown (NY) Central School. He went on to teach at the State University College at Oneonta before moving to Dover to assume the DSC post in 1972.
He was a founding member of the Delaware Aviation Hall of Fame, which honored him with induction to the Hall in 2011. In 2011, the Organization of Black Aerospace Professionals (OBAP) recognized him for his contributions to the education of black pilots. Tuskegee Airmen has also honored him with the Lemuel E. Curtis Award for his service to minority pilots.