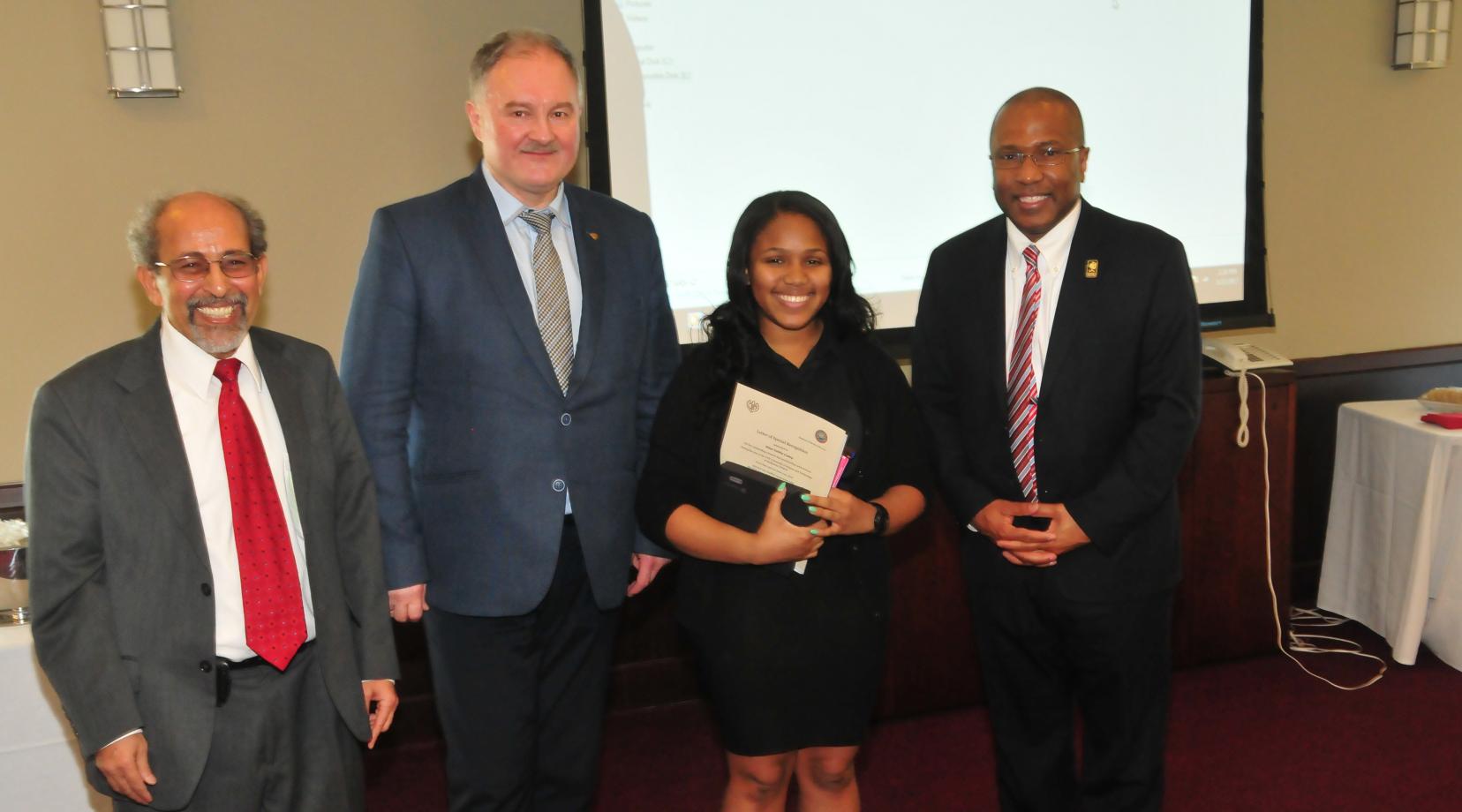 Mathematics, Natural Sciences and Technology, On Campus
DSU' Undergraduate Co-authors Papers in Two International Journals
Friday, March 31, 2017
Tahlia Casey, currently a sophomore biological sciences major from Queens, N.Y., has raised the bar significantly on what intellectual fruits can be harvested during a study abroad experience.
Ms. Casey has co-authored two papers in scholarly international journals related to her one-month study abroad research experience in the late spring of 2016 at the University of Science and Technology (UTP) in the Polish city of Bydgoszcz:
 "Hyaluronic Acid and Phospholipid Interaction Useful for Repaired Articular Cartilage Surface – A Mini Review Toward Tribological Surgical Adjuvants," co-authored by Stanislaw Jung, Aneta Petelska,  Piotr Beldowski, Wayne K. Auge II, Tahlia Casey, Dominik Walczak, Krzysztof and Adam Gadomski. Published in Spring Journal, Colloid Polymer Science.
"Dynamical Systems Theory in Quantitative Psychology and Cognitive Science: A Fair Discrimination between Deterministic and Statistical Counterparts is Required," co-authored by Adam Gadomski, Marcel Ausloos and Tahlia Casey. Published in Nonlinear Dynamics, Psychology, and Life Sciences.
Ms. Casey was among 10 DSU students who traveled to UTP, where they each were paired with a science faculty member of that institution and worked on an individual research project. All of the students were a part of the Alliance for Minority Participation (AMP) Program, which is designed to increase the quality and quantity of minority students who complete bachelor's degrees in the sciences, technology, engineering and mathematics (STEM) areas.
A rising sophomore at the time of her trip, Ms. Casey said experience exceeded anything she expected.
"As a freshman, I didn't get the opportunity do research; the trip to Poland was a way of getting my foot in those waters," Ms. Casey said.
Apparently her research work ethic made an impression on her mentor and other UTP faculty, as they asked her to help them write two research papers. She also helped in the proofing of another manuscript, for which the researcher acknowledged his gratitude for her assistance at the end of the paper.
Ms. Casey said the trip to Poland was an invaluable experience. "It taught me that I can't limit myself," she said. "If I can do that abroad, then I have something to offer here as well."
With medical school already a solid part of her future plans, Ms. Casey said that she wants to ultimately become a trauma surgeon back in her urban community of New York City.
Prof. Adam Gadomski, UTP vice rector for International Relations and Ms. Casey's research mentor, recently traveled from Poland to DSU to meet with DSU officials. While on campus on March 22, Prof. Gadomski spoke to a group of AMP students and recognized Ms. Casey for her co-authorship accomplishments.
Earlier that same day, DSU President Harry L. Williams and Prof. Gadomski signed a new accord, superseding a previous agreement signed in early 2016, which opens the door for UTP students to study at DSU for one semester or for an entire year. According to Prof. Gadomski, UTP will cover the entire tuition and fee cost. The agreement also allows DSU students to travel to Poland and study for a semester at UTP.
UTP is connected with the Eramus+, a European program that provides funding to support study abroad opportunities for university-level students in that continent. As part of the latest agreement between DSU and UTP, Eramus+ has accepted Del State as a study abroad destination for which it will provide funding support. 
 In 2015, Dr. Mazen Shahin established a new program called "International Science and Technology Academy for Research Scholars (I-STARS)" in which 10 Alliance for Minority Participation (AMP) students conduct research for one summer month at an international university.  DSU's new partnership with UTP facilitated that institution's hosting of DSU I-STARS students, which resulted in last year's research experience. The agreement also allows UTP to send three students to DSU to study for a semester free of tuition and fees.
In 2016 Dr. Shahin obtained a grant of $26,500 from Philadelphia AMP to support I-STARS 2016 in Poland. In summer of 2016, he accompanied 10 students – which included Ms. Casey – to UTP.
"The UTP research advisors did an outstanding job in supervising the I-STARS students," Dr. Shahin said. "At the end of the program, UTP organized a research symposium, where the students presented their research projects in front of a visiting DSU delegation headed by DSU President Dr. Harry Williams, and UTP leadership and faculty. The students presented very impressive presentations."
The value of the research study abroad experience for the I-STARS participants was evident back in the U.S. during the fall of 2016 when those DSU students presented poster presentations at the Annual Philadelphia AMP Research Conference. Five of them received awards, including two first place awards, Dr. Shahin said.
Currently a DSU student is spending the spring 2017 semester at UTP, an experience that is being funded by Erasmus+. It is expected that another group of DSU I-STARS students will travel to Poland for a UTP research experience from May 20 to June 20.