Archive
DSU Named The Top 1890 Land-Grant University of the Year
Thursday, November 14, 2013
The Association of Public and Land-Grant Universities (APLU) has named Delaware State University as the 1890 Land-Grant Institution of the Year, and also presented DSU with the 1890 Land-Grant Research Award.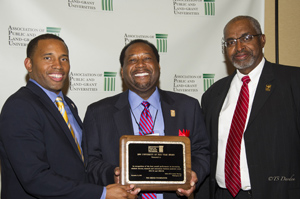 Dr. John Michael Lee, vice president of the APLU's Office of Success and Access, presents the 1890 Land-Grant Institution of the Year Award to Provost Alton Thompson and Dr. Dyremple Marsh, who both accept the honor on behalf of DSU.
The University received the awards during the 126th APLU Annual Meeting on Nov. 11 in Washington, D.C., during which the organization held its inaugural 1890 Land-Grant Universities Teaching, Research and Innovation Awards ceremony.
The 14 award categories included:  retention, degree completion, agriculture degree completion, education degree completion, STEM degree completion, intellectual property, innovation, research, international research, experiential student learning, international students, international student development, alumni engagement, and exemplary alumni.
The Land-Grant University of the Year Award was given for the best overall performance in each category from 2011-2013. DSU scored the highest of all 1890 Land-Grant institutions for being the only university in the top three in nine out of the 14 categories.
DSU President Harry L. Williams said the 1890 Land-Grant University of the Year Award is reflective of the growing mindset that DSU is striving to be the best.
"We have a lot of people here – administrators, faculty, staff and students – who have embraced the vision that we can become the No. 1 HBCU in the country and are expressing that belief through their hard work day in and day out," Dr. Williams said. "As long as we continue to put our best institutional foot forward, DSU will continue to receive honors like this." 
DSU also garnered the Research Award for its 129 percent increase in total federal research funding between 2012 and 2013.
"DSU's success in obtaining such grants demonstrates the significant and intentional growth in our research and innovation enterprise by our talented faculty in focused lines of scientific inquiry at the federal level" said Dr. Alton Thompson, DSU provost and vice president of Academic Affairs. "While receiving the Research Award is an honor for the University, it also shows that DSU's expectations with respect to its research activities are at an all-time high, and we will continue to push the boundaries of knowledge that benefit Delawareans and people across the globe."