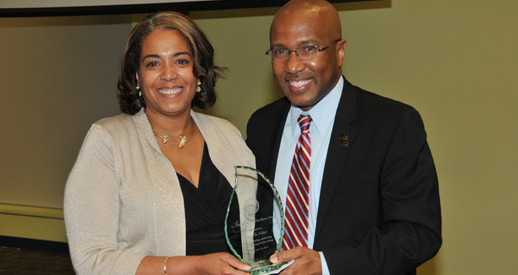 Archive
The 2013 Employee Recognition Ceremony – Photo Slideshow
Monday, September 30, 2013
9/30/13
Delaware State University took time out to honor its faculty and staff during its annual Employee Recognition Ceremony on Sept. 26 in the MLK Student Center.
For images from the evening ceremony, click on the below photo slideshow. That is followed by a list of the 2013 awardees:
Michelle Fisher, director of Health Services, received the top award of the evening – the Inspire Excellence Award.
The following employees were honored with Vice President's Choice Awards from the following areas:
Business
Jeff DeMoss, executive director of Dining and Auxiliary
Greg Hilliard, Fleet Services/Transportation supervisor
Finance
Karen Fair, director of Facilities Management
Cindy Koegle, payroll clerk
Student Affairs
Paula Duffy, director of Judicial Affairs
Michelle Fisher, director of Health Services
Development
Lynn Iocono, executive director of Student Financial Services
Brandon Maddox, marketing specialist
Research
Dr. Tomasz Smolinski, assistant professor of computer and information sciences
Dr. Jinjie Liu, assistant professor of mathematics
Academic Affairs
Terrell Holmes, University registrar
Eric Hart, senior associate AD
Athletics
Edna Piper, senior secretary of Football Operations
Mark Springs, head equipment athletics manager
During the ceremony the following 2013 Faculty Excellence Award recipients were also recognized:
Faculty Excellence in Teaching
Dr. Dorothy L. Dillard, associate professor of sociology,
Faculty Excellence in Research and Creative Activities
Dr. Mingxin Guo, associate professor of soil and water sciences,
Faculty Excellence in University and Community Service
Dr. Anuradha Dujari, professor of science education
Faculty Excellence in Advising
Dr. Dawn Lott, professor of mathematics