Archive
Alumni Couple to Bring Back Golden Old Radio Days
Friday, August 28, 2009
June 25, 2009
Dr. Donald A. Blakey, class of 1958 and his wife Dolores, class of 1960 will take members of the Modern Maturity Center in Dover back to the golden days of airwaves in the fall as they reenact famous old-time radio programs.
On every Thursday during the Modern Maturity Center's lunch hours beginning in September, the alumni will reenact radio programs such as Amos N' Andy, The Long Ranger, The Shadow, The Inner Sanctum and others.
Dr. Blakey is a faculty member at DSU who also serves as the director of the DSU Theater and Dance Program, in which he is often assisted by his wife Dolores. The program gives DSU students and community members an opportunity to perform in stage productions that are presented to the University and the public.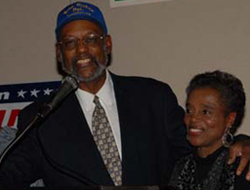 Don and Dolores Blakey will bring back the golden days of radio to the lunchtime crowd at the Modern Maturity Center of Dover in the fall.
In addition, Dr. Blakey is also an elected member of the Delaware House of Representative, for which he serves the 34th Representative District (Dover South).
The Modern Maturity Center, located 1121 Forrest Ave. in Dover, is a nonprofit organization committed to providing programs and services that enhance the quality of life, with respect and dignity for individuals age 50 and above.