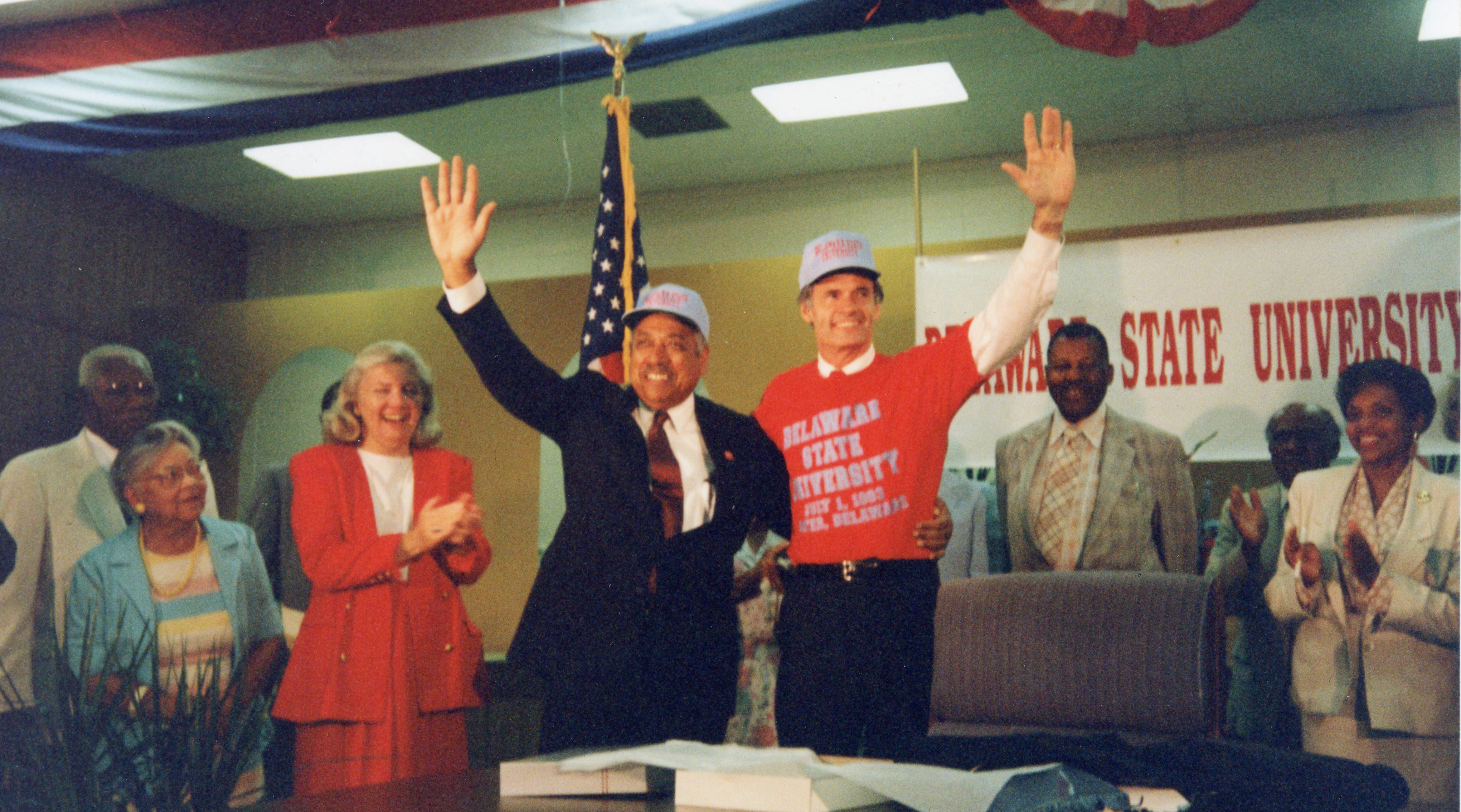 Office of the President, On Campus
25 years ago, Delaware State College became Delaware State University
Sunday, July 1, 2018
Where Delaware State University history is concerned, the 25th anniversary of its ascension to University status should be seen as a coming full circle of sorts.
More than 30 years ago, then-President Luna I. Mishoe began to see the future transformation of Delaware State College into Delaware State University and spoke that vision into ultimate existence.
The 27-year DSC president retired in 1987 and then succumbed to cancer in 1989. Four years after his passing, the college that had progressed greatly under his leadership would attain University status in 1993 under then-President William B. DeLauder.
As the vision for University status began under Dr. Luna Mishoe, it is most fitting that the effective date of the renaming of DSC to Delaware State University – July 1 – is also the effective date of the permanent presidency of his daughter, Dr. Wilma Mishoe – the first female to serve in that top leadership position in Delaware State University's 127-year history.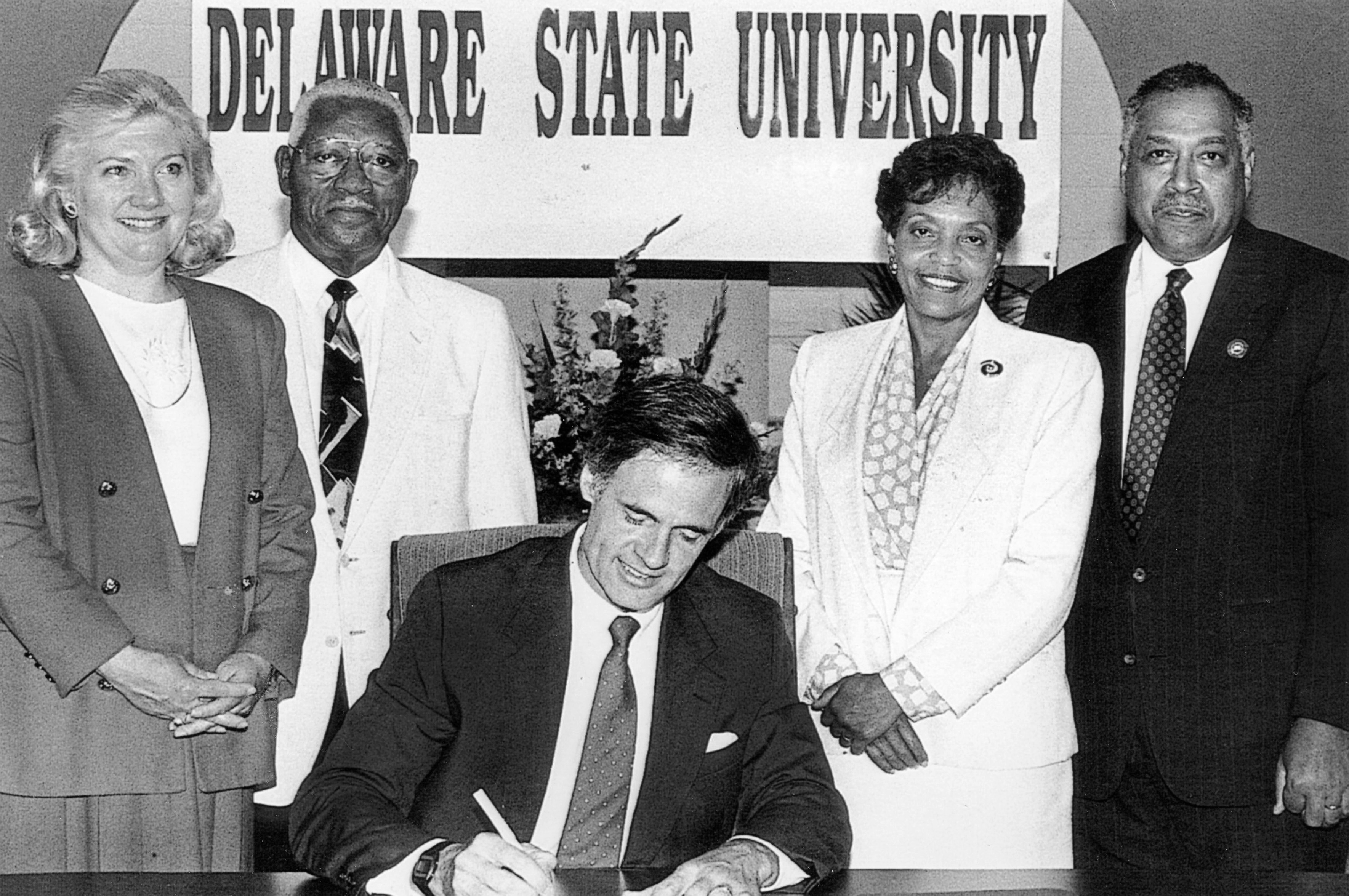 Dr. Wilma Mishoe – who was the interim president during the first six months of 2018 – takes over the helm of an institution that is considered to be among the top Historically Black Colleges and Universities in the country. In its last ranking, DSU is No. 13 among 74 HBCUs in the country evaluated by U.S. News & World Report.
However, DSU's high standing cannot be adequately appreciated without an understanding of the low valley it occupied during its first 60 years of existence, and the mountain it tenaciously climbed over the second half of its history to reach its current remarkable stature.
Although legislatively established in 1891 as the Delaware College for Colored Students and renamed two years later as the State College for Colored Students (SCCS), the state of Delaware would not begin to fully embrace its only black college until the 1950s. In those first six decades, against the backdrop of the hugely ineffective "separate but equal" legal doctrine that prevailed in those years, the state directed significant financial support for the growth of a private Presbyterian school named Delaware College (now the University of Delaware), while it was far less concerned with the progress and well-being of the State College for Colored Students.
Despite the state's neglect, the SCCS persevered and managed to obtain its initial accreditation as a four-year institution of higher education in 1945. However, with the ongoing inadequate low levels of state financial support, the black college – which the state renamed Delaware State College in 1947 – was unable to develop an adequate academic structure and physical plant to maintain that standing. DSC's accreditation was revoked in 1949.
It took the unique and effective leadership of the College's sixth president Dr. Jerome H. Holland (1953-1960), as well as the reality that allowing DSC to close would force the wholesale integration on the University of Delaware, to persuade the state that it needed to substantially increase its financial commitment to the black college. That resulted in an unprecedented level of state funding for construction projects at Delaware State College in the 1950s. Dr. Holland and the College worked to address the other institutional shortcomings, resulting in the reaccreditation of DSC in 1957.
Dr. Luna Mishoe took over as the DSC president in 1960 and immediately began to build on the positive reversals of fortune that took place under his predecessor. With the state taking a far more active role in the growth of DSC, Dr. Mishoe guided the institution through a transformation period during his 27-year tenure that encompassed the then-unprecedented growth in the College's academic structure, enrollment and building infrastructure.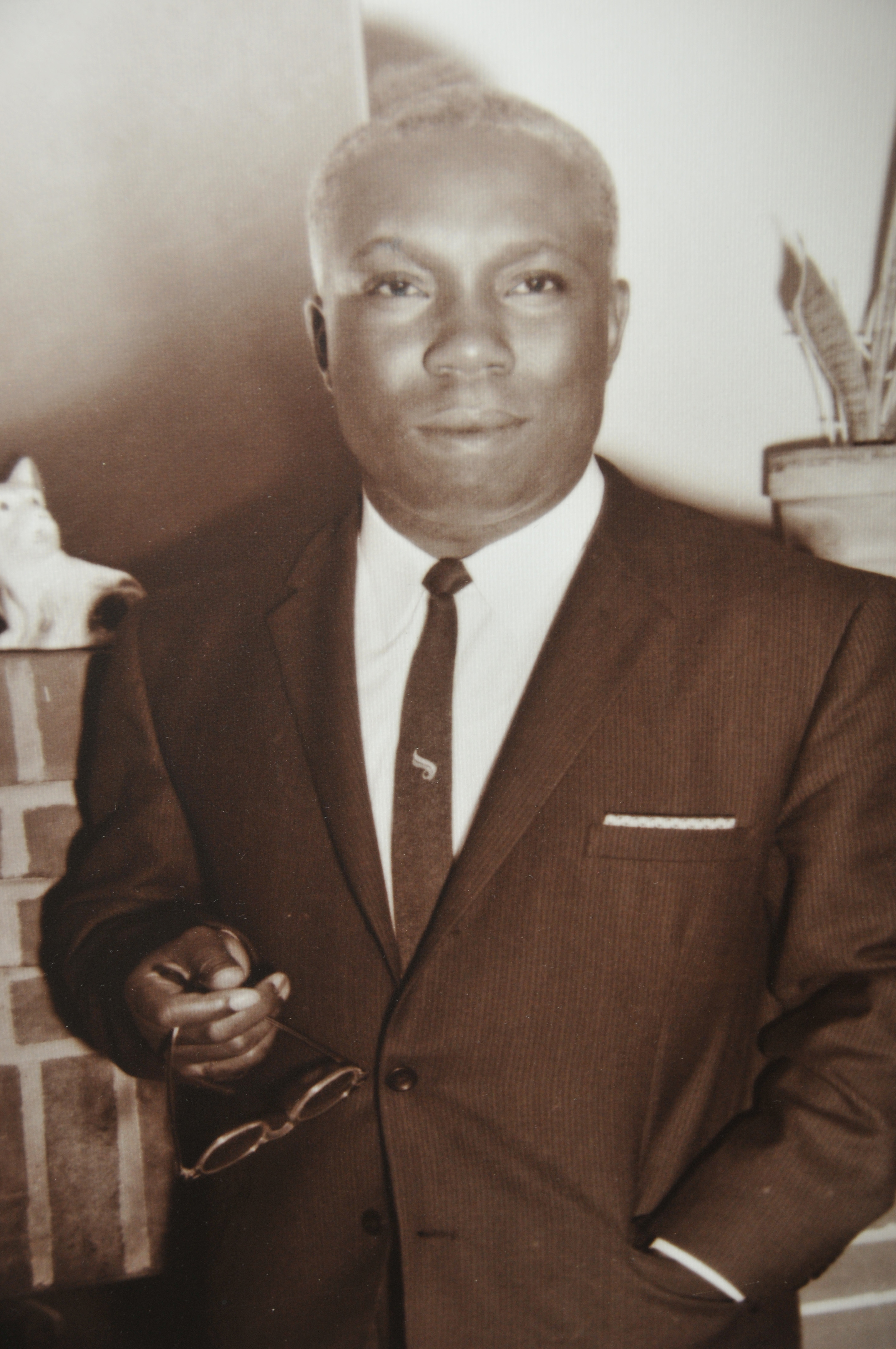 Dr. Mishoe inherited a 1960-61 total enrollment of 386 students that more than doubled by the 1963-64 school year. During his final year as president (1986-87), DSC's enrollment had swollen to 2,327. In addition, the virtually all-black College that existed in 1960 was transformed into a truly diverse state institution upon his 1987 retirement (54% black, 43% white and 3% foreign student body).
Academically, the College went from offering 18 bachelor's degree programs in 1960-61 to 70 in the 1986-87 school year. It was during Dr. Mishoe's tenure that DSC established its first master's degree programs, beginning with Education (Curriculum and Instruction option, in 1981), followed by master's degree programs in Business Administration and in Social Work. In addition, in 1982 the Bachelor of Social Work Program became DSC's first individual academic discipline to earn its own national accreditation.
In support of that academic growth, the faculty size grew correspondingly from 33 in 1960 to almost more than four times that (128) in 1984. It was also under Dr. Mishoe that the College's faculty became more diverse and a significantly higher percentage possessed doctorates.
The greater degree of state financial support enabled the College to meet the main requirement that was needed to accompany the enrollment and academic growth – physical infrastructure expansion. Ten new buildings were constructed, which included three residential halls, six academic buildings and a six-story, 60,000-square-foot library.
It is therefore hardly surprising that Dr. Mishoe began to see the institution achieving University status in the then-not-so-distant future.
His daughter and now DSU President Wilma Mishoe recalls her father's vision for the institution. She said he worked hard to bring the institution up to the level of excellence for serious consideration to be renamed a University.
"There had been conversations (in the 1960s) about the University of Delaware taking over DSC at the time," Dr. Mishoe said. "I remember how hard he fought against that happening. He argued that the Delaware State College was good enough to be a University and was insistent that it be so."
Rev. Rita Paige, Dr. Luna Mishoe's youngest daughter, said her father made a lot of advancements at DSC that would put the College in a position to move to University status. "He started the process by hiring more faculty with doctorates and from other nationalities," she said. "He developed the nursing program and social work programs and established advanced studies programs beginning with the master's degree in education."
The astounding growth of Delaware State College over the course of Dr. Mishoe's tenure truly set the institutional table for his successor Dr. DeLauder to move forward with that vision. On his way toward doing that, the College added another seven master's degree programs to its academic portfolio. Dr. DeLauder also launched in 1991 the institution's first-ever major fundraising effort – the $10M Century II $10 Capital Campaign for new building and infrastructure construction on campus (successfully completed in 1994).
With the blessing of its Board of Trustees, the DeLauder Administration developed a strong case for the name change and submitted a formal request to the state's 137th General Assembly on May 13, 1993. That request would bring about the introduction of Senate Bill 138, sponsored by Sen. Herman M. Holloway Sr. The first African-American to serve as an elected member of the Delaware Senate and at the time the Majority Whip, Sen. Holloway was closing in on 30 years as a legislator and was one year away from his death at the time the legislation was introduced.
In its formal case that argued for the University status, the DeLauder Administration noted that the Delaware State College of 1993 would classify as a University with the U.S. Department of Education and in many states. It noted that although it did not yet offer doctoral degree programs, there were many other universities in the country that did not offer doctoral degrees, therefore eliminating that attribute as a requirement. Furthermore, DSC's emphasis on teaching was already well-accepted in higher education and therefore satisfied the criteria established in most states for classification as a teaching university.
The case that was made effectively convinced the General Assembly, and both the Senate and the House of Representatives unanimously passed SB 138. Then-Gov. Thomas R. Carper signed the legislation into law on July 1, 1993.
In the fall of 1992, the total enrollment was a record 2,935 students. The change to University status created a buzz and excitement that led to a new enrollment record in the fall of 1993 – 3,301. Students were instructed in 1993 by 178 faculty members – 61% of whom held doctorates.
Fast forward 25 years later, and the growth of the University has more than validated the efforts of Dr. Mishoe and Dr. DeLauder as well as the confidence of the 137th General Assembly and then-Gov. Carper.
The student population expanded to a record 4,648 students in the fall of 2017. During the 2017-2018 school year, those students were served by 212 faculty members, 89% of whom possessed doctorates.
In the last 25 years, in addition to continuing to increase its master's degree programs, DSU also established its first five doctoral programs. The University has recently taken cutting-edge steps to look critically at its undergraduate and graduate degree program offerings, prompting it to deactivate 21 degree programs (11 undergraduate and 10 graduate) and thereby focus its resources on the programs that are attracting more students and are more critically needed in the global job market.
Currently, DSU offers 42 undergraduate, 16 graduate and five doctoral degree programs.
Research has become an indelible characteristic of the University. The 2015 construction completion of the Optical Science Center for Applied Research Building is emblematic of the tremendous strides made in the area of scientific investigations. The University now boasts a robust research portfolio, especially within the disciplines of agriculture, biological sciences, chemistry, natural resources, neuroscience, optics and physics, which during fiscal year 2018 attracted more than $23 million in federal grants.
The past quarter century has also seen new construction that has included additional residential halls, academic buildings, an administration building, a dining facility, a Wellness & Recreation Center, and a three-story Martin Luther King Jr. Student Center (which replaced the former one-story facility). The 1992 campus in Dover had 21 buildings; currently there are more 33 buildings. DSU also has an academic building in New Castle County for its DSU@Wilmington site and maintains a Sussex County location within Delaware Technical Community College in Georgetown.
Over the years, DSU has also developed a significant global presence, maintaining partnerships with institutions of higher education in numerous countries, including China, Poland and Ghana.
Dr. Wilma Mishoe's current vision for Delaware State University is that it will become the nation's HBCU of first choice and Delaware's most desired resource.
"I want it to be more inclusive. We are enrolling a student body that looks much different than what the original institution looked like, but the mission still remains the same: to provide access and opportunity for all that are enrolled at DSU and desired a greater future by furthering their education," the DSU president said.
In noting that DSU is already making its mark in the research arena, especially in the areas of neuroscience and optics, as well as in its innovative initiative in the broad area of student success and in its ever-expanding global partnership network, Dr. Mishoe said that she expects DSU's impact to extend beyond the state of Delaware with national and international ramifications.
"I see DSU becoming a resource institution for many other HBCUs and post-secondary schools in the United States and abroad," Dr. Mishoe said. "At the same time DSU will continue to grow as a vital economic engine that will have wide-ranging benefits to the state and the region."