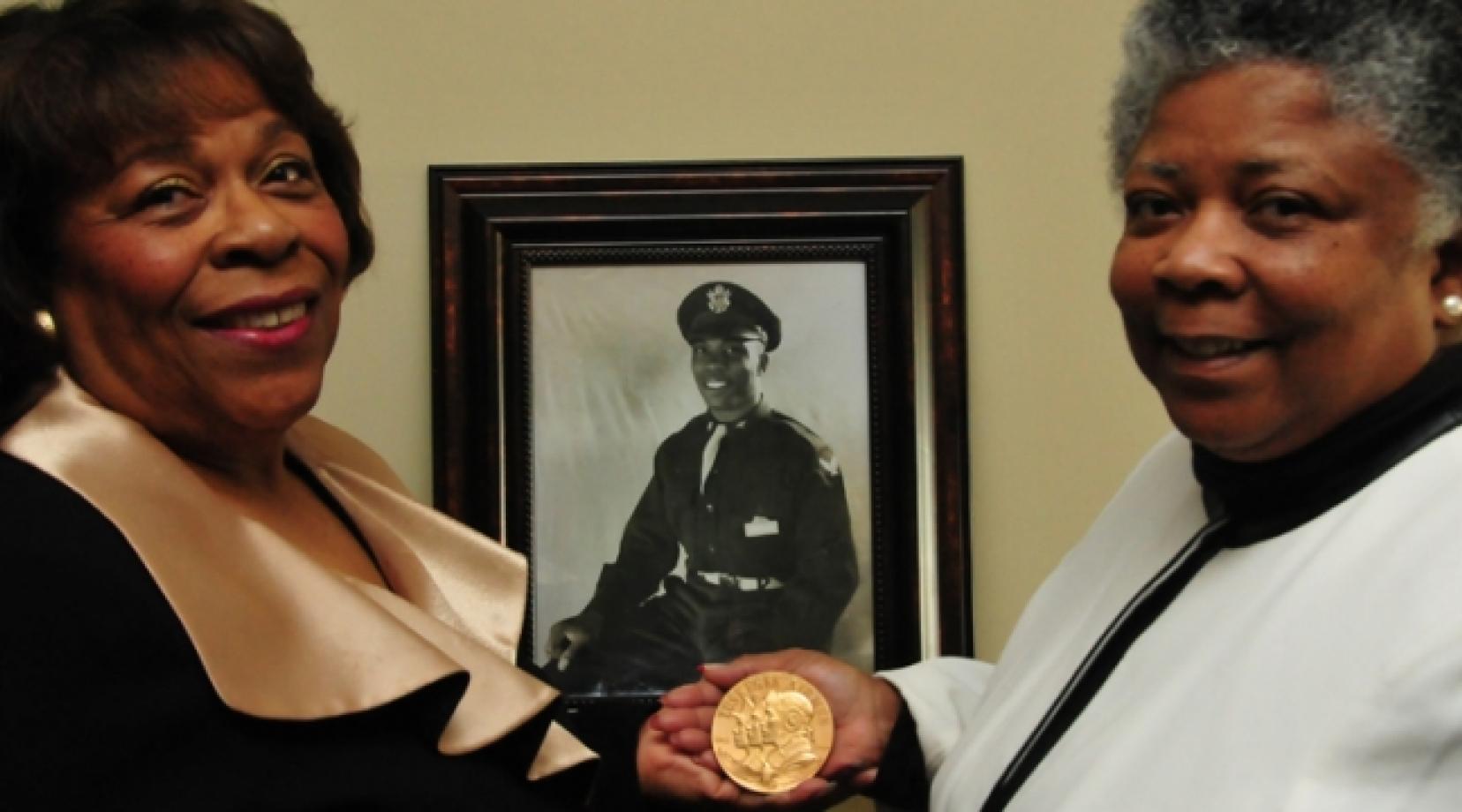 Office of the President
Dr. Luna Mishoe, Honored As An Original Tuskegee Airmen
Wednesday, December 14, 2016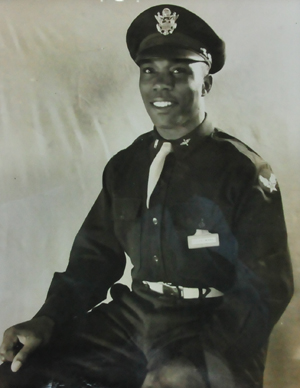 1st Lt. Luna I. Mishoe, who also served in the Tuskegee Airmen's 99th Army Air Force Squadron.
A previous unknown chapter of the life of former President Luna I. Mishoe has come to light, as recent research has determined that the seventh president of Delaware State University previously served during World War II as one of the original Tuskegee Airmen.
After his first professional academic chapter as a professor of mathematics and physics at Kittrell College in North Carolina, the future president of then-Delaware State College was a Tuskegee Airman from 1942-1945 during World War II. It was during that conflict that he served as a photographic intelligence and communications officer for the all-black Army Air Force 99th Squadron, the legendary Tuskegee Airmen squadron that served with distinction in the WWII European Theater of Operations.
The Tuskegee Airmen part of Dr. Mishoe's life story was uncovered over the last year by Andre Swygert, the son of DSC alumni Arnold (deceased) and Peggy Swygert (classes of '78 and '62, respectively). An avid student of aviation and Tuskegee Airmen history, during the course of his ongoing research Andre Swygert discovered the name "Mishoe" in connection with the 99th Squadron and later substantiated that Dr. Luna I Mishoe was indeed a part of that legendary aviation group.
Apparently Dr. Mishoe was so reticent about that aspect of his World War II service, Mr. Swygert's discovery was also news to his surviving family. "We didn't know he was one of the original Tuskegee Airmen," said his daughter Dr. Wilma Mishoe. "He never told us about that."
Mr. Swygert notes that was not unusual.
"Some Tuskegee Airmen treated that as just another part of their life story and didn't talk much about it," Mr. Swygert said.
On Dec. 10, 2016, the John H. Porter First State Chapter of the Tuskegee Airmen held a luncheon celebration in honor of Dr. Mishoe and his newly discovered connection. In addition to receiving numerous posthumous recognitions from the City of Dover, the state governor the Delaware Senate, among others, the Mishoe family also received on behalf of their late patriarch a Congressional Gold Medal that other Tuskegee Airmen had been given in 2007. In addition to Dr. Wilma Mishoe (who is currently a DSU Board of Trustees member), also in attendance at the luncheon were the rest of his children -- Bernellyn Mishoe Carey, Luna I. Mishoe II, Rev. Rita Paige, as well Henry C. Mishoe, a cousin who was raised by Dr. Mishoe and his wife Hattie at the President's Residence.
"This is important biographical information about Dr. Mishoe, because it reveals a developmental chapter of his life that contributed to making him the leader that then-Delaware State College would need him to be during his 27-year tenure," said current DSU President Harry L. Williams.
After his Tuskegee Airmen service ended, he was introduced to Delaware State College for the first time when he was hired to teach mathematics and physics from 1946-1948. He moved on to join the faculty at then-Morgan State College in Baltimore from 1948-1960. During that period, he earned a Ph.D. in mathematics from New York University in 1953 (only the 17th African American to do so in math) and did postdoctoral research at Oxford University in England during the 1955-1956 academic year.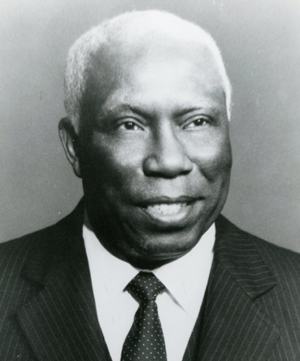 Dr. Luna I. Mishoe
Following his postdoctorate work, Dr. Mishoe returned to Morgan State where he was promoted to full professor and appointed chair of the college's Division of Natural Sciences. In addition, from 1952-1957, Dr. Mishoe worked during the summers as a research mathematician at the Aberdeen Proving Ground's Ballistic Research Laboratory; he would then serve from 1957 to 1960 as a consultant in math and ballistics for the same laboratory. It was in this work that he made a name for himself by creating mathematical methods for solving some of the problems faced initially by the United States in developing its first satellites.  He also developed equations for missiles.
Dr. Mishoe left Morgan State in 1960 to become the president of Delaware State College, where he would build greatly on the pivotal leadership of his predecessor Dr. Jerome Holland, who is credited with saving the College from closure in the 1950s. Dr. Mishoe served as the DSC president for the next 27 years.
During his long DSC tenure, the institution would experience the greatest growth ever achieved under any presidential tenure in its history. Dr. Mishoe led a transformation that included greatly improving the relationship between DSC and state government; the construction 10 new buildings on campus and the upgrading of existing ones; and the significant expansion of the academic offerings including an increase in undergraduate degree programs from 18 to 70, as well as the  establishment of the first three master degree programs. All of those developments contributed to and supported the prolific expansion of the enrollment from 368 to 2,327 students prior to his retirement.
With the recent revelations concerning Dr. Mishoe's service as an original Tuskegee Airman, Delaware State University historians now know of an additional force that contributed greatly to his leadership molding and worked with other life factors to produce one of the institution's greatest presidents.