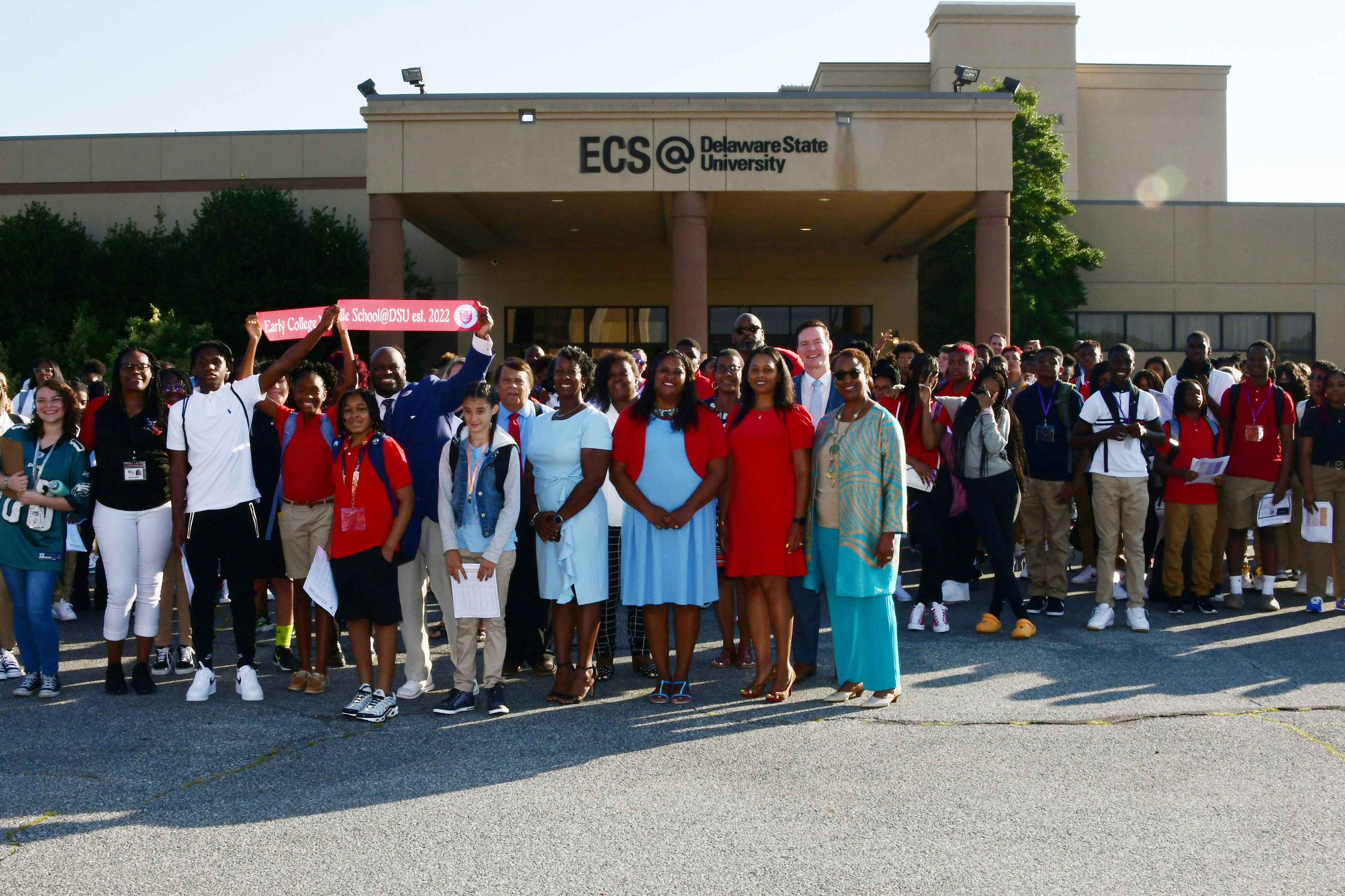 On Campus
Early College Middle School launched
Thursday, August 25, 2022
More than 150 students were greeted with cheers, high-fives and drumbeats Thursday morning as the Early College Middle School at Delaware State University opened its doors for its inaugural school year.
University and school leaders were joined by local dignitaries, parents and well-wishers for a ribbon-cutting ceremony outside the school, located at 1570 North DuPont Highway, adjacent to the main campus.
To see images from the ceremony, click on the below link:
https://www.flickr.com/photos/48216028@N03/albums/72177720301567680/show
This new middle school has been in the planning stages for several years and is an extension of the Early College High School, which opened in 2013. Both schools will be known collectively as the Early College School, with high school and middle school divisions.
"We want to start the college-going culture one step earlier," said Dr. Evelyn Edney, Head of School. "By opening a middle school, we can work together to combat obstacles that many students face to better prepare them for high school success."
The goal is to create a talent pipeline that serves students, said University President Tony Allen.  "If we get our students thinking about college early, they will go to college and they will stay in college," he said. "I am completely excited by what this school is doing, and how they are evolving."
With the expansion of the Early College School and the addition of a new middle school, the school also recently announced a shift in the leadership team. Dr. Edney will now serve as Head of School, Dr. Nyia McCants will now serve as Principal, and Mrs. Dara Savage will now serve as Associate Principal.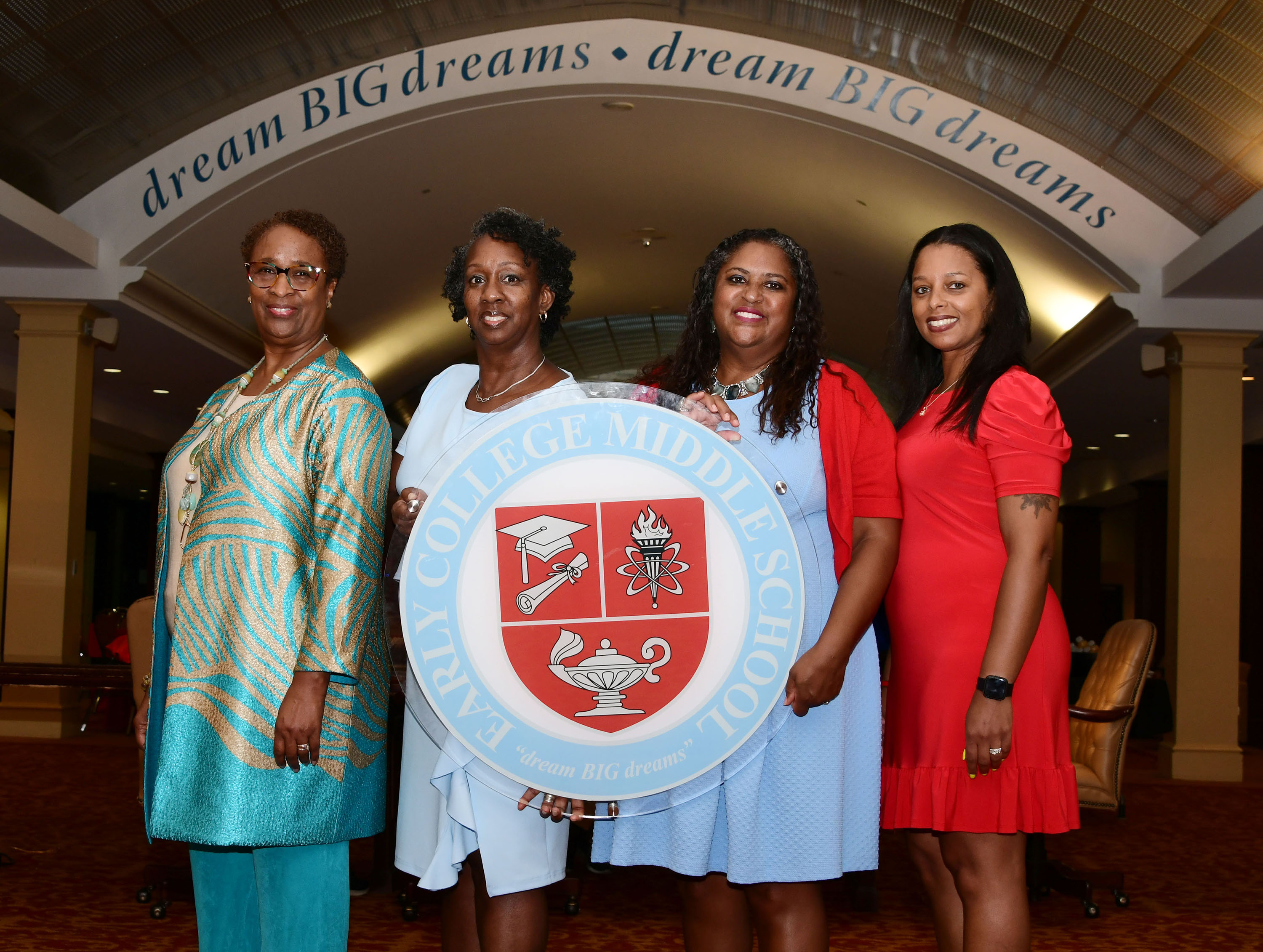 Some of the leadership team made brief remarks before cutting the ribbon, and were joined by Delaware Sen. Trey Paradee, Dover Mayor Robin Christiansen, and Kendall Massett, executive director of the Delaware Charter Schools Network.
Sen. Paradee said he was impressed by the level of commitment shown by students and families to attend, some traveling on long bus rides. "There is something very special being built here," he said. "I give a lot of credit to Dr. Allen and Dr. Edney and her team….This is a world class school."
Dr. Edney told the crowd that she began envisioning a middle school shortly after she arrived in 2015.  To research middle schools with the same mission, she traveled to Ohio. "After I walked around the middle schools, I knew at that exact moment that we needed to have one here," she said.
During his remarks, President Allen thanked the assembled parents and noted that a student at The Early College School can earn high school credits while in middle school and up to 60 college credits – two years-worth of study - for no charge while in high school.  The students, he said, are on a trajectory to change their lives, and their communities.
"We want to thank you for choosing us, and know that we are choosing you," he said. "You are in good hands.  We don't just educate, we love you in a very special way."
The middle school opened with 153 students registered, bringing the total enrollment to 541. Dr. Marsha Horton, president of the Early College School Board of Directors, said many of the middle school students have older siblings that have attended the high school.
Also present at the ceremony were members of the Phi Beta Sigma, Inc. fraternity, whose non-profit Sigma Outreach & Education Initiative has adopted the schools and will serve as mentors to the students.
The mission of the Early College School is to provide Delaware scholars an education in a safe, caring and nurturing environment with multiple opportunities to develop into self-directed, collaborative, engaged learners who academically succeed.
School leaders are committed to providing scholars with access to high-quality teachers and technology to prepare scholars to access college courses successfully while still in high school.
Engaged families are a crucial part of the academic and social experiences at the Early College School. ECS leaders strive to provide an environment in which the students can academically excel and also become a "Hornet" by offering a variety of extracurricular activities to support student involvement in school.
The faculty of ECS@DSU and Delaware State University collaborate to ensure that exceptional service is delivered to scholars and families to ease the process of continuing the students' post-secondary education beyond high school.
It all adds up to be one amazing experience, said Michelle Golding, a junior who serves as the student representative on the Board of Directors.  "It's an amazing opportunity that I wish I had when I was younger," she said.  "I can't say I have more pride for any other school than the Early College School."