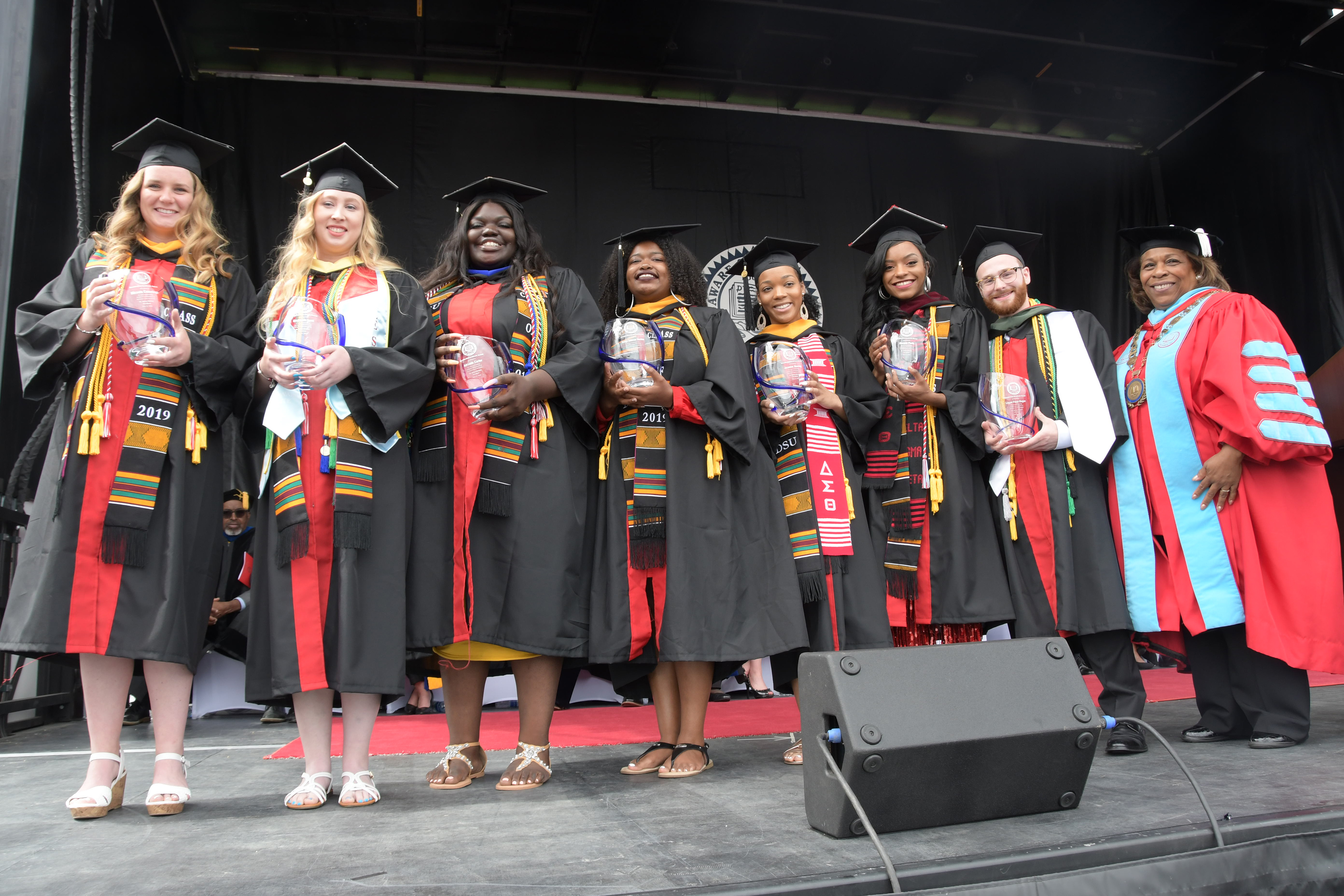 Business, On Campus, Humanities, Education, and Social Sciences, Agriculture, Science, and Technology, Health and Behavioral Sciences
2019 May Commencement, article and photos
Saturday, May 11, 2019
Delaware State University presented a record 750 diplomas to the Class of 2019 during its 134th Commencement Ceremony – which also included a new school-year record in total graduates, 4.0 and honor students.
The doctoral, master's and bachelor's graduates – the most of any May Commencement in the history of the institution – participated in the May 11 ceremony held outdoors at Alumni Stadium, presided over by DSU President Wilma Mishoe and Provost Tony Allen.
To see images from the Commencement Ceremony – click on the below photo slideshow links:
Pre-Commencement photos: https://www.flickr.com/photos/48216028@N03/sets/72157705054329892/show
Commencement Ceremony: https://www.flickr.com/photos/48216028@N03/sets/72157678198995877/show
Creative graduation caps: https://www.flickr.com/photos/48216028@N03/sets/72157708385329195/show
The combined number of graduates in the December 2018 and May 2019 commencement ceremonies represent a new school-year record – 965 for the 2018-2019 academic year.
This spring's graduating class produced 238 honor students – surpassing the previous record of 218 set in May 2018. This year's honors class included 46 Summa Cum Laudes (3.75 GPA or above), 67 Magna Cum Laudes (3.5 to 3.74), 103 Cum Laudes (3.25 to 3.49) and 22 honorable mentions (transfer students with 60 or more credits who maintained a 3.5 GPA or above).
Combined with the December graduation totals, the 2018-2019 school year yielded a school-record 288 honors students, surpassing the previous record of 263 set in the 2017-2018 school year.
Dr. Mishoe also presented Presidential Academic Excellence Awards to seven graduates – tying the Commencement record set during the May 2018 ceremony – all of whom maintained a 4.0 grade point average throughout their undergraduate years. The recipients were:
Adriante Carter, a political science major from Havre De Grace, Md.
Micaela Cummings, an engineering physics major from Owings, Md.
Logan Faux-Dugan, a movement science major from Wilmington, Del.
Jasmine Herring, a biological sciences major from Waldorf, Md.
Stephanie Lynn, an agriculture/pre-veterinary major from Felton, Del.
Morgan Poole, a mass communications major from Niagara Falls, N.Y.
Jazmyn Robinson Stockton, a psychology major from Newark, Del.
Along with the three 4.0 graduates honored at the December 2018 Commencement, the 2018-2019 school year produced a school-record 10 graduates who completed their undergraduate years with a perfect grade point average.
The keynote speaker was U.S. Rep. Alma Adams of North Carolina, a three-term Congresswoman who is a staunch advocate on Capitol Hill for Historically Black Colleges and Universities.
"It is important for you to remember how you got here," she told the graduates. "If it had not been for the Lord on your side, had it not been for preparation meeting opportunities, you could have been someplace else."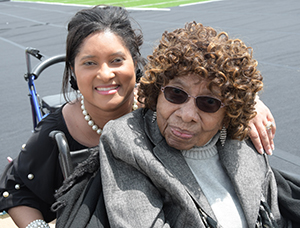 Rep. Adams reminded the students that to whom much is given, much is required.
"Just as you have made positive decisions about your personal fate, know that at this moment, the weight placed upon you to make decisions around your future — that weight is largely on your shoulders," the keynote speaker said. "I am convinced that Delaware State University prepared you to carry that weight, especially for such a time as this, a time of real opportunity, a time of struggle and strain, and there are growing opportunity in health care, education, energy and the sciences and the arts."
Rep. Adams also added "Hornets, it is your time to lead a life of consequence…, to lead a life that is larger than one's self. Take your education and pay it forward…, give back to your community and give back to your alma mater."
After the keynote address, Dr. Mishoe presented an honorary doctoral degree to Rep. Adams. She also presented an honorary doctoral degree to U.S. Rep. Lisa Blunt Rochester, who is the first African American and first woman elected to represent Delaware in Congress.
Gov. John Carney told the Class of 2019 that graduating from Delaware State University is something special. "One of the unique aspects about DSU is its commitment to educate students who are the first in their family to go to college," Gov. Carney said. "It is hard to think of another kind of institution that has done more for generational progress in this country than HBCUs like Delaware State University."
U.S. Sen. Tom Carper urged the graduates to go out in the world and aim high, work hard and persevere. "You do those three things, you will be successful and happy, and people will want to follow you around the world. Because you are the kind of leader people are looking for in this day and age."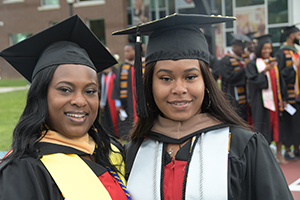 Dr. Devona Williams, chairperson of the DSU Board of Trustees, called on the graduates to continue the legacy of their alma mater.
"You are the first generation who have grown up totally immersed in a world of digital technology, putting the whole world and a world of information at your fingertips. While social media has helped to shape your identities, remember that you are creative and collaborative," Dr. Williams said. "We are counting you to use your technological savviness, your creativity and educational skills to make the world a better place politically, socially, economically and culturally."
Dr. Mishoe told the graduates that they should always remember their momentous journey at Delaware State University.
"Reflect on the qualities and strengths you've developed that have helped you achieve this important goal," the University President said. "I encourage you to celebrate the friendships you have developed, the values you have learned and the gifts of knowledge and support you have received from faculty, administrators, staff and students. These are valuable assets that will serve you well as you continue to grow professionally and personally."