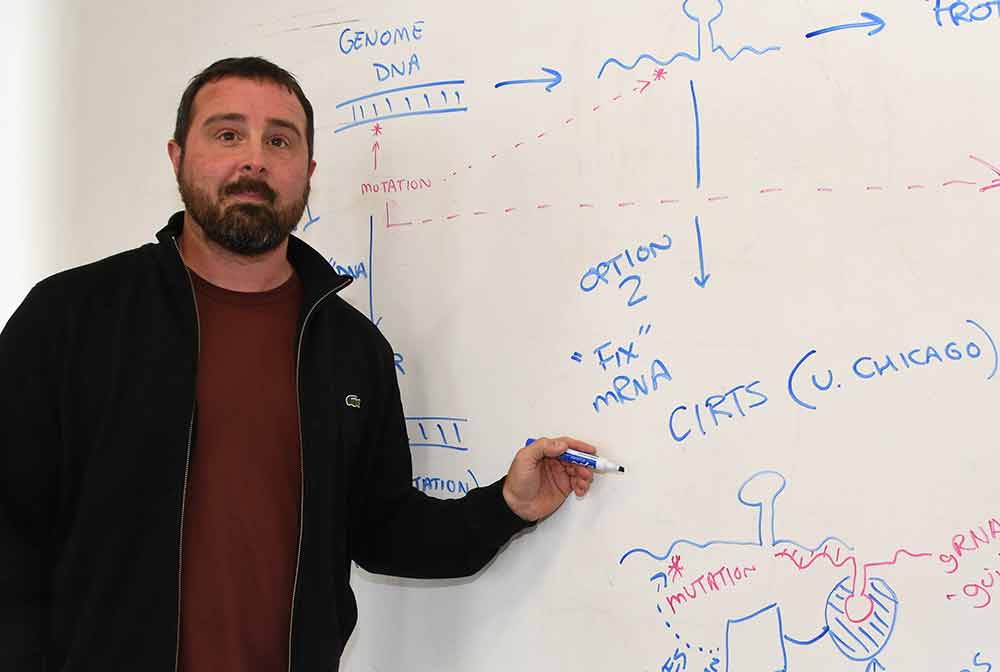 On Campus
University receives $438,000 NIH research grant
Monday, January 10, 2022
A Delaware State University scientist has received a research grant from the National Institutes of Health (NIH) for his work in developing novel protein/RNA interactions, and their incorporation into a technology capable of fixing adverse RNA mutations.
Dr. Brian McNaughton, a Senior Fellow in the University's Delaware Institute for Science and Technology, has been awarded a three-year, $438,000 NIH-R15 research grant for his project entitled "Evolved RNA Recognition Motifs for Therapeutic and Gene Editing Applications."
Dr. McNaughton – who first came to Del State in January 2020 – has been working over the last few years on a process of evolving proteins that can specifically recognize certain RNA sequences. RNA (ribonucleic acid) is a polymeric molecule essential in various biological roles, including encoding the sequence of every protein that is made in our cells.
After Dr. McNaughton's lab successfully evolved a novel RNA-binding protein, researchers in Professor Bryan Dickinson's lab at the University of Chicago used it as a critical component in a novel mRNA editing technology called CRISPR-Cas-inspired RNA targeting system (CIRTS). The CIRTS technology selectively fixes deleterious mutations in protein-encoding messenger RNA (mRNA).
With the NIH financial support, DSU undergraduate researchers in Dr. McNaughton's lab will evolve new RNA binding proteins, which they will provide to Dr. Dickinson's lab for incorporation into the CIRTS platform.
As the principal investigator of the grant, Dr. McNaughton says that this project "has the potential to expand researchers' ability to selectively reverse disease-causing mutations in mRNA, as well as expand the potential future therapeutic utility of CIRTS. However, the biggest impact of this research is the training and experiences it will provide to DSU students interested in pursuing graduate school in the biological sciences and/or employment in the biopharmaceutical industry."