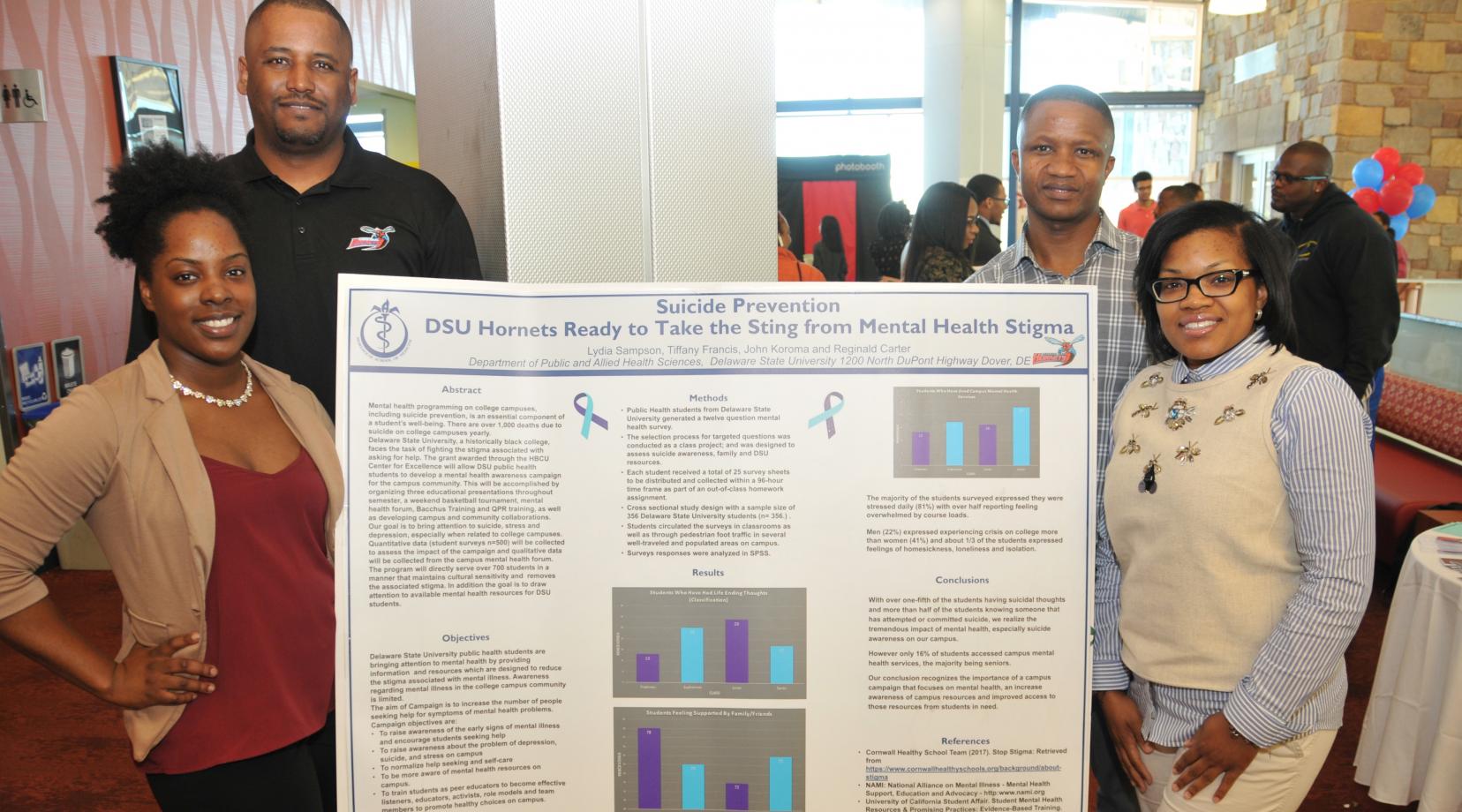 Education, Health and Public Policy, On Campus
Public Health Student at 1st Place in Poster Competition
Monday, April 3, 2017
A team of students from the Department of Public and Allied Health Sciences returned from the March 17-19 Lonnie E. Mitchell HBCU Behavior Policy Academy in Nashville, Tenn., with a first-place award for their mental health poster presentation.
The poster was entitled: Suicide Prevention – DSU Hornets Ready to Take the Sting from Mental Health Stigma. The team members – all senior Public Health majors – are Reginald Carter of Marydel, Md.; Lydia Sampson of Lewes, Del.; Tiffany Francis of Middletown, Del.; and John Koroma of Sierra Leone, West Africa/Newark, Del.
The poster details the objectives of their mental health awareness campaign, which was designed to increase the number of students who seek help for symptoms of mental health problems, as well as to reduce the stigma associated with mental illness.
The students conducted a 12-question mental health survey to assess suicide awareness, as well as family and DSU resources. A total of 356 DSU students completed the survey. The findings included:
81% of the surveyed students expressed that they were stressed daily; more than half of that percentage reported feeling overwhelmed by course loads.
41% of women and 22% of men expressed experiencing crisis in their college experience.
One-third of the respondents expressed feelings of homesickness, loneliness and isolation.
One-fifth of the respondents admitted to having suicidal thoughts.
More than one half of those surveyed knew someone who had attempted or committed suicide.
Despite the above findings, only 16% of those surveyed had accessed campus mental health services.  The majority of those respondents who have sought help were seniors.
The conclusions of the student researchers noted the importance of a mental health campaign on campus, as well as a need for an increase in awareness of the available campus resources and the improved access to those resources.
The work of the students was funded through a grant from the HBCU Center of Excellence.
In addition to the first-place finishers, Aneesah Cooper, a Public Health major, finished in third place in a PSA campaign contest; Tiffany Francis, of the first-place poster team, and Kayla Vaughan, a Public Health major, received honorable mentions in that category.